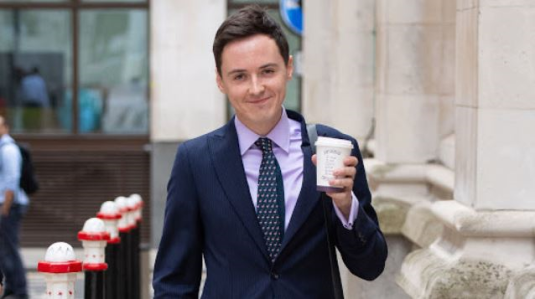 Darren Grimes is a grifting little shit, and he'll be thanking his lucky stars
Durham plod
want a word under caution. This evacuation of a human being, who traded in his liberal principles after identifying a gap in the attention market for a pre-pubescent Ben Shapiro, is getting interviewed under caution for his podcast interview with David Starkey earlier in the summer. After years of racist provocations, Starkey's stream of racist invective did not pass without consequence. His job at Cambridge is up the swanney and his two-book deal with Harper Collins in the bin.
About time
.
But this isn't about Starkey, it's about Grimes. Whether he broke any laws interviewing a well-known racist, someone he described as a hero of his incidentally, and then publishied this conversation for the lulz, the clicks, and the column inches is a matter for the criminal justice system. However, what it
is not
is an attack on free speech.
It's an opportunity
.
Grimes and his
hideous ilk
keep pushing the racist envelope and edging back the frontiers of what is and isn't acceptable in public debate for entirely self-interested reasons. If nudge, nudge racist declarations provoke reactions, it's working. Social media storms, celebrity denunciations or, even better, some form of institutional intervention gives them profile, and profile is the currency of our moment. Preserving entitlement in the 21st century means playing the victim, and there's cash money to be made from crying about a liberal witchhunt and ostentatiously squatting on their ducking stool. Grimes will dine out on this for years to come as the truth warrior the cops tried to shut up.
Securing his prominence is clearly Grimes's main concern, and he can rely on a network of papers and high profle commentators to stick up for him. Even centrist weirdos and
Blue Labour dunces
are happily lending a hand, for some perhaps hoping a sliver of spotlight will briefly catch them. But ensuring Tory notables like Grimes stay notable is not the end game for the right wing culture war project at all.
Their project is to reduce and eventually eliminate the social costs of racism. They want to get to a point where casual racism and racist epithets are tolerated as an accepted part of public discourse. Libertarianism and free-thinking is thin cover for giving the right - the Tories, whatever Farage's next party is, other wannabes - the freedom to go full bore on divide and rule politics. The Tories, as we've seen time and again, depend
on fear of the other
to whip a viable electoral coalition into shape. Speech without consequence makes room for more outrageous claims, more division, and more and dragooning supporters on the basis of petrifying them. Why bother promise anything when scapegoating can do the election winning instead?
Presently, the right are somewhat stymied. Cultivating mass racism as articulated by the Tory press and leading politicians is dependent on dog whistles, on partially cloaking itself by sublimating into "genuine concerns" about immigration, saying Britain is a soft touch for refugees and, of course, moaning about "wokeness" and you-can't-say-anything-these-days. The right want to make racism a more potent weapon of divide and rule, and damn the fact this speech
does
have consequences - for those on its receiving end.
I don't care about Grimes. He's a gormless tool for a project determined to make British politics more poisonous and more polarised. If he does or doesn't do bird is immaterial. Racism can't be defeated by laws and putting right wing commentators on porridge. It's got to be challenged politically through argument, persuasion, and mobilisation. And they know, the Tories, the racists, and the rightwing ideologues
feel the weight of history
bearing down on them. The rising social costs of racism in the UK, underlined by widespread Black Lives Matter protests, is demonstrative of
their weakness
versus our growing latent strength, of an unstated and anti-racist commonsense that is part of the mundane, everyday fabric of social life for the majority of people. They push racism as its salience declines because, ultimately, they have nothing else. It's a desperate move. Our movements have them on the run, and if we keep pushing the weaker racism gets and, as a consequence, the more naked their politics of privilege becomes.
Image Credit