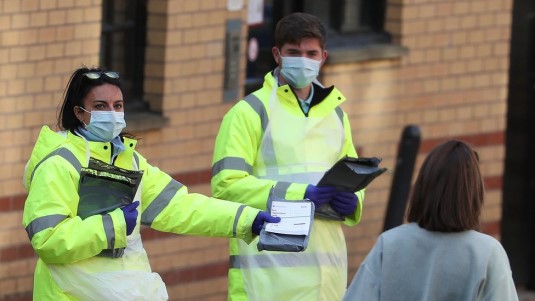 143 more deaths reported in the last 24 hours and infections powering to rates not seen since last April. The government's failure is extracting a grim blood price once again. Though, disappointingly,
recent polling
shows the government are getting away with it. Their successful depoliticisation of the crisis continues apace, they are
winning the necropolitics
. This, despite mounting criticism of track and trace failures, corrupt contracts handed to Tory cronies, and now the new tiering system for local lockdowns.
Needless to say, the three alert levels have attracted plenty of comment on the social media platforms of choice. The highest level involves working from home, avoiding inessential travel, some help from local authorities and, of course, the
miserable successor
to dishy Rishi's furlough scheme. Eyebrows were raised when it came to the exceptions: schools, universities, and pubs ... serving food. A curious mix and no mistaking.
The Tory approach to the Coronavirus crisis was characterised at the outset by complacency and then incoherence. Not because they are uniquely incompetent, though Boris Johnson certainly is, but thanks to the
contradictory interests
pressing in on them. Just because the R number is galloping like an Ascot winner doesn't mean the Tories are about to change tack and, indeed, they have not.
On schools, there is some earnest handwringing about the consequences lockdowns have for pupils. The point about mental health and missing out on learning are well founded and backed by evidence. This begs the question if private schools have mitigated the impacts of closure for their pupils why the government hasn't provided extra resources to facilitate greater coverage of at-home tuition in state schools. Yes, children are largely spared the debilitating consequences of Covid-19, but they're as effective at spreading the disease as any adult. Refusing to countenance the closure of schools leaves a gaping hole in any lockdown. Why the dogmatic insistence, then? A balance of harms in which Covid infection is a lesser evil to the damage done to education? I'm not buying it. Over the summer it was crystal how opening the schools was a necessary step to get workers back into the workplace. In other words, the determination to restore labour discipline was front and centre. The same applies here. Keeping the kids in school even if workers stay off or work from home is vital for a rapid shifting down of restrictions. If children aren't at home, it's easier to get employees back in. Putting it simply, the health of class relations come first.
It's the same when we're looking at the situation in universities. In many places they're driving infections,
not
because students are irresponsible but thanks to the givernment's stupid decision to kickstart Covid's second wave by compelling a million young people to move around the country into communal residences and badly ventilated classrooms.
SAGE advised
shifting to online teaching to mitigate infections, but the Tories felt differently. They
still
feel differently. Again, it's not because they particularly care for students' education or even the health of universities themselves, which they think are
manufacturers of anti-Tory voters
. It's because of their coalition of voters. Providing accommodation to students is a significant slice of their landlord base, and property speculators aplenty have investments tied up in new halls of residences. The Tories are
protecting their constituents
. And this applies with the new tier. Not matter what happens, the universities will stay open. The health of rent payments come first.
And then we have the most egregious and transparently favours-rendered aspect of the top tier rules: pubs serving food can remain open as the virus runs rampant. If there are ways of interpreting this other than a thank you to Wetherspoon's Tim Martin, I've yet to see it. Unless a pie with a pint has mysterious anti-covid properties a glass
sans
accompanying noms lacks. Just prior to the EU referendum, Martin turned his pubs into Tory madrassas for old men. They sat round all day imbibing the rightwing propaganda etched onto the beermats and filling out the company literature, occasionally joined by the old windbag on a tour of his pubs. Martin contibuted to a coherence and firming up of the Tory vote, and allowing his business to carry on operating unhindered is their thank you. Sure, some other pubs are going to benefit, but the stupid food rule is going to drive many others to the wall. The health of close Tory allies come first.
It's frustrating. The politics of the Tories' coronavirus management are there to be seen, called out, and criticised. And yet in
Keir Starmer's most forceful intervention
yet, he
still
keeps away from the politics. A so-called circuit break lockdown
is sensible
, but won't work if it leaves holes-a-gaping on schools, colleges, and universities. And it won't chip away at the Tories unless Labour pushes the envelope and tries steering the politics of the crisis to issues where it's strong: support for beleagured businesses, attacking corruption, properly funding public services, and pushing its post-covid plan. The Tories, after all, are feeling confident enough to
encroach on Labour's turf
. Time to switch it up or have them switch us off.
Image Credit