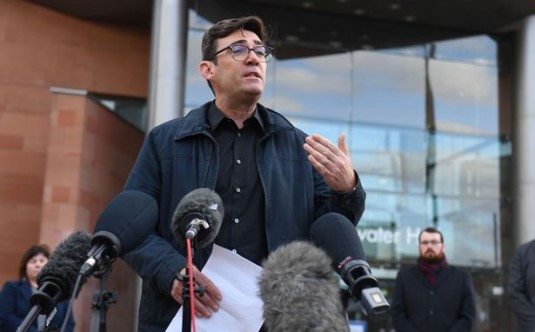 Critical but unconditional support to Andy Burnham! The Tory treatment of Manchester by
forcing the city
into Tier Three without engaging with local leaders in good faith, withholding funds to adequately compensate workers and now
refusing to deal
with the Mayor in future is grotesque. The sticking point saw local leaders ask for £65m because, not unreasonably, forcing workers onto two-thirds of their salary is less generous than furlough and will see them face significant hardship, especially if they're low paid. As for businesses, they too can whistle. The anger this provokes must be allied to clear heads. When the government are coughing up £100bn for an absurdly over-priced mass-testing programme and cash is shovelled to fake companies proffering phantom PPE, there's something other than incompetence going on.
The north/south battle of recent days set up a dyamic in which the government could not be seen to compromise. The continuous thread running back to 1979 is one of authoritarian leadership. Indeed, the flipside of marketising everything is a centralising state. At first tooling up to see off pesky and uppity labour movements, later it moved to tackle alternative bases of authority within the state's institutions by abolition, muzzling, selling them off, or subjecting them to market mechanisms. Councils are one such unreliable arm of the state and different Prime Ministers have enjoyed bashing local government for cheap political points. Boris Johnson's riding roughshod over Manchester is the latest in this inglorious tradition. Unfortunately for him and previous occupants of Number 10 in recent decades, this leads to brittle government. The executive in its overweening arrogance not only dissolves opposition to it within the state system, it centres not just authority but also
responsiblity
on itself. And once authority is lost, the government and the Prime Minster are held responsible for everything and its position is unrecoverable. Thatcher, Major, Blair, Brown, Dave, and May, all lost it by accident or by badly conceived design and the furies came for them. Johnson's barrelling approach to everything is the repetition and reiteration of Number 10's authority. If he is seen to climb down in a big way, such as conceding to Andy Burnham's demands for adequate compensation, or the two-week circuit breaker favoured by SAGE and Keir Starmer, a slippage in Johnson's authority can snowball into an avalanche. Being seen to win is pathetic and reckless, but for Johnson authority is all. On this there can be no compromise.
The second is, naturally, the Tory base are shielded from the hijinks. Nine seats out of Greater Manchester's 27 is nothing for the Tories when there are 71 others to fall back on, even if the 1922 Committee's Graham Brady is among the potential collateral. What does this matter for the coalition of
radicalised pensioners
elsewhere? Not much. And even, materially speaking, it does not impact much for elderly Tory supporters in the seats directly affected. If there's anything we've learned about the last 10 years in British politics, as long as they're shielded from cuts (or, to be more precise,
feel
they're shielded) the bulk of older people will merrily vote for the party kicking their children and grandchildren in the teeth. I know this, you know this, and Dominic Cummings knows this.
And by the Tory base, we can't forget our jolly old friend capital. There are no worries on this score. The petty capitals of small-scale landlordism are fine (no one-third rent cut for this most parasitic of strata), and the
big interests
of finance, property, and the City are absolutely dandy too. Manchester is a provincial backwater compared to the metropolis, and even if Sadiq Khan has to be stitched up as per Andy Burnham, their operations are unaffected. The speculation, debt payments, rents, and transaction fees will flow Covid or no. The only possible blip is if the Burnham-led opposition spills out of Greater Manchester and ignites generalised regionalist grievances across the north of England and the Midlands, and Labour show a deftness of foot so far lacking in its interventions to position itself as the vehicle for that opposition.
This brings us back to the authority question. For Johnson, there cannot ever be a King in the North nor anywhere else in England. If stomping on councils and metro mayors is what it takes, his blighted government are going to do it. Yet here is the problem. Authoritarians cannot live by authoritarian means alone forever, and the more he blunders about smiting all and sundry, the higher the well of resentment fills. Manchester is the latest victim. Might it be the tipping point?
Image Credit