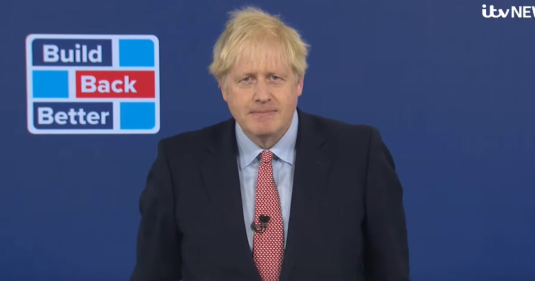 Who will become the most influential British politician of the early 21st century? Might it be dishy Rishi with his nice line in suits and
political vapourware
? Is Dave's Brexit legacy doomed to cast a shadow over the next few decades? Or does the title belong to Boris Johnson himself, the mastermind of the greatest Tory electoral triumph since the 1980s? The answer is ... none of these men. It's not even a Conservative politician. No, it is the unconscionable one. He whose name must be mentioned in conjunction with rites of Tory exorcism. Jeremy Corbyn is of which I speak, and if you don't believe me have a look at the contents filling up Johnson's conference speech.
He tried hard to distract from his inspiration. There were attacks on imaginary leftists who see in the Coronavirus crisis an opportunity to grow the state. There was a vigorous defence of the private enterprise that delivered all the PPE shipments and praise for their innovative and can-do attitude. Tory activists were ostentatiously thanked for seeing off the socialist beast in December, and sideswipes aplenty at lefties, with Priti Patel receiving praise for riling up human rights lawyers. It's almost like politics is a game to these people.
There were the trademark Johnson moments with the self deprecation about his weight, (aged) pop culture references, overlong words and haha funny metaphors. These soared off the back of other Tory favourites, like the opportunities Brexit has opened up, the blue passports, moar fisheries, and
control of the borders
. Crowd pleasers were refusals to apologise for British heritage, such as statues of problematic slave-holding worthies, and singing one's lungs out along to
Rule Brittannia
. No opportunity to thumb the old nose at the imaginary enemies hell bent at doing down Blighty can ever be passed up.
Having doused his rhetoric in deepest blue, Johnson's big reveal was a programme unashamedly half-inched from Corbynism's 2019 vintage. Front and centre is the green industrial revolution. Excuse me, what? This was the phrase he used, having been carelessly abandoned by Labour's new regime, and he talked up harnessing renewable energy, particularly wind, to produce millions of green jobs over the coming decade. Complementing this was the widely derided Corbynist tree planting programme, the investment in new technology to drive productivity, and high falutin talk of raising pay across the board. Also interesting was a scheme to expand home ownership to younger people with government advancing low deposit fixed rate mortgages to first time buyers - a belated effort at winning enough over to keep their future electoral prospects on the road. Looking around the appreciative churps of establishment comment, no one has picked up on the very obvious influence behind Johnson's rhetoric.
On the one hand, going all magpie over Labour's 2019 manifesto reflects the deep hole British capitalism is in. Even Johnson had to refer to its long-term structural problems, and they cannot simply be allowed to fester for ever. Not least because egregious inequality, blocked property acquisition, and a diminution of opportunity are pregnant with future electoral threats and, yikes, the possibiluty of disorder. It also shows how despite the denunciations of Corbyn, his Labour programme came not to bury British capitalism but save it, and its passage into Johnsonism underlines this fundamental truth. And yet this is Johnson we're talking about, the most shameless of Tory liars and peddler of piss and wind. Past behaviour suggests his New Jerusalem, another trope ripped off from Labour, is another rhetorical trick, an horizon stretching no further than the end of his second conference speech. A case of believing when we see it, and even then watching out for the catches should they ever materialise.