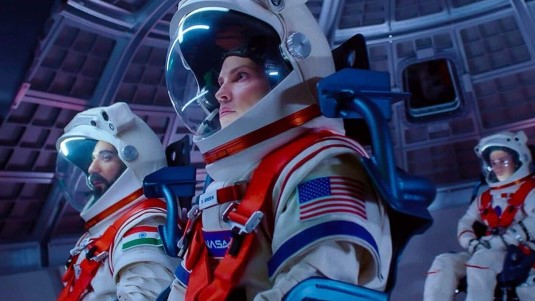 Few things are more exciting than landing on Mars, right? It would be a stupendous technological achievement, the culmination of 60 years' worth of space exploration and a significant step to
industrialising the solar system
. Setting aside the superlatives, the sad truth is it's probably not great fodder for a Netflix televnovel. There's only so much that can be done with five people in a cramped tin can for six months. The latest Hilary Swank vehicle,
Away
, proves the point.
10 episodes of overwrought tedium was inevitable, I guess. And the producers of the show have tried getting around this in two ways. Moments of high tension, such as the ship's solar array failing to deploy necessitating a risky spacewalk, and the water reclaimation unit breaking down. Combine this with health issues suffered by our cast of astronauts, cosmonauts and taikonauts, such as space blindness and a nasty, infectious fever. The action is supplemented by family dramas back on terra firma. Hilary's hubby suffers a stroke and spends the season rehabilitating, keeping him away from his very important job at ground control. And her 15-year-old daughter pseudo-rebels by getting a boyfriend, riding dirt bikes and, whisper it, having sex with him. Going for much complex emotional content, one of Hilary's fellow astronauts confesses to having feelings for her just as her friend admits to having the hots for hubby to, um, hubby. Being good Americans of fine moral standing, both spurn the advances. I guess adultery on top of under age sex was too much for the showrunners.
The show does have a handful of commendable features. The production values are very high and they pull off weightlessness convincingly. The crew is fittingly multinational (American, Indian, Russian, Chinese, British) and multi-ethnic. All characters are three-dimensional, with the taikonaut Lu Wang refusing to conform to the wooden stereptypes afflicting Chinese characters. And in line with the wave of woman-led drama the place of women at all levels of the space programme is acknowledged - a far cry from the (admittedly period)
Apollo 13
and the pre-2010s centering of men in science fiction programming. Laudable as all this is, it doesn't make
Away
any good. The space bits are too hackneyed and predictable, and the human interest stories tiresome. Though very different,
The Expanse
shows both can be fruitfully combined.
Yet there is something else about
Away
that cannot escape comment: an egregious anti-semitic trope that
could not simply be coincidence
. In episode five,
Space Dogs
, Misha, the Russian cosmonaut, attempts to reconcile with his daughter by putting on a puppet show for his grandkids back on Earth. Roped in to assist is Kwesi, the English-Ghanaian botonist. It just so happens Kwasi was raised by, and identifies with his Jewish adoptive parents. Okay, coincidence then? But when you consider Misha is played by Mark Ivanir, an Israeli actor, it starts looking a bit suss. Put it like this: they got the one Jewish character and the one Jewish actor to play at puppeteering. This is underlined in the final episode,
Home
. At ground control Kwasi's mum turns up in the family room in anticipation of the touchdown. There she is greeted by another character as, um, the "mother of the puppet master."
Hyper sensitivity thanks to
recent history
? Possibly, but it does seem too much of a coincidence to have these two characters do a puppet show and one of them, in the absence of relevant context, being referred to in terms of a well worn anti-semitic trope. So, as well as junking the opportunity for producing a decent drama,
Away
carries a big racist question mark with it.
Image Credit