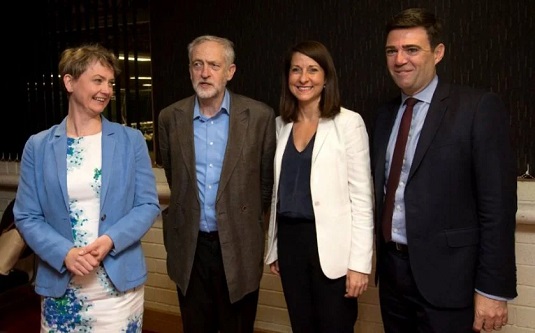 Like my friend Lawrence, I haven't been terribly inspired by the Labour leadership campaign. Even Corbynmania has failed to stir me, except to the extent of writing many posts trying to understand what it means and how it will effect our party and our movement. So when it came to deciding who to vote for, I found it very difficult.
Now, I have a confession to make. Last month our constituency party met to decide who to nominate. Liz, Yvette, and Jeremy had their speakers - Tristram gave a good account for Liz. Andy, a new comrade, spoke for Jeremy. And I spoke for Yvette. Why? In a frankly terrible speech (so much for applying the 'be prepared' maxim I berate others for failing to employ), I laid down the reasons why I liked Jeremy's policies, but also that a strategy dependent on mobilising non-voters is most unlikely to win. Of Yvette, Andy, and Liz, it was Yvette who had the best chance of winning over those Tory voters we need to capture. Much to my amazement, these incoherent mutterings did the business and the Stoke Central nomination narrowly went to the shadow home secretary. This was before the Welfare Reform debacle saw the party descend into disarray and put a Saturn 5 under Jeremy's campaign. Has my mind changed much since?
I have found choosing incredibly difficult, so let's talk about the easy parts first. There was no way Liz Kendall was getting any of my preferences. I think she comes across as someone who's terribly insincere, and has shown an appalling lack of judgement in the running of her campaign. Berating members for not getting it, and allowing herself to be painted as a continuity Blair figure raises serious questions about whether she could win an election. Matters are not helped by stubbornly defending free schools and invasive private sector penetration of the NHS. If that wasn't enough, like many of her PLP friends and comrades, she doesn't understand the nature of our party. Had things turned out differently and she was a proper contender, I would be seriously worried about the future of the party.
And Andy Burnham. What can you say? Ask me a year ago who I'd be supporting for Labour leader, and I would have said him. Now? Not on your Nelly. The time for examining what has gone so badly wrong for his campaign isn't now - especially when it's a subject this blog will be turning to in the future. But honestly, to have tacked right with his leadership declaration and then opportunistically zigged-zagged here, there, and every-bloody-where as the contest has worn on ... Andy is a nice bloke, can speak with genuine conviction, and does have some good policies to sell. Yet he's like a driver with a faulty SatNav on a cliff's edge - you never know whether he'll follow a dodgy prompt and dash the car on the rocks below, or ignore it convinced that the thin air in front of him is the right road to take. While not as dangerous to the party as a Liz leadership would be, it's well within his range to take Labour in a disastrous direction if he thinks the head winds are favourable.
That leaves Jeremy and Yvette. Yes, I do think Jeremy is less divisive and problematic than Andy and Liz, and that any "chaos" resulting from his winning is overstated. His campaign has not only proven slick and well-run, it has set the political tone for the entire contest. It's telling that the two candidates with roots in the wider party - Andy and Yvette - have moved leftwards to compensate while Camp Liz floats away in a Blairist bubble of their own making. For the first time in a long time, the left have made an appreciable - and I for one hope lasting - impact on mainstream politics.
You know there's a but coming, don't you? I do have some major reservations about Jeremy's candidacy - for all the good it has done - and I don't think these can be ignored as "ephemeral" or "inessential". We've visited the issue of dodgy associations before. Of course, it is absurd to suggest Jeremy in any way shares the politics of some of the unsavoury individuals he's rubbed shoulders with in the past, and so much of the muck-raking by the likes of Louise Mensch is just that. But time and again, it happens. More recently, for instance, Jeremy happily gave an interview to the Australian branch of the LaRouche cult. If you've never heard of them, look Lyndon LaRouche up - anti-semitism is but one of their appalling characteristics. This sort of carelessness is a problem for some on the left, and it worries me that Jeremy and/or his staff are seemingly incapable of Googling background information, or don't deem it to be relevant. If Jeremy wins, this one will come back and come back some more.
The second big issue I have is electoral strategy, namely the seeming indifference much of Jeremy's support has to winning over Tory voters and the emphasis he wishes to place on mobilising non-voters. This approach has been gamed on Ravi's blog under the present boundaries. His best estimate puts us behind the Tories - assuming present Labour and Tory support stays where it is - and he also notes that the 2020 election will be fought on boundaries less favourable to our party. The next election is going to be a tough slog, and I'm sorry, I have very little time for anyone agnostic about us winning. Over the next five years the Tories are going to shaft our funding base and throw obstacles in the way of trade unions. And do we have to talk about what they have in store for our people as well? Can you imagine what could happen again if they win in 2020? I've got a good job and have no reason to believe my health will deteriorate over the next 10 years, but that could easily change. There are, of course, many millions not as fortunate as I and will suffer unless we get back into power at the first available opportunity.
And there is the development and strength of the left itself. Few, if anyone expected a left insurgency of this magnitude. But one should not cheer lead uncritically, like much of the far left outside Labour are doing, but to try and understand it in order to shape it. As far as I'm concerned the new member/supporter wave is not a 'social movement' as such, as per Scotland, but more like a mass affiliation of many ones and twos. It is a tendency attracted by Jeremy's unorthodoxy and amplified by social media. Some of it are former Labour people, but the overwhelming bulk are new to politics - that's if the membership surge we've had in our neck of the woods is anything to go by. If you like it is unrooted, a variegated and individuated group of people in search of a social movement. As such, noting its rootlessness, it would be a huge mistake to take this as evidence of a much wider constituency waiting to gift us local election after European election after general election. The second related point here comes from an opportunity/risk analysis. A Jeremy leadership is likely to attract another wave of new recruits and strengthen the gravity of left politics generally. The problem is I cannot see how, in the absence of a catastrophe, that this will be enough to win an election. Even worse, an electoral defeat will be taken as a defeat for socialist ideas, just at the moment their revival is getting underway. There is, of course, never a right time for the left to make a play, and the opportunity Jeremy's candidacy represents is one that does not come along too often. Nevertheless, that is what I think - an early peak could see us stumble into an equally early trough.
Who was my alternative then? In the end, it came back to Yvette Cooper. It's only these last couple of weeks her campaign has cranked up. Just like Labour until a year before the general election, she's gone from having no policies to them appearing in abundance. Yes, her platform is pretty dull by the mould-breaking standards of Jeremy's, but interestingly she has moved from austerity lite to anti-austerity lite. There are a couple of things to get excited about, such as universal childcare, and boosting investment in and wages of those in the care industry and those who care for loved ones - Yvette is absolutely right to see this as an infrastructural issue. Yvette has found her voice attacking the government about the refugee crisis in the Med, on FE cuts, on their stupid assault on green industries. Yet I have to say my support doesn't come with much enthusiasm, hence why I'm merely stating my views rather than proselytising. But as the compromise candidate, Yvette has the best chance of keeping the party together and winning a general election in 2020.
Of course, if Jeremy wins politics becomes much more interesting. In that event I will carry on building the party and using this platform to dispense analysis, unsolicited advice, and support. It was a very difficult decision but, unfortunately, I just don't fancy our chances if we go to the country with him at the helm.