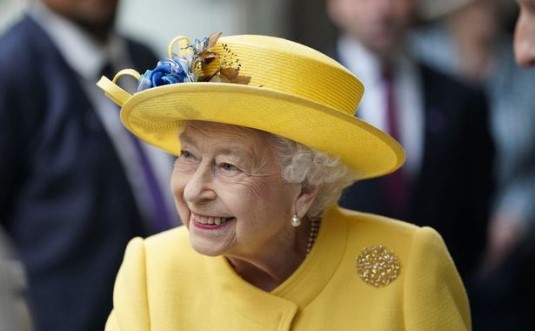 "Republicans don't understand why the Queen is so popular!" so wrote Conservative Home regular, Andrew Gimson, this morning. As someone who spends more time than is healthy pondering the Tory mindset, I'm always interested in how they perceive their opponents. In this case, Britain's growing republican movement.

Gimson begins his piece gushing over the Queen (it is a Tory website, after all) and congratulating the millions who'll be joining the Jubilee celebrations over this weekend. He goes on to say:

And the republicans will not understand what is going on. They draw the wrong conclusion from this spectacle of a monarch triumphant and beloved, which they suppose means that British voters are somehow less free than those who live in a republic such as France, Germany or the United States.
A peculiar criticism because it depends on which republicans you ask. They come in as broad a range of flavours as the monarchists do. But whether they're a communist, on Labour's soft left, or are firmly centrist with the commitment to market economics to match, all would agree that freedom in Britain, since the war, has always been comparable to European republics (and constitutional monarchies) and the United States despite the monarchy, not because of it. Indeed, for the first 27 years of the Queen's reign, British society became more equal, not less. It's almost as if, save formal duties and rarely used constitutional reserve powers, the monarchy does not play a commanding role in the state. While these powers should not exist, their existence doesn't mean liberal democracy in this country is qualitatively different to any other. Gimson's argument here is a red herring, and one plucked out of the air.

He goes on to talk about Clement Attlee, who explained why Britain hadn't fallen under the sway of authoritarian politicians to the monarchy's existence. It soaks up the fervour that might feed a Hitler or a Mussolini, you see (it's rude to note Italy was a constitutional monarchy during the days of Il Duce). Attlee died in 1967 and didn't see what came after, but since 1979 the tendency to equality that began with his government has been whittled away by successive Prime Ministers of both parties and who were never above deploying state thuggery to achieve their political aims. They have practically dissolved the compact established by Attlee, and have continuously gnawed at the rule of law. Inequality has ballooned, millions are now dependent on hand outs from their local food banks, and the Queen and the monarchy have not prevented any of this from happening. Not that they could if they were so minded, but the point remains. Because politicians haven't goose stepped into Downing Street doesn't mean a very British extremism isn't the settled political common sense. Only the comfortable and the wilfully ignorant can pretend otherwise.

Anyway, returning to Gimson's piece he argues there's little difference between constitutional monarchies and republics. Which most republicans would accept. But, again, what we apparently don't understand is that the Queen is "above politics". Which automatically makes her more virtuous than any politician in the eyes of the public. There's no egotistical quest for power there. He's right. YouGov has it that 82% of adults think the Queen has done a good job, and many more prefer a monarch to an elected head of state. None of this is news to republicans seeing how it's a minority pursuit. There would be nothing easier than going with the monarchist flow, as politicians of all parties prefer to do.

Can republicans understand this? Of course they can for precisely the reasons Gimson and other royalists set out. For some, particularly the comfortable but fundamentally insecure, symbols of continuity and stability are important in a world they're increasingly ill-at-ease in. For many millions the monarchy is an imaginary presence that has provided a reassuring backdrop to their lives. And yes, all the nonsense about duty and commitment secretes support for the Queen. She's an antidote to the fly-by-night no-one-sticks-with-anything common sense the socially conservative rail against. The Queen is a blank, and monarchists impose on her the qualities they believe they themselves uphold. It's her social distance that allows Elizabeth II to appear real and human to them. And this serves a wider constitutional purpose. Her party political neutrality is the formal guarantor of the neutrality of the state, and exercises a powerful pull on the imaginations of Labourists and reforming technocrats alike. To reverse Marx's famous dictum, one can lay hold of the ready-made state machinery: the Queen is proof of that.

Rather than carry on his polemic, Gimson breaks off there. His points boil down to republicans think the monarchy are tyrants (they don't), and the Queen is popular, so republicanism is wrong. Hardly rhetorical slam dunks against the republican case, but he felt satisfied enough to pad out the rest of the article with the boilerplate potted biography readers of Con Home must be bored to tears with by now. Republican sympathisers are thin on the ground at that particular outlet and so one half-arsed piece would pass unnoticed among the site's standard fare of the unintentionally informative and the proudly ignorant. But it also demonstrates a complacency among the Conservatives and their supporters. Because parliamentary might equals right, they don't have to explain their actions and prefer making up justifications for indefensible actions. And this is when they're behind in the polls and look set to lose two crucial by-elections. The support for the monarchy and the esteem the Queen is held in are stratospheres higher, therefore making the case against republicanism seems so unnecessary. As custodians of the state, the Tories have got better things to do.

The problem for Gimson and friends is the Queen is 96 and a lot of the institution's legitimacy concentrates in her cult of the non-personality. The monarchy's popular support could shift very quickly, especially when Boris Johnson is busily cultivating a crisis of state legitimacy and the royals themselves, with their handling of Harry and Meghan's partial break with the family and Prince Andrew, are digging up the tracks of their gravy train. Perhaps they know it too, and their complacency is them freezing before a change too terrible to contemplate.

Image Credit