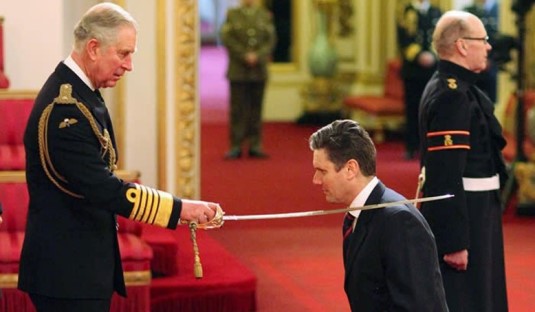 Flummery is never an attractive feature in a politician, least of all one leading the Labour Party. But Keir Starmer is a Sir, so genuflecting to and giving the Queen a toadying tribute is to be expected. Like over half of Britons, my interest in the Jubilee is nil: I'll be working through it like millions of others. For shameless politicians, it's a chance to burnish one's patriotic creds. Something would have been amiss if the obsequiously loyal Leader of the Opposition hadn't said a few words.

Starmer's piece doesn't require much commentary. There are no party political points here. It could have been written by Boris Johnson, or pretty much any mainstream politician of the last 50 years. But Starmer's chosen venue for this unthreatening and banal piece, The Telegraph, suggests he's still fixed on buttering up the right wing press. Or at the very least wants to show their readers that he represents no threat to them whatsoever. On that point, I'm sure readers would agree. But is there anything else?

There are a couple of brief points I want to make. If there is a "Starmerism", it's characterised less by its protagonist's ideas (or the lack thereof) than an attitude: authoritarian statism. If you insist on locating this in the broad church of Labour ideas, it's incipient in Fabian doctrine. There's not much separating the idea that politics is, properly speaking, a matter for elections and the rest of the time it's a specialist, technocratic activity versus enlightened (and mostly self-appointed) representatives of the people who know best and for whom accountability and democracy get in the way. This is how Starmer has treated his party since becoming leader, and there isn't any reason to believe he wouldn't carry this into office with him. But Starmer's habit, his statecraft-in-waiting, is mostly coincident with Fabianism. Early on Starmer decided that climbing the greasy pole was what he wanted to do, and as shown in excruciating detail by Oliver Eagleton in his The Starmer Project, it's been characterised by sucking up to, preserving, and extending the authority of the state.

In this context, Starmer's pean to the Queen and monarchy is consistent with the entirety of his career. Since becoming Labour leader, his criticisms of the Tories on Covid were and are tepid, alternating between tailing them (and therefore tacitly supporting the greatest public health catastrophe in over a century) and following the public. I.e. Only calling for something when the polls and the focus groups were very definitely in favour. And so we see the worship of authority continue here. Heaping praise heaped on the Queen for being the head of a stable institution. Her "constant presence" acting as an anchor in a turbulent world, like all strong institutions should. What Starmer is doing is annexing the monarchy to his overall project of restoring faith and reverence in authority which he hopes to be the ultimate recipient of.

But there's another interesting aspect of Starmer's piece on the monarchy often evoked by establishment scribblers and politicians but rarely commented on: the Queen's efficacy. Here, Starmer talks about how the Queen "has guided us through turbulent times". Has she? "She has shown us that integrity, hard work and selflessness are the antidote to pessimism." Really? "Just as the Queen has led us through the past 70 years, all that she has taught us – about duty, tolerance, humility and responsibility – will continue to guide us into this next era." Pardon? There's even a subtle-ish nod to the royalist axiom that constitutional monarchy has kept the terrorism of political extremism at bay. These are symptoms of fetishising the monarchy. Not in the conventional sense of worship or adulation, thought plenty of that is gruesomely on show, but more in the Marxist sense: of objects (commodities, though in this case, an apparatus of state) acting as if it's endowed with agency and a life of its own.

The Queen and her institution does have room for manoeuvre, but this is tightly circumscribed by the constitution and its substantive (though not formal) subordination to parliament. We know the Queen has protected her family overtly, such as Prince Andrew's pay offs to Virginia Giuffre, and more discreetly lobbying for tax and other arrangements to shield her wealth. She has acted at governments' behests as an overblown diplomat, but as a quite limited, stultified character has remained within the parameters pre-ordained for her. Which is, effectively, to wear the state's baubles and provide it with a vener of mystical and ancient legitimacy. Therefore the Queen has done none of the things Starmer claims for her. There's been no "guidance". No lessons or teachings. And as someone whose long life has been flitting between palaces dripping in luxury, it's obscene to ascribe "humility" to her. But Starmer, as a would-be Prime Minister is utterly uninterested in upsetting the apple cart, and therefore has to fetishise the Queen. Constitutionally, the monarchy is sclerotic. It simply is and abides. And for this, the Windsors are handsomely rewarded. But no establishment politician can utter these words. One has to ascribe actions and achievements to where there are none, especially if a party leader is bent on maintaining the status quo.

Back in 1997, Tony Blair arguably saved the monarchy after their flat-footed blank reaction to the death of Princess Diana. A quarter of a century on, should this most peculiar and indefensible of set ups find itself facing crisis it can rely on Labour's shining knight to ride to its rescue.