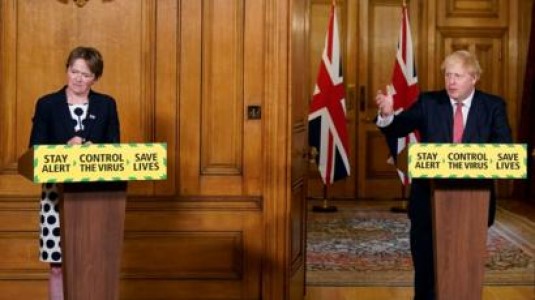 The longer this government is in office, the more egregiously corrupt are its dealings. And we're not even 10 months into this parliament, yet. Appalling mismanagement and cruel politics is one thing, but handing out nice contracts and plumb jobs to your mates is something else. Which brings us to the case of Dido Harding. As Rachael catalogues, prior to Harding's promotion to the head of the new National Institute for Health Protection to replace the abolished Public Health England (the Tories do love their scapegoats), she oversaw the £10bn failure to develop a Coronavirus app at NHS Test and Trace. Before that she was chair of NHS Improvement - a managerial body that provides "leadership" (something we'll return to shortly). And this was preceded by a "celebrated" stint at TalkTalk overseeing a massive security breach that saw 15,000 customers' bank details compromised and costing the company some £60m. Given the litany of incompetence, it's a mild surprise to learn she had nothing to do with the Ofqual grades fiasco.
Her Tory connections are so well known and out in the open that even the BBC felt moved to mention them. She was good mates with Dave and sat the same classes together back in Oxford. He elevated her to the Lords, presumably for the boon she provided Britain's internet security industry, and also happens to be good pals with our friend Matt Hancock thanks to a shared love for the nags and questions of more murkiness, and more failure. One last thing, the government's anti-corruption champion is one John Penrose. Who happens to be Mr Dido Harding.
A few things worth reflecting on apart from the obvious cronyism. The first thing is the Tories have a doctrinal justification, in as far as it exists, that can justify this. Going back to Thatcher and working its way through to the fevered thoughts of Dominic Cummings and Michael Gove is the idea the state is antithetical to the sorts of interests they champion. This might be difficult to conceive if you've ever got kettled by the police, suffered the indignity of social security hoop jumping, or witnessed favours for business, but as far as Tory ideologues are concerned the state is infested with special interest groups utterly opposed to them. Hence for Thatcher, destroying their institutional bases was as much part of her programme as attacking the labour movement and undoing the post-war settlement - see her crusade again experts and the professions, for instance. Centralising power and control in the government and using market mechanisms to discipline state-provided services was pursued by all subsequent administrations, but it also provided a job creation scheme for people who knew (and know) nothing about public services: management cadres from business.
On utterly spurious grounds, business people are best suited to this environment because they've felt the lash of competition and the demand of subordinating enterprise to the bottom line. Thatcher and all subsequent Prime Ministers were/are fully paid up members of this gullible idiocy, and have set up reviews headed by business people and appointed business people obviously outside of their competence. It continues still. Business people are treated as if they possess privileged access to the truth of the world, what you might call an ontological primacy, and everyone else should kowtow to their majesty. We don't bother with the truths of business, like its being utterly wasteful, utterly unfree, and utterly bureaucratising. This does not and cannot find room in the Tory imaginary. With this indulgent attitude conveying them into the public sector, the notion of 'leadership' has coincidentally emerged from within managerial culture. Management committees are "leadership teams", and leadership itself is less a matter of being a competent administrator or supervisor but more a personality who barks out orders and pays little mind to the specifics. It's a simulacrum of entrepreneurship for authoritarian personalities or, to put it more plainly, a nice line in professional bullshit that can command big bucks from the gullible. I suppose it's natural a culture making a virtue of not doing detail got real traction among its adherents as management cadres circulated between big organisations they had little handle on nor no interest in knowing.
Harding moves in a universe where these assumptions have the status of physical laws. But what also aids her is her clubbability. Leading Tories know her because she's one of them. What matters less is competency and counts for more is a safe pair of hands politically speaking. With a placewoman running the NHS show there is now full political integration between the top of the apparatus, Matt Hancock's office, and the political objectives of Downing Street. Mistakes, as per recent scandals can be put down to impersonal forces or minions while the closed loop at the summit continues. Harding then is another example, a well publicised one, showing openly how senior positions are carved up and handed out in this country. Her example underlines the fact that, to all intents and purposes, the Tory party is simultaneously an institution of state and a racket for getting the top positions in its machine filled.
If you want a vision of the sort of Britain the Tories stand for, imagine blue blooded failures circulating at the top of the tree, forever.