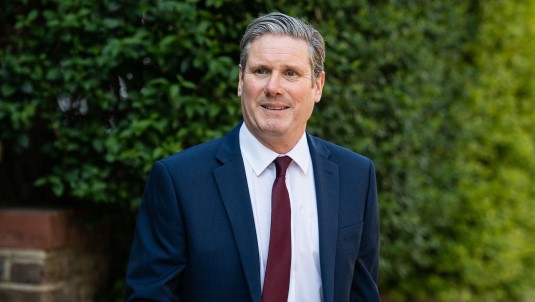 Another set of polls, another stubborn Tory lead. You can talk discuss why this is the case, but what about the how? What can Labour do that 65,000 deaths and an increasingly obvious second wave of infection can't? Whether you think the best tack to take is criticising the politics of the Tories' miserable failure, or go in for some colourless managerialism, Labour's strategy has to think about two things. How can we win over Tories voters, or failing that, discourage them from voting Conservative in the future, and how do we keep existing supporters on side.
Keir Starmer's latest piece in the Mail on Sunday should bear this in mind. The argument, such as it is, aims to place Boris Johnson's competence at the heart of the argument about schools reopening in September. Readers won't have failed to notice how the Tories have worked to blame/scapegoat teachers for keeping kids at home, instead of thinking creatively about how they might reopen. Keir also makes potted observations about Tory tardiness in handling the pandemic more generally. There's a few criticisms about their handling of the A-Level results fiasco (how likely are we going to see a repeat with this week's GCSE grades?), and this is paired with the schools issue to show how education is treated as an "afterthought". But that's your lot.
Nothing much to scare your average Mail reader there. Keir offers formally correct criticisms from a bland, managerial standpoint contrasting his Mr Competence to Tory uselessness. Therefore, if his audience doesn't like the Labour Party because it's too lefty or too remainy, presenting as a better administrator might improve his standing, with the party benefiting from reputational trickle down. By playing to well worn concerns even among Tories about Johnson's suitability on issues other than getting Brexit done, quiet but determined seriousness is the card Labour are playing. True, but in so doing he goes out of his way to do the government a favour by ignoring the health risks of a rushed opening. Despite what Gavin Williamson says, the risk of pupils passing Coronavirus to one another and taking it home to older family members while exposing teachers and school support staff is real enough - even if Keir, like the Tories, pretends it doesn't exist. Perhaps he's avoided it to dodge accusations of scaremongering, or it doesn't fit the "strong and stable" sensibility he's keen to cultivate.
Some will criticise Keir for writing in The Mail. If, for whatever reason, the most unhinged and reactionary sections of the bourgeois press are offering space to Labour politicians to make an anti-Tory case, then we should approach it instrumentally. The likes of The Mail, Express, Sun, etc. are the most powerful means the Tories have to cohere and organise their support. If there is an opportunity to disrupt its unity, sow a bit of discord, cut through the editorial bilge and address Tory voters directly, then we should take it.
This is secondary to the fact Keir's criticisms are astonishingly poor. In the age of big politics where everything is up for grabs, limiting yourself to nitpicking is just not good enough. To cohere a bloc of voters you need to attack opponents on competence and contest the politics. Unfortunately, Keir is even fluffing the line of attack he has chosen. In recent weeks we have seen evidence of egregious corruption, of government handing out cash to ragtag and bobtail outfits with no experience of manufacturing or supplying personal protective equipment, but do happen to be mates with Dominic Cummings. We've seen Robert Jenrick nod through planning applications after Richard Desmond donated (paltry) sums to the Tories, and government loans made to other billionaire donors. Why isn't Keir attacking the Tories on sleaze? Why is he determined to paint them well-intentioned but out of their depth? This will not win Tory voters over.
You might expect me to criticise Keir for offering anything but effective opposition, but how about Alastair Campbell? What a dismal state of affairs. We need strategically savvy, politicised criticisms. No ifs, no buts, no equivocation, to coin a phrase.
Image Credit