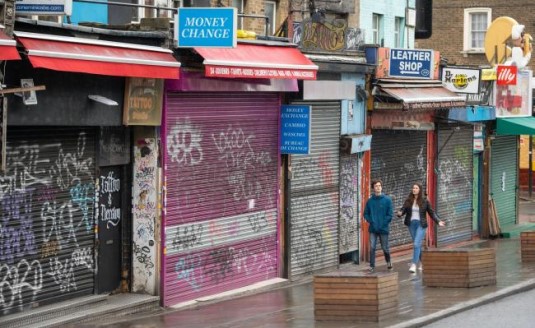 You've seen the numbers by now. Measured in GDP terms, the UK economy collapsed by a fifth between April and June. It would have been much deeper hadn't June in and of itself recorded a dead cat bounce of 8.7% growth. As Rishi Sunak says, this recession is unprecedented because the crisis precipitating it is unprecedented. True, true. Then riddle me this. Germany, down 10.1%. Belgium 12.2%. Blighted Italy, 12.4%. And even Spain, with a catastrophic a fall of 18.5%, fared better than us. The UK is the sick man of Europe again, both literally in the numbers of dead and people infected, and a far worse economic performance than any EU state.
How might we account for this? We can be generous and note the UK's over-dependence on services, which comprise 81% of the economy. Germany's is just shy of 70%, Italy's is 74%, and ditto for Spain. Naturally, any country so dependent will suffer a huge contraction if social distancing is enforced. All the more reason why the Tories were loathe to take the Covid-19 threat seriously, and why they're keen to play down the crisis with jiggery-pokery over statistics, set arbitrary dates not at all informed by the epidemiology for lifting restrictions, and Gavin Williamson's outright denial of children as possible disease vectors to get schools reopened.
Leaving aside the UK's relatively unique exposure to a biopolitical crisis, the next obvious (if crass) point is more excess deaths and people who are sick = fewer participating in economic activity. But when you compare the UK with Italy and Spain, we are talking relatively small numbers and certainly not enough to account for the performance gap. What gives?
Firstly, timing. Going into lockdown later than most other European states did not confer the UK a brief competitive edge of any sort. Rather, it prolonged the formulation of the economic support package. The lockdown officially, and reluctantly began on 23rd March. Prior to this, on the Friday the government announced the furlough scheme, which did not go live until 20th April - almost a month later. For smaller businesses there were packages of loans and interest-free credit lines, but it was not enough and it came too late for some. Tens of thousands of businesses either shut up shop, or simply laid off staff to cut costs their much reduced operation. By tarrying, hundreds of thousands of people were left without an income and the Universal Credit hotline was duly overwhelmed. Other European states moved earlier, and so protected their economies better.
The second problem was furlough itself. Paying up to 80% of staff salaries was a significant cut for many people, but there were also those excluded from the scheme, such as the self-employed and freelancers, and those who were caught between jobs. Most other schemes were more comprehensive.
Thirdly, social security support. Remember, the six week wait to even receive support (reduced to five by caring, sharing Theresa May) was introduced when Iain Duncan Smith was at the DWP as a means of "encouraging" people to find work. Because, again, in topsy-turvy Westminster land there are MPs on both sides of the Commons who think welfare causes unemployment, not lack of jobs. And so a couple of million people were left with nothing while their claims were processed. And once they were? Universal Credit entitlements vary, but they're hardly generous. For instance, Jobseekers' Allowance tops out at £74.35 for the over 25s and £58.90 for 18-24s. Compare this with, say, Germany where 60% of your salary is paid up to a value of roughly £1,725/month. The Italian system is less generous, but more so than the UK's - 75% of salary up to the first €1,195, and 25% of anything over that to a maximum of €1,300, but with three per cent deductions each month after the fourth month. Spain runs a not dissimilar but more generous model. In other words, the spending power of the unemployed in each of these states is greater and therefore contributes to a shallower dip.
Want more? Sick pay. Statutory sick pay is among the weakest level of support offered in any advance economy. If you're ill, you can get a princely £95.85/week provided you meet the conditions, and for up to 28 weeks. In Germany, for up to six weeks an employee is entitled to 100% of their salary. In Italy it's 50% of daily pay between the fourth and 20th day of illness, moving to 66% from the 21st day. In Spain it's 60% of salary. Again, the same observations apply. For most workers in the UK, a long-term period of illness means penury. Needless to say, the UK is the pits when it comes to redundancy payments too.
It doesn't have to be like this, of course. The Tories particularly hate working people for all their flattery for them. The typical worker is needy, feckless, dishonest, lazy and, very occasionally, dangerous. Simply put, for 40 years the Tories - and New Labour - have designed a welfare system that punishes instead of supports, and reflects their real feelings about the employee class. All those decades using social security as a football to kick the most vulnerable in pursuit of votes (and labour discipline), combined with the particularly cruel turn policy took after 2010, and Johnson's own disastrous handling of the crisis is behind the crisis. The reason the UK is in the deepest depression, or rather a deeper depression than it had to be, is because of Tory policy, Tory incompetence, and Tory callousness. This is a crisis made worse by Downing Street, and it's Labour's job to pin this on them.
Image Credit