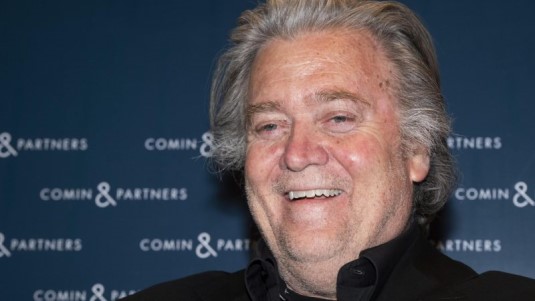 Trump's former right hand man has bothered the pages of The Observer again. In comments published last weekend, he praises Dominic Cummings as a skilled practitioner of the dark arts, endorses his coming assault on the civil service, and predicts Boris Johnson will go down the road of economic nationalism. In other words, what we're seeing in the UK is Bannonism without the grand poobah himself. But this post isn't really about Bannon, it's about why he is a bogeyman for the liberal and centrist sections of the establishment.
Naturally, there are degrees of opposition and antipathy. Given a choice between Bannonism with British characteristics and left Labourism, we know from recent experience how they always prefer the former to the latter. The politics of Johnson and Cummings, as empty as they are, is a familiar politics. A politics of the establishment and the elites, regardless of the populist spin it's given. Corbynism, for all its limitations, could have opened the door to a more popular politics by destabilising the received balance of class relationships. Yet despite this, they're still far from keen on Bannon. Why?
He's a crude racist and an unapologetic white supremacist. And, shudder, he's Catholic. The very antithesis of a particular brand of ruling class identity politics with its bourgeois internationalism, transatlanticism, EU cretinism, and affectations of progressive social values (ust don't expect them to act on them). Bannon with his straight forward racism holds a mirror up to their collective conscious and reminds them how their posture is built on hypocrisies. Their anti-racism was absent in the 00s when US and UK governments demonised and victimised Muslims, their solidarity was absent from anti-deportation and refugee support campaigns, and they cared for nothing as Theresa May sent her racist vans prowling around inner city London. They wrung their hands over the Windrush scandal and the Black Lives Matter protests, but can't bring themselves to offer a word of support for black MPs on the receiving end of racist abuse. On a basic level they know nothing essentially separates them from Bannon, who really believes his racism, and their own anti-racism which is deployed selectively.
And Bannon is also open about what politics is. It's a clash of interests, of power and privilege working on retaining their power and privilege against those who don't have it. Bannon identifies himself with the strong and favours so-called strong men and authoritarian governments as the natural and correct projection of strength, and is a-okay with scurrilous means if manipulation gets or is seen to get the desired result. He is the ultimate cynic in the most cynical game of all, and is unabashed about it. In their heart of hearts, liberal elites know this is true too. They are quite happy to crank up the smear machine and lie if they think their position is directly threatened, but the rest of the time they pretend fealty to honest debate, freedom of expression, polite discourse and reify them as values under threat from the unwashed to their left and right. Bannon is a reminder of their cant, an unwelcome interrupter to their great game who cares nothing for their liberal reticence and, again, shows them up for hypocrites. They hate him because he's rude and won't play up to their confected decency. This is why Bannon boils their piss.
Image Credit