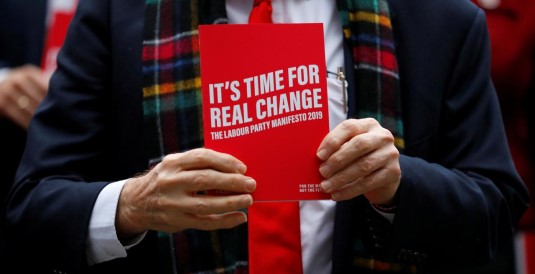 Among the internal Labour Party elections shortly due to take place, Reg Cotterill has put his name forward for members' consideration. I've known Reg for many years through blogging and social media stuff, and can confirm he is real as we've met on a couple of occasions. Principled, serious, thoughtful, and non-factional, I hope comrades consider nominating him for the job via their CLPs and support him when the ballots drop.
I am grateful to long-standing blogging comrade Phil for the opportunity to put forward my case for election as treasurer to the party. I will set out my 'vision' for the way in which the party should manage its finances, in the context of the work Labour needs to do during the great economic downturn we now face, alongside the existing climate emergency, and then summarize my relevant experience.
My starting premise is quite simple. There should be a presumption within the party that all finance coming into the party, from whatever source, should be distributed on a fair basis to Constituency Labour Parties, unless a solid business case, linked to the party's strategy in UK parliamentary opposition, is accepted by those CLPs through an appropriate decision-making framework.
This constitutes an entire reversal of financial flows in the party. It is radical, but it also realistic about the amount of funding that local parties need to make a real difference in their area, and is so doing improve the electoral fortunes of Labour in that area.
I submitted proposals on these lines back in 2013 to the Collins Review, and I invite readers to review the detailed document. I would add the following as an attempt to make those proposals contemporary:
• Such a reversal of flows would not mean that CLPs would have to cope with much larger cash amounts than they currently handle. There would be a 'virtual chequebook' system, with actual transactions administered centrally or regionally, but under the control of CLPs (as happens with schools operating under local authority control);
• A welcome consequence of the reversal of financial flows would be to allow CLPs/groups of CLPs to appoint their own staff, with a concomitant decrease in staffing in Labour HQ and regional offices. This would not be immediate, but over time it would help the party move on from the kind of toxic culture that develops in powerful top down bureaucracies, even those peopled by talented, committed individuals (see here for my exploration);
• Such a change of flow, with more resources under CLP control, would need to be accompanied by a curtailing of the excess that is annual conference. While many of those who attend are fully committed to their role, there is no doubt that in some CLPs a significant amount of money goes on conference expenses which might be better used on work in those constituencies; what Covid has taught us is that virtual meetings can in fact be more inclusive than annual celebrity-focused jamborees, and we should make the shift now to embrace that new potential for member inclusion;
• Most important of all, money is needed at constituency level more than ever before. The massive hardship coming to our country in the wake of the government's corrupted and incompetent handling of the pandemic, and its decade-long stripping of the social security safety net, mean that – like the early 1980s but much more so – local parties and movements will need to be 'out there', providing for the most vulnerable and engaging in effective local economic regeneration/sustainability In ways which also create models of action on the climate emergency. CLP funds will need to be used strategically as 'pump-primers', drawing in other resources both public and private, and inclusive of revised municipal investments and pension fund portfolios. There will be many ways of doing this, and no one size will fit all, though I would ask that my proposals on the development of Labour party-driven Community Benefit Societies tapping into the potential for withdrawable share under Society law, and the development of 'holding companies' for distressed local businesses in line with the plans being drawn up by the non-Tory devolved governments.
Irrespective of whether I become party treasurer, I hope these proposals might create interest and critical engagement from the Labour Grassroots movement, such that anti-treasurer elected has cause to bring them before the NEC and the leadership. Nevertheless, I am standing for the position of treasurer because I feel I have the skills to add this kind of value to the role myself.
I am currently treasurer to two national non-profit organisations focused on radical social change. I served as a councillor for eight years, and won my seat from the Tories to become the first ever Labour councillor for that ward. I know how to win elections. I served as leader for the opposition at borough level for two years before care responsibilities meant I had to take a break. I have served in governance roles in primary, secondary and higher education, and as Non-Executive Director in the NHS. I trained as a nurse, and was a union branch secretary and chair, before moving to Asia and Africa in aid work. When the pandemic began, I became a care worker in our hard-pressed care sector, and am now moving back to work in the NHS as the second wave approaches.
I think I have the skills, and credibility within the labour movement, to make my grassroots approach properly heard within Labour hierarchy. I am experienced enough to develop and adhere to the correct and rigorous assurance framework, in liaison with member auditors, to ensure that Labour members know what money is being spent where, and to what socialist cause, while also working strategically with Labour staff to develop a healthy financial future for the party in which our politics are free from the pressure of the vested interests of capital.
My wider analysis of where the Labour party is, and what it can become, can be found here (the draft of the first half of a book to be published in 2021).
If you feel able to nominate me at your CLP for the position of treasurer, I would of course be very grateful. I am available for question on @bickerrecord when I'm not at work, asleep, out with the dogs, or grappling with Kierkegaard.