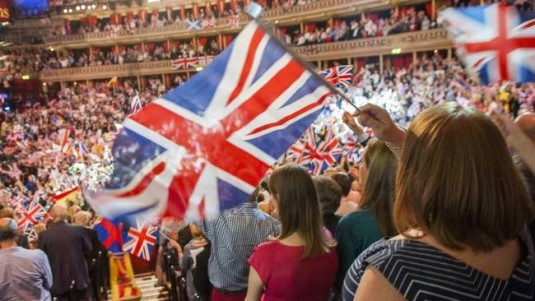 Coming in more tedious than the centrist-right obsession with Jeremy Corbyn has been the entirely contrived controversy over the Last Night at the Proms. If your news sources are The Express, The Sun, and other fonts of Tory talking points, you might have suffered palpitations thanks to the BBC's decision to ban Rule Britannia. Cue "it's political correctness gawn mad" takes from the very worst people paid to have opinions. It doesn't matter that the truth is the banning of all singing thanks to Covid-19 restrictions. The right saw an opportunity to whip up Britain's victim status, and they ran with it.
One should never pass up an opportunity to get a dig in at the Buggers Broadcasting Communism and delegitimise the BBC that little bit more, but you'd think some of the pushers of the latest lie in the Tory culture war might show a bit of decorum. Andrew Neil built his reputation as TV's toughest politics interviewer on, you guessed it, the BBC. Isabel Oakeshott became a personality on the right thanks to repeated guesting on Sunday morning politics shows. And who would have heard of Nigel Farage had BBC not given him his safest seat of all: a regular slot on the Question Time panel. Such ingrates. And yet, perversely, those on the the receiving end of (wilfully) distorted BBC reporting tend to be those who are duty bound to defend it as an example of pubic broadcasting, however degenerate it may be. Funny old world.
The Rule Britannia outbreak, like all other outbreaks of right wing hysteria, do have political consequences. And those stoking the fires are fully conscious of what they're doing. This is the big picture: Brexit is presently holding the Tories' pensioner-dominated electoral coalition together for reasons discussed many times round these parts. For people who predominantly occupy a fundamentally insecure location, their anxieties sublimate into scapegoat condensers of their fears and totems of uncertainty, such as the young, wider culture, technology, etc. Brexit offers illusion and delusion as a means of finding a passage to a more secure, fixed past they find comfortable and knowable: a place they more readily see themselves in than the confusing, seething, unknowable mess they watch (but crucially, tend not to directly experience) on the television or read in the papers.
The problem the Tories have is Brexit can't last forever. Time's up at the end of this year and we can look forward to the future and a new and less-than-optimal relationship with the UK's largest trading partners. Where do the Tories go then? How do they keep their people together? Being seen as a reforming, activist government is actively positioned for by the very top of the Johnson government, but this can only go so far. Spreadsheets and tractor production figures might have cut it with Tory voters in 2015, but faced with the sheer incompetence and deliberate cruelty of these people party strategists and what passes for its "intellectuals" are casting around for the special sauce that can maintain the polling lead. The only thing that makes sense is something nationalistic, but dripping with victimhood, a new populism (looking a lot like the previous populism) opposing the good honest folks of the United Kingdom England to evil elites and ne'er do wells who want to ban Britishness. In other words, expect a constant barrage of poor little Britain moaning and whingeing.
What are the chances of keeping their coalition together? These efforts will carry on motivating the core components of Toryism, but what about the fringes who voted "tactically" last December to see Brexit done? Will they too fall down the rabbit hole into a wonderland brimming over with Benny Hill, oversized Wagon Wheels, and fantasies of empire? It's unlikely. Brexit populism made sense because there were elites determined to stop it, and nullify people's votes. But a sing-a-long called off because of Coronavirus? Panics about Marxism taught on every university degree apart from Maths and Computing? The danger of face masks? They might have a certain potency now, but with Brexit off the table and the people's will seen to be done, their urgency and vitality could drain away with culture war investments offering only ever-decreasing returns. Could.
Under these circumstances, it behoves the left to properly understand the interplay of right wing rhetoric and the cohering effects it has on its intended audience. And it's down to us to come up with strategies that can disrupt their messaging, make their clarity fuzzy, and present compelling stories and critiques of our own so we intersect better with the lived experiences and concerns of older workers and retirees. Easier said then done, but them's the breaks. No one's going to do it for us.