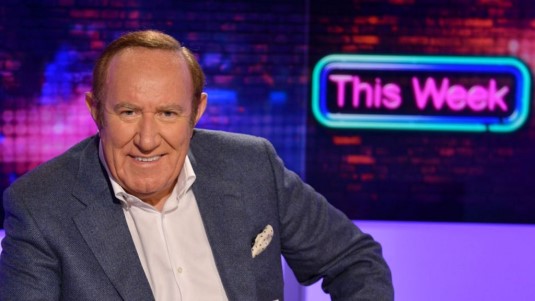 It's another victory for the advancing armies of Wokeism. Andrew Neil, scourge of ill-prepared politicians and upsetterer of the snowflake left is done. Along with 520 jobs set to go from the BBC, his show is not being renewed and when Politics Live resumes, he won't be hosting it. Pity then not the poor workers about to be left high and dry, but Britain's under siege right wingers. Still reeling from the government's decision to make face masks compulsory in shops, their favourite journalists are as cancelled as their civil liberties. Sucks to be them. Well, no one is sacking Andrew Neil. In fact, so keen are the BBC to see Brillo's back end that it wants to give him a new show.
It's curious. When you're on the left, it's not so much an article of faith that the BBC is biased toward the narrow range of establishment opinion but rather a fact of political life. The BBC's politics coverage takes its cue from the papers, who are overwhelmingly slanted to the right, and shares the same assumptions not just about newsworthiness, but the world too. Jeremy Corbyn was, of course, the outsider par excellence and got the treatment they thought he deserved. But to a lesser extent, Nigel Farage and Nick Griffin in their turns received the same.
Yet one thing that has always tickled are the accusations of bias that come from the right. These come in two flavours. Moaning whenever a Tory politician is asked a tricky question, or someone in the Question Time audience turns out to be a Labour activist or councillor. Which is funny because those times when it's a Labour politician caught like a terrified rabbit in the headlights of scrutiny, or a Tory activist or councillor in the audience gets to ask a pointed, party political question do not register at all. None are so blind as those who do not wish to see. And then we have those complaints claiming the BBC is structurally biased towards the left. How do they work that one out?
Over the years, professional shithouses and right wing commentators invariably booked for slots on BBC television and radio like to claim Auntie is run by liberal elites. You might as well call it Graun TV. And how does "leftism" manifest in their output? Not via socialist messaging (though howls out outrage accompany most episodes of Doctor Who) or the broadcasting of communism, but ... by ensuring women, LGBTQ+ folks and minority ethnicities get a fair crack. In the last 10 years, the BBC was at the forefront of pushing high profile and good quality programming centring characters who aren't your archetypal straight white men and does not revolve around their experiences. Shows as innocuous as Killing Eve or Luther are vanguards of liberal tolerance, which is always the outer shell of militant Cultural Marxism. This is nothing new. From the unlamented ex-Tory MP Aiden Burley getting sniffy over the "multicultural crap" of the 2012 Olympics ceremony to the racists who objected to Derek Griffiths appearing on Playschool in the 1970s and 80s, the desire our media should reflect society as it is instead of how they imagine it to be tips them into states of apoplexy. This, apparently, is left wing.
Stands to reason then a balanced and non-biased BBC would be racist, sexist, homophobic, and happily run gags ridiculing disabled people. In fact, insisting women and ethnic and sexual minorities be treated equally and that, for once, white men should fade into the background is the real bigotry. In other words, what drives ludicrous and increasingly hysterical accusations of leftist bias at the BBC is the brittle character of their privilege. It's almost as if the commentators who bang on about it know they're mediocre and wouldn't have got anywhere without the right connections, a word from Daddy, and the advantages afforded by their pale bodies. And in a world characterised by galloping anxiety, especially among those who have a stake in it, a female face or an Asian face at the BBC is a cultural reminder of how they are not forever. They shrink in fear before the advance notice of their obsolescence and lash out at those they hold responsible, such as pin up hate figures on the left, or the imaginary Bolshevists plotting the overthrow of Britain from Broadcasting House.
Leftwing bias at the BBC does not exist, it is not an everyday property of British politics. But then again, the right wing imaginary has never been much interested in the inconvenience of the real.