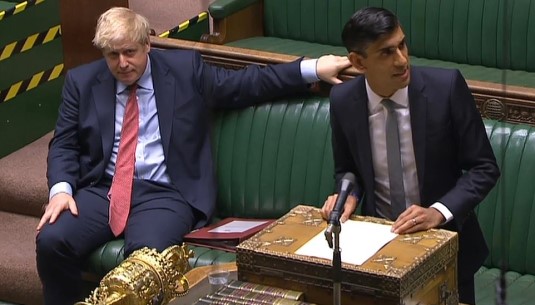 "Thanks for the meal deal, but we were promised a new deal." Quite. Still, a feeble response befits a feeble summer statement. Rishi Sunak, sans the boondoggle coffee cup, announced the furlough scheme was winding down this October as planned. But no need for anyone to worry; the economy will be motoring ahead by then thanks to the stimulus and support the government are providing. Hence, the old Tory trick of re-announcing things got another outing in the form of stamp duty cuts, cash for decarbonising the public sector, and more (largely unspecified) infrastructure spending. So far, so March.
The genuinely new stuff was ... interesting. To entice people back to the UK's beleaguered hospitality industry, there are sweeping cuts to VAT on food, refreshments, overnight stays. Everything but booze, all told, and to last for six months. If Coronavirus hasn't gone away by the end of the period (it won't have) this is likely to be extended into the new year. To sweeten the treat, the government are offering 50% discounts on restaurant meals for up to £10. "Eat out to help out" is the dubious-sounding slogan for that one. It might also help bump up those covid-19 infection rates, underlining the decision that for the Tories, class power and economics come first, public health second.
It's jobs where Sunak's scheme is going to get the most attention. On furlough, employers are in line to receive £1,000 for every member of staff who comes off furlough and remains on the payroll come February. At £9bn budgeted for the scheme, even the dogs in the street can see the problems with this. As a job protection measure, it's useless. If an employer thinks laying off staff is going to make "efficiencies" then a thousand quid sweetener will not compensate for the salary saving. What it will do is provide a bung, albeit a fairly paltry one, to bigger business and large organisations planning on bringing back furloughed workers anyway. It might help a few small and medium sized businesses if they are opening up in October, but as retention schemes go it's dismally unambitious.
The Tories' youth employment initiative is even more of a joke. Talking about "good quality jobs" without cracking a smirk, Sunak announced a £2bn fund from which employers receive £1,000 to £2,000 bungs for "trainees", who in turn will have their minimum wage salary paid by the government. The higher payment comes into play if they are taken on for six months. If it sounds like a temporary fix to fiddle the jobless figures it probably is a temporary fix to fiddle the jobless figures. A passing familiarity with past Tory workfare schemes tells you all you need to know. The rest is more money for jobless support, including work coaches to get youngster back into earning. Even now, in the midst of the greatest implosion of the global economy since the 1930s, the Tories still believe it's the wrong approach to job-seeking, not lack of vacancies that causes unemployment.
It doesn't take an eagle eye, or a forensic leader of the opposition to spot there was nothing for renters, nothing for those stuck on social security for the foreseeable, nothing for equipping workers for the future, nothing for underemployment, nothing for social care, and nothing for the mental health epidemic. It's almost as if Sunak's overall concern is keeping the low waged, low skilled, low solidarity, low protections economy on the road. Forging ahead as if Coronavirus doesn't exist, trapping younger workers in the cycle of frustrated career aspirations and denying them their opportunity to get on the housing ladder, doing nothing does do something. It perpetuates political polarisation - something the Tories have, of course, done well out of. So far.
This is their game. Keep cultivating the circumstances holding their coalition together and dish out the stats of people helped by furlough and the so-called "kickstart" scheme when they're criticised. Undercutting this demands a strategy for breaking this base apart. Sadly, there's little sign of this penny dropping yet.
Image Credit