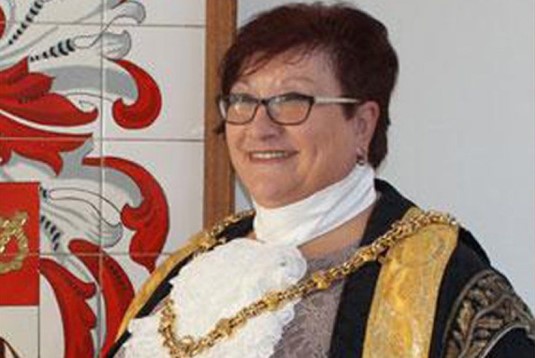 Last month featured a a brief post about Stoke's outgoing Lord Mayor, Cllr Jackie Barnes, and her tendency to post up outright racist and dog-whistling pieces to social media. The story made the national media and thanks to the furore her successor, Cllr Melanie Baddeley of the City Independents (and formerly of the BNP), resigned her deputy mayoralty and won't be taking over from her in September. However, Cllr Barnes remains the mayor. According to the statement occasionally sent out by the City Council in response to complaints, she has "self-referred" to the standards committee where there will be a "full investigation". For info, the standards committee does not have the power to suspend or expel a councillor and force a by-election.
Still, within the limits of the system Cllr Barnes should receive the toughest sanction at the committee's disposal. For too long Stoke-on-Trent has had a problem with racism. Those voters who supported the BNP throughout the 00s are still around, and the stench from its dalliance with fascism hasn't gone away. And, of course, if there was any shred of shame and decency in her veins Cllr Barnes would have matched her apology with her resignation from the mayoralty and the council chamber.
Unsurprisingly, Stoke's Black Lives Matter are not impressed. They have been in touch to share their email uniform template they have used to contact Cllr Barnes and Council Leader Abi Brown, which I'm happy to reproduce below. Their email addresses are: jackie.barnes@stoke.gov.uk and abi.brown@stoke.gov.uk
Put REMOVE JACKIE BARNES as subject
I (INSERT NAME) call for the immediate removal of Jackie Barnes from her tenure as Lord Mayor of Stoke-on-Trent. Jackie Barnes has deliberately and wilfully breached Stoke-on-Trent City Council's Equality Policy. Her racist social media posts have caused extreme offence to many people of this city and harmed its reputation nationally and internationally.
I do not trust your Internal Standards Committee to investigate this without bias.
I demand that Jackie Barnes is immediately removed from the position of Lord Mayor of Stoke-on-Trent and her removal be publicly announced by 4pm, Monday 27th July 2020.