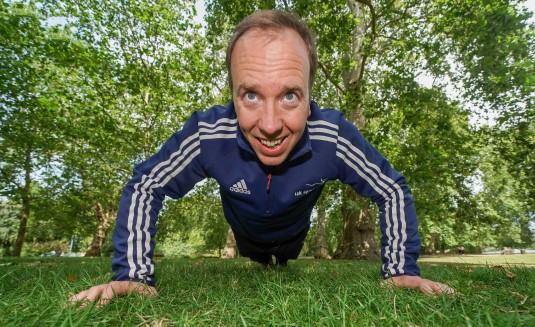 The first week of the parliamentary recess, so what is a leading Tory to do? How about kite-flying a new policy to see if it catches a violent gust of opposition, or floats languidly in a pleasant breeze of indifference or, even better, acquiescence? This is exactly what Matt Hancock, our ever-present health secretary has decided to do. According to The Graun, one policy under consideration by the government - which Hancock is favourable toward - is introducing a new tax to pay for elderly social care. With the proviso that workers over the age of 40 pay for it.
Because this government, like its predecessors, fetishises choice as a good in and of itself, we are going to be compelled to choose: either pay more tax or national insurance, or be forced to take out an insurance policy to cover later costs for later care. The models for this come from Japan, which already funds social care from a 40+ tax, and Germany where contributions begin from the point of entry into work. Great news, right? At last the boil of how to pay for social care is going to be lanced and the issue can be resolved once and for all?
Well, obviously not. The first thing worth remembering is the crisis we have in adult social care now only exists because of decisions the Tories made. Over the course of the last decade, their cuts programme has seen £16bn wiped off the budgets of councils, by far and away the biggest provider of these services. This left them in such a poor state that George Osborne allowed local authorities to add a social care precept onto council tax from 2015. Which, in true Tory fashion, came nowhere near meeting demand let alone making good the support infrastructure broken up so, for example, Osborne could dole out year-on-year corporation tax cuts. He, however, was merely one in a long line of chancellors to deliberately underfund services. Between 1997-2010, adult social care spending (i.e. inclusive of people with complex needs, as well as the elderly) increased 4.3% year on year in real terms and this was supported by care standards regulation, an inspectorate, and initiatives around personalised care. Yet this was within the tax regime inherited from the Thatcher/Major years. You'll remember it, the one where North Sea oil receipts, for example, were frittered away on lowering taxes for the rich. Even under Labour spending couldn't keep up with demand because Tony Blair and Gordon Brown were not prepared to claw back the cash imposed by the Tory tax settlement. 40 years of purposeful underspending because the capacious pockets of the wealthy mattered and matter more has brought us to the brink of the age tax.
The second point is why should workers pay for it? Over the last 20 years final salary pension schemes have closed and career average schemes are now the norm. Multiple employers, public and private, have taken holidays from paying their contributions into pension pots with the blessing of governments red and blue. And to add insult to injury, across the board employee contributions have gone up for a less generous income in retirement. We see headlines about the shrinkification of Whispa Golds and Double Deckers make the front pages and front ends of newspapers and news sites. The whittling down of pensions is never deemed as important. Workers then have already lost out when it comes to old age. And then there is the small matter of stagnant wage. Pay has been flat in real terms since August 2007. On occasion, even the Daily Mail is forced to admit the rich have gained from increased productivity since the 1980s at the expense of everyone else. Effectively, without getting into arguments about surplus value, it's obvious the rich have banked wages owed to us. It's high time they coughed them up or this extra unearned wealth was put to more socially useful purposes than a fleet of yachts. Such as getting fed into rebuilding adult social care.
This is the context of the crisis facing the elderly. It is the bitter fruit of decades of systematic looting and defunding. Therefore, the Tory framing of the problem must be challenged. It suits Hancock to simply declare a funding black hole that can only be filled if we ask everyone to contribute a little bit extra. He wants to pretend we're talking about an accident of demographics, an accident of more people living longer and that's the end of it. Something must be done. The temptation, and the danger, when it comes to criticising the proposal from a "forensic" standpoint is zeroing in on its regressive characteristics to the exclusion of all else. Is it fair the 30 year old sales executive pays nothing when their 45 year old office cleaner does? What insurance company would be crazy enough to offer a social care policy that is virtually certain to pay out large sums? Important objections certainly, but limiting them to "technical" matters takes the political sting out of repeated Tory (and Labour) failures on care. Rejecting the Tories' age tax has to involve opening up their record, how they have engineered this impasse, and who's benefited from it. After all, the first responsibility of an effective opposition is to tell the truth.