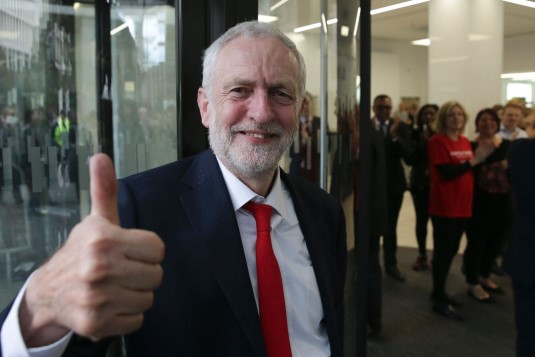 14.1k donors. £255,233 raised. Not bad for a few days work. The announcement from Panorama journalist John Ware that he intended to pursue Jeremy Corbyn and others for defamation has certainly provoked a reaction. Should Ware decide to see his tough words through, the monies raised on Corbyn's behalf can easily afford him half-decent counsel. Facing a defence fund of this size, perhaps the writ will not be forthcoming after all.
This talk of taking legal action is another episode in the hounding of Jeremy Corbyn, of which there has been no let up since relinquishing the Labour leadership back in April. Ahead of the long-awaited release of the report on Russia's involvement in British politics this week, the Tories' press arm smeared Corbyn as being in receipt of Russia-sourced leaks about the UK's preparedness to put the NHS on the chopping block for a post-Brexit trade deal with the US. Readers might remember Corbyn ambushing Boris Johnson with the documents during one of last winter's leaders' debates. Never mind how the papers had sat on Reddit for months beforehand and were published by The Telegraph. Does that make Johnson's favourite paper complicit too? And after all that, far from poppycock the leaks turned out to be utterly prescient.
Then we got to the hinge of the week. As expected, Labour dropped its defence against claims brought by John Ware and his Panorama interviewees, issued a grovelling apology and handed over a substantial out of court settlement. You don't need the keenest legal mind to divine this was driven by politics and not the likelihood of Labour winning in light of the contents of Labour's internal anti-semitism report. Keir Starmer made a simple political equation. Settle this, put the past behind us and get on with (ahem) providing some opposition. The problem is he's opened the door to other actions, such as the one currently mulled by former general secretary Iain McNicol - easy money for some now the party has admitted in court it was in the wrong. Likewise, our recent litigants could file further claims against their suspensions from the party because of the position the party has taken. And there's also the small matter of dumping on his own inquiry into the leak and its contents. In short, if Keir Starmer is so blasé about defending his own party, how can he be expected to stand up for the people it's supposed to represent?
The rapid accumulation of Jeremy's defence fund isn't just a reaction against vindictive elites, it's a protest against the Labour leader too. For the last five years Labour was consumed by some of the fiercest infighting the party has ever seen. A half decade of salting the earth Labour grows in, and we're supposed to simply forget the role those who run the Labour Party now played or blame the left. True, back in 2015 the right predicted disaster and they strained every sinew to make sure that was the outcome. Sadly, there is no reckoning for these people. Some of the worst are now out of parliament, but are stacking up on jobs and enjoying their elevation to the House of Lords thanks to Tory preferment. None of them have atoned, none of them have apologised for destroying ours chances, none have been held responsible for letting Johnson waltz through long-held Labour seats and letting him back into Downing Street. In this context, Keir's surrender is not an example of setting factionalism aside and pressing for unity, but one where he's aligned himself with them - not that there was very much doubt - and looking to strike a new balance in the party on their terms. And if this means tens of thousands leaving the party, so much the better. The defence fund is a middle finger to all that, of the little people rebelling against their party betters and hoping a just outcome can be purchased for a few quid.
Keir is not making things easy for himself. With papers full of keyboard warriors demanding reckonings with and purges of the left, he needs to remember more is at risk than an army of enthusiastic door knockers, but of losing and seeing his left flank dissipate among the Greens, the Liberal Democrats, and the sectlets. And if they go, they act as negative multipliers on their own friends, networks, and cohorts. Not all of them live in big cities and help Labour clock up super majorities, but whose mobilisation is key if the party is interested in winning over scores of marginals. There was no evidence Keir understood this basic fact when he embarked on his leadership campaign, and he hasn't shown an inkling since. Enjoy the opinion polls for the moment. The path to defeat is a long one.