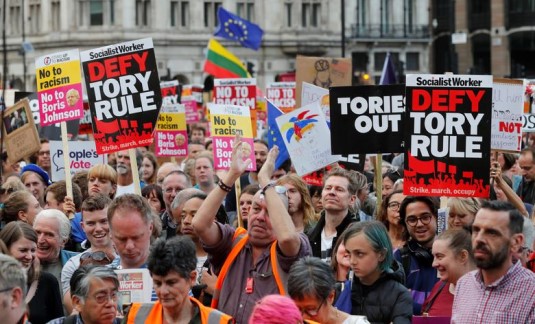 Seeing as Keir Starmer is gearing up for a confrontation with the left following Rebecca Long-Bailey's sacking and despite what's in the best interests of the Labour Party, debate in and outside of the party has started thinking aloud about a new one. This would be a complete waste of time, whether the objective is to replace Labour with a mass socialist party or something modest like a 'left UKIP', an organisation of limited electoral appeal but viable enough to keep Labour from straying too far from left wing policies. As a wise voice points out, "If you spent the TIG years laughing at how they were going to lose their seats because the name recognition lies with Labour and not individual MPs how do you square that with the desire to have left Labour MPs break away now?" Quite. Let's think this through.
Anyone serious about either projects must reckon with history. The old, official Communist Party failed miserably in elections, only getting three MPs elected under its name in its 70-year history and, at most, a couple of hundred councillors. It was able to build significant influence in several trade unions but this withered as trade unionism changed and went into decline. The Independent Labour Party, which disaffiliated from Labour in 1931, had three MPs elected in 1945 and gained another the following year in a by-election, but they were all swept away in 1950. Militant was later to have success in the 1980s with three MPs, but these were only elected because they were Labour candidates. The Scottish Socialist Party had six MSPs elected in 2003 off the back of the anti-war movement, but that was thanks to the list PR system used to elect half of Holyrood's members. In 2007 these gains evaporated. And lastly George Galloway was able to get himself elected in 2005 and in the 2012 Bradford by-election as Respect's sole MP. This is your lot - it's gone from bad to worse since.
A question of the electoral system? Well, yes. But not the whole story. When you look at the left alternatives and formations of the last 25 years, whatever potential they had were hobbled by infighting and sectarianism. The Socialist Labour Party was strangled at birth by Arthur Scargill's failure to, first, reach an accommodation with Militant Labour (as the Socialist Party then called itself) to break the mould of sectarian politics, and then a subsequent witch hunt against anyone not to his liking. The Socialist Alliance was destroyed by the little Lenin syndrome of each of its two main participants, as was the case with Respect and latterly, the Trade Unionist and Socialist Coalition. This was forbidden from developing any life of its own by its principal sponsor, the SP. Indeed, the two largest Trotskyist organisations on the British left have undergone profound crises of their own - the SWP has its grotesque culture of leader worship to blame, one which saw it embroiled in covering up rape and sexual assault. And the Socialist Party preferred implosion to an honest accounting of, to everyone else, its obvious fallibility. Left Unity, an attempt to cobble something together in the early years of the decade sans the SP and SWP failed thanks to the double whammy of unseriousness and playground trottery. Last of all, the Scottish Socialist Party ekes out an existence doing nothing in particular - Tommy Sheridan's bitter legacy continues to cast its shadow.
Because these failed doesn't mean new initiatives are predetermined to follow their path, right? The issue all these organisations share was a failure to build a mass base. The CPGB, SSP, and Respect were able to acquire some aspects of one but this did not reproduce itself as a stable constituency, nor were these organisations sufficiently rooted to the point where they could shape their base. Leadership matters, of course, but the propensity for sectarian and unaccountable petty elites to emerge grows the more insulated they are from wider struggles. Take the British far left as a case in point: the bulk of their activism is not around workplace struggles, campaigns or what not, but the reproduction of their organisations themselves through petitions and paper sales - which tends to reinforce their distance from the class they aspire to lead as opposed to merging with it. This makes building a sustainable base difficult because this work is always prioritised. If they want to begin breaking out of this ghetto, a fundamental rethink and reorientation of their politics is required - something the far left as a collective have avoided since the CPGB's foundation.
Then we have competitors. I don't believe Keir Starmer or his people understand the composition of Labour's base, its dynamics and movements, nor its trajectory. The Labour Together report doesn't change that, despite the diplomatic nice words said in its direction by the leader's office. As Keir pivots to the right and the base starts fraying, there's an opportunity to intersect with activists and voters left high and dry. Indeed, and the Greens and Liberal Democrats (if they have any sense) are well-placed to scoop them up. They have activists, a proven (modest) record of electoral success, and are superficially attuned to the concerns of a chunk of Labour's new core vote. The SNP shows what happens when Labour loses sight of where its base is. How can a new left party that doesn't even exist and enjoys zero name recognition offer credible answers and be considered a good punt for the extra-Labour curious? Look at the state of the latest new left party, George Galloway's Workers' Party. Consciously a "patriotic" party that attempts to combine Brexity nationalism with Putin apologetics, and an undisguised (and unironic) admiration for Joe Stalin and all his works, it makes you wonder who it could possibly appeal to - apart from aged tankies nostalgic for the time before. It's embarrassing, frankly.
Let's park these issues to one side and consider the strongest argument from history in favour of a new workers/new left party: first past the post has locked all small parties out of parliamentary representation, but this was the case when Labour was founded. And yet Labour came to replace the Liberals as an electorally viable party of government in spite of the high bar of entry. True, true. But how did this happen? It involved alliances of convenience with the Liberals in certain seats and, oh yes, the small matter of a rising labour movement locked out of mainstream political representation. In the 2020s the situation is completely different. Trade unions aren't barred from political entry - most of them are satisfied (at the moment) with Keir Starmer nor is there much grumbling among the now growing membership about him. And besides, the contemporary work force is highly individuated: true, we have a rising cohort of the new working class, but their institutional expression was found in Corbynism. With its dissolution, its attachment to Labour is much more conditional. Good news for a new party, then? Well, no. Because it is more diffuse and harder to organise, even with the coronavirus crisis set on polarising the UK's political economy further. Its less conscious and confident sections are more likely to lapse into despondency and abstention than get angry and organised. We saw it happen last December, and it can happen again. In short, the conditions for a new party for the replacement of Labour are simply not there.
How about a left UKIP instead, effectively an electoral pressure group for socialism? Assuming it manages to avoid all the pitfalls outlined above, how does it move from a standing start to something that makes for sweaty palms in the leader's office? It's difficult to see how. UKIP's success tapped into a consolidating (but declining cohort) of voters largely organised by the hard right press, and tapped into widespread cultural currents of racism, Empire nostalgia, and British exceptionalism. Every five years it also had a set of elections it could easily dominate as a repository of protest voting. Its threat pushed Dave and the Tories to promise the referendum and, well, here we are. What opportunities are available for a left alternative to make a nuisance of itself? Local council by-elections? Elections for the devolved governments in Scotland, Wales, Northern Ireland, and London? Favourable press coverage? Considering the extra-Labour left's record of strategic ineptitude when it's not busy fighting among itself, the chances of navigating choppier political waters and reaching the golden isle range from nil to Davey Jones's locker.
Last of all, what is a new party for? You can look at the existing Labour left and answer this question easily: pushing socialist policies, building an infrastructure for political education and empowerment, drawing more people into politics, holding Labour's leadership to account. Success isn't guaranteed and it's never a bed of roses, but it exists, has a mass influence, and tens of thousands of activists. It's a serious endeavour and one that could retake control of Labour's National Executive Committee this summer. Some might think it's a waste of time, the right have won the leadership so why bother, but being part of this movement doesn't preclude doing things outside the party. Nothing is stopping anyone giving up dull party meetings and getting stuck into workplace or community activism, for example, and many thousands are going to do just that. It is not the be-all and end-all. Compared to this, what might a new party have to offer? Judging by snippets of conversation here and the odd polemic there, those arguing for one desire a space of the like-minded where they aren't sabotaged by their own side and feel it would be a better use of their time. That's fair enough, but let's not kid ourselves here. This is a project for building a social club or, at best, a sect no different from everything that has gone before.
If people want to leave Labour, fine. It's up to them. It is nevertheless better if comrades stay, even if, for totally understandable reasons, they choose not to actively participate and concentrate their energies elsewhere. This is simply a basic fact of the political situation we find ourselves in, this is our reality. A new party at best is an irrelevance, and at worst a means for disorganising the left further.