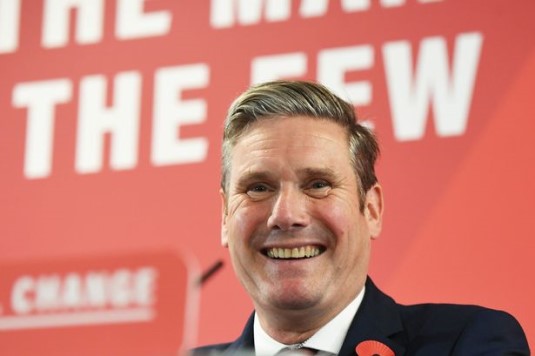 Dear Corbyn Supporter,
With 275,560 votes (56.2%) vs Rebecca Long-Bailey's 135,218 votes (27.6%) and Lisa Nandy's 79,597 (16.2%) Keir Starmer is the new leader. Sometimes politics is totally, straightforwardly predictable. Also the left candidates for the deputy leadership didn't do fantastically, what with Richard Burgon getting 80,053 votes (17.3%) and Dawn Butler receiving 50,255 (10.9%) in the first round. Alas, the crank right had little to shout about - Ian Murray could only muster 61,179 votes (13.3%), despite my endorsement.
Fallow times for the left, then. Or are they?
I'm extremely sceptical of Keir Starmer's leadership. His pushing of the second referendum after 2017 either demonstrated conscious complicity with an obvious campaign to undermine Jeremy Corbyn, appalling naivete, or - considering how central Brexit was to the Tory revival - an unseemly tone deafness. These are not qualities that recommended Keir as a serious leadership candidate, but alas. Here we are. We're going to have to live with someone whose first instinct is to praise the government when they're doing well, and keep quiet when they're not - an approach sure to set us up for future election victories.
What does the left do now? It's very likely tens of thousands of party members are considering their position. If you're one of them, you should stay. This isn't to say the Labour Party must be the be-all and end-all of your political focus. As a number of comrades have noted, the eruption of Corbynism and the drawing of virtually the entire left into the party has left the field open for other forces to fill the street and community campaigning niches. Most obvious is the rapid growth of Extinction Rebellion and its radical liberal politics of personal responsibility and accountability, with its daft stunts like clambering on top of trains and activists gluing themselves to the front of Labour's battle bus. The end of Corbynism means this sort of organising by the left will no longer get neglected. However, the shift of focus doesn't necessarily entail dumping party membership. Especially when there are plenty of battles coming up.
Regardless of my Starmer scepticism, he was elected on a Corbynist-lite programme. And as we're seeing the editorial board of the bosses' house organ, the FT calling for a new settlement along these lines, the political room for backsliding is blocked by a largely left wing membership and an emerging bourgeois common sense - though I strongly suspect the latter will count for more than the former. But this is no room for complacency. Not only can we expect attempts at rolling back manifesto commitments, but also the limited democratic advances made in the last five years. Prepare for a lot of dishonest hand-wringing over the imminent EHRC conclusions, and the best efforts of the right to try and purge prominent leftists. We're likely to see some trolling too, with the inviting back of horrendous scabs like Ian Austin and John Mann, and finding jobs for backbench phantoms of Labour's recent past. In these circumstances there is no need for a purge if the left can be expected to purge themselves. These initiatives and moves need resisting not just because it weakens the left in the party, but because they weaken the left and, yes, the viability of the Labour Party as a whole.
Therefore comrades who've had a bellyful (and seriously, who hasn't?) should approach the matter not as an issue of ideological purity but as pragmatic class politics. Keep the membership and follow your own political priorities outside the party, but support comrades in the party when it comes to crucial votes, meetings, and selections. That's it. And as quid pro quo, for comrades whose focus remains Labour stuff they should seek to use whatever leverage they have in the party to support and publicise activism and struggles taking place outside of it. This isn't particularly difficult, nor is it a big ask. Rather it's maintaining what is already happening in a lot of places, of preserving the relative cohesion of our movement.
Consider the position of the left at the moment. Apart from a few irrelevances, for the first time in my political life the left is largely united and pulling in a common direction. Even with the catastrophic defeat and the subsequent arguments about who should stand for the left, what is unique about this moment is how the left hasn't turned in on itself. There's been a dribble of support from the active left over to camp Keir, but it has been clear sighted about how the class interests of our people are best served by Rebecca Long-Bailey's candidacy. I hope this clarity and seriousness continues as we grow accustomed to the new politics of the post-Covid era.
For the left in Labour, resistance is the name of the game but, to borrow a phrase, not opposition for opposition's sake. Criticising the new leader when Keir makes his mistakes, continuing to advocate for policies and strategies that keep our coalition together, resist the spurious Coronavirus Union Sacrée and carry on forcefully attacking the Tories and, crucially, defending Starmer from the inevitable Labour right carping so they can get back to their long 90s comfort zone and, crucially for them, their former prominence and power. The left might have very little to no confidence in Starmer, but that doesn't mean we don't want him to succeed. We do, but success is measured by the demands of the moment. Our job is to ensure he and the rest of the party are up to it.
And this is where those comrades whose focus outside of the party is crucial. We must resist the tendency to fragmentation and squabbling, but continue to learn from and keep accountable to one another. We need to keep ourselves honest. As someone who was once completely sucked into the party machinery, I know how a total fixation on the party can insulate one from wider politics and distort your perspective. Likewise, total neglect/outright hostility runs the risk of ceding conventional politics entirely to our enemies. The left then must stand with one leg in and one leg outside the party, that is how we stay united. This is our responsibility, no one else's. The future will not be kind if we fail.
Best,
Phil