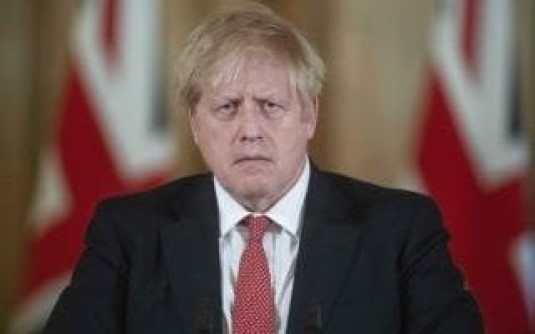 You don't have to "clap for Boris." There is no compulsion to put out earnest tweets or status updates "wishing the Prime Minister well." But going to the other extreme, to actively crow about Boris Johnson's illness or, in some cases, merrily willing him to suffer and die is so self-evidently stupid that it says something about the state of politics how a piece such as this has to be written.
I don't need any lectures about what an arsehole Boris Johnson is, his bumbling chucklesome indifference to the hundreds of thousands who've suffered under the Tories, and how his own dithering and complacency has led to hundreds of unnecessary deaths, and is - poetically, one might say - responsible for his own hospitalisation. But before anyone caves into the little voice urging a public display of gloating, perhaps some thoughts should be spared for other people. Yes, a radical suggestion for our narcissistic times.
Johnson's family deserve sympathy. Whatever Johnson is responsible for, his kids and relatives are not, and anyone wishing Johnson harm is also wishing distress, misery, and grief on others who aren't accountable for his actions. Hoping his unborn child grows up without a father is many shitty things, but radical and left wing it is not. That the Tories show scant concern for those who suffer at their hands does not matter: socialism is not a game of putting a plus wherever they put a minus and vice versa. We're not their mirror image, nor a revenge fantasy wrapped up in a critique of political economy. Socialism is a class politics, a collective struggle, and a morality too. As my mate Anna Chen has oft noted, Trotsky wrote a pamphlet called Their Morals and Ours, not Their Morals and We Ain't Got Any.
Which brings me to the second point. After putting something out last night about Johnson's move into ICU, some dickhead on Twitter replied about not being on Labour doorstep now. Quite. But sure, it's a great idea to go round associating left wing ideas with wishing death on Coronavirus sufferers because of their politics - which is how most people will see it. As well as handing ammunition to our enemies, something cranks and idiots in our own ranks have proven more than happy to do in recent times. We don't know what politics is going to be like post-Coronavirus, but giving the powers that be excuses to snuff out, witch hunt, and delegitimise leftwingers is dumb beyond belief.
And yes, there are very good non-political reasons to show a bit of bloody common sense. Right now there are millions of people stuck at home. Millions of people who are frightened of Covid-19 and are terrified of catching it, not least thanks to the unpleasant symptoms and the grim death toll that gets published every day. What do you think they feel about the stricken Prime Minister? Would the daily grind of stress and worry grow lighter if Johnson suffers badly, or dies? Or would this situation become more frightful and more difficult to cope with? And spare a thought for those living with mental health conditions, or need to stay healthy to discharge caring responsibilities, or live with at risk people. Are they going to be cheered up? Or, as folks deeply anxious about the future is it going to make every day more of a grind, more miserable and dreadful? The answer is so obvious it shouldn't need spelling out.
If you can't stand Johnson, fine. It's that the world doesn't need to hear about your oh-so principled reasons for wishing him dead right now.