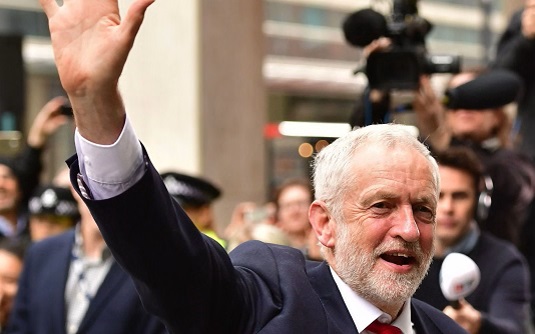 You've seen that report. You've read the coverage and the fall out. And seen what Keir Starmer and Angela Rayner are going to do about it, and probably have strong opinions about that too. Clearly, obviously, having a party within a party or, as David Osland put it, an HQ within an HQ made for poisonous relationships, a toxic atmos, and studied purposeful incompetence. But all that taken into consideration, what consequences did scabby activity have on Labour's electoral performance in 2017? Were it not for their efforts aiding everyone but the party they worked for, could Labour have won? Might the result have been closer than it already was?
Despite his anti-Corbyn axe-grinding, Nick Tyrone's dissection of one of the left's persistent political myths deserves a view - not least because myths are no good for understanding the world and sober assessments of our actions. He argues the idea Labour were two thousand-odd votes from forming a government (which has, over the last couple of years morphed into two thousand votes from victory) is absurd. And it is. Distributed across Tory/Labour marginals that stayed with the blue party, if they all had fallen to Labour we'd still have fewer seats than our opponents. Would that then have made an anti-Tory coalition likely? Not in the slightest, says Nick. He suggests Corbyn would have been hostage to the PLP, and there's no reason to believe the SNP and LibDems would have gone along with it. Indeed, it's certain the yellow party would not have given up their identification of anti-Corbyn campaigning as their route back to the big time (that worked out well). Therefore whatever the shenanigans at HQ, whether money diverted and wasted on super safe seats would have ended up in key marginals the effect was likely to have been slight. While our disgraced officer corps did and didn't do things, and almost certainly cost the party a few seats here and there, they aren't responsible for a defeat snatched from the jaws of victory. Because it was never on the cards.
This is true enough, but you have to take wider party divisions into account to address this question credibly. The big fallings out in the party, like the failed coup against Corbyn certainly didn't help, but it was the incessant drip, drip of undermining, secret briefing, amplified anti-semitism, contrived rows, leaks, referendum manoeuvring and all the rest thanks to the parliamentary party, their media helpers and useful idiots in the ranks who did the real damage. And the evidence is quite clear about this. The consensus among the pol profs is divided parties tend not to win elections, and the data from the US and the UK stacks up. You can add 2019 to that list, certainly. Consider: the Tories were haplessly divided prior to the election, but Boris Johnson demonstrated serious intent to Brexit voters how he was prepared to do anything, including trashing his own party, to get it done. As a result the Tories went into the election united. Labour, on the other hand, did not. And from the punters' point of view, if you can't hold together your own party how are you competent enough to run the country?
Did this apply in 2017? Yes, but not to the same degree. Corbyn was an issue on the doors then and, yes, we'd hear quoted back at us not just the lines from the press but also the angles of attack helpfully provided by supposed Labour comrades in the two years previous. However, because Brexit was neutralised as an issue in places that later turned against Labour a lot of Labour voters gave the party the benefit of the doubt. Nevertheless, the divisive work done helped sap party support in Mansfield, Middlesbrough, Stoke (South), and Walsall (North) by accelerating the long accumulating tendencies that exploded across previously safe seats in 2019. Additionally, the party attracted many new voters who are now, to all intents and purposes, the new party base.
In this context, while internal shenanigans didn't put off new Labour voters in 2017 it certainly helped demobilise older, more traditional sections of our voter coalition: division doesn't alienate all voters equally. Modest losses in seat terms in 2017 nevertheless saw majorities decline elsewhere, setting the party up for its big fall. While this cannot be directly attributed to scabbing at headquarters, they were part of the problem. They enabled the drip drip damage, they provided assistance to core group hostile MPs, they ensured the leaks took place and party machinery clogged up at factionally opportune times. They share responsibility with Tom Watson, Ian Austin, John Mann, and all the other scabs for dragging the party through the mud and damaging its electoral chances. Nevertheless, even when the crimson mist descends one should remain clear sighted. They cost the party seats but not a chance at government, and their collective behaviour definitely ensured our 2019 defeat was worse than it might have been. Yet in our unlikely 2017 counterfactual of their uniting behind Jeremy Corbyn, the media would have run with the same attacks eventually because the stuff used against Corbyn was out there, ready to be spun. It's also worth noting as well that if it wasn't for the appalling polling 18 months of division had bequeathed us that fateful April three years ago Theresa May would never had called an election in the first place.
Hindsight and probabilities are all we have to consider opportunities missed and chances thwarted, but one thing's for sure. Whether you think we could have won in 2017 or not, the exposure of the rotten heart of the professional party has shown how unaccountable and powerful the central apparat are and why the project of democratising Labour remains as relevant now as it ever was.
Image Credit