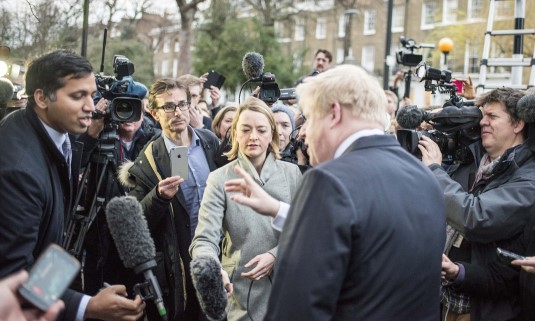 When you thought Britain's media couldn't get any worse, oops they did it again. Casting our minds back to the last election, you will recall a flouting of impartiality rules, and the gentle back rub the Tories got versus Labour's time on the rack. Time and again as the campaign unfolded broadcast and broadsheet, telly and tabloid practically united to protect the government. And if they were allergic to such crudity, some supposedly of a progressive persuasion found their reasons to delegitimise and condemn Labour's challenge. It worked, it contributed to the noisy antipathy fed back to us time and again on the doors, but it wasn't an episodic thing. Different sections of the media, whether extensions of the Conservative Party or the supposedly liberal worked in concert to make sure Jeremy Corbyn was held to account, while in their turn Theresa May and Boris Johnson were afforded every courtesy.
That was then, but what does my bitter bellyaching have to do with now? Understanding why our media are miserably failing in the face of Coronavirus. Consider the case yesterday. 980 hospital deaths were reported (again, remembering the peculiar way figures are compiled these are not the deaths to have taken place in the previous 24 hours), making the UK host of the highest hospital-based fatalities in Europe. And yet, for a full day these figures were hidden away by the news sites most people use and trust. Heading to BBC News meant digging into the live feed - nowhere was it mentioned as a story in its own right. Which was in marked contrast to when Italy's toll peaked a week or so back. Given the choice between this grim toll and Boris Johnson's recovery, they splashed with his discharge from ICU. BBC Breakfast yesterday was similarly cringing, with Stanley Johnson treated as an authority on the government and "Carrie" (not Carrie Symonds) tweeting her support for the Clap for Carers hashtag deemed a newsworthy item. Meanwhile Tom Newton-Dunn, confirming how The Sun's political editorship has, in his hands, become pure grift wittered on about Johnson watching Withnail and I from the comfort of his hospital bed. Almost a thousand people dead and our fearless hacks were busying themselves with trifles.
After repeated call outs on Twitter, and the constant drip-drip of PPE shortages our professional chatterers spent pretty much all of Saturday finding their consciences, possibly because someone they respect has made helpful suggestions to spare their considerable blushes. And what do you know, at the very moment of writing today's sad tally of 917 deaths is featured as the BBC's main item. From the start our compliant media have proven indecently reluctant to ask tough questions - with pretty much the sole exception of Channel 4 News and sundry crowd-funded alternative media. Instead, collective hackdom have gone out their way to rubbish critical comments, run stories that legitimise patriotic citizens who've taken to curtain-twitching with alacrity, and amplifying Tory lines such as medical staff not using protective equipment properly, and reckless yoof going about our urban spaces diseasing people with yoga and barbecues. You can understand why some resort to conspiracy theory to explain this embarrassing shit show of coverage.
No conspiracy is needed. Hacks like to think and say no one tells them what to write, and to a degree it's true. They don't need to be told. Their employment is thanks to being part of the same networks, having broadly similar backgrounds, shared assumptions about the way the world works and, in the main, a consensus of what is important and okay to say about politics as those who oversee the media's output. And when alternative voices not beholden to the cosy spectrum of polite opinion gain a toehold, out come the knives. The hostility to critical comment within their midst is matched by their herd-like behaviour. A few key players determine the tone and they stick to their paradigm of the permissible, backed up and enforced in the final instance by the editorial office. Their failure is material, cultural, and shows no prospect of changing soon.
Which brings us to the Coronavirus coverage. Whether individual decisions or determined from above, the doxa of our media powers on the outbreak is spelled out by Allison Pearson: "The health of Boris Johnson is the health of the body politic and, by extension, the health of the nation itself." Crudely put, but true enough. With a national effort underway their responsibility is to be, well, responsible. By refusing to rock the boat, by happily assisting the push for scapegoats, by not being critical, by privileging puff stories, the Fourth Estate see themselves less an independent voice and more an adjunct of the state, the willing means by which the bio- and necropolitical priorities of Covid-19 management are discharged. Therefore as a voluntary arm of the state and at the disposal of the government, is it that shocking their coverage has proved, well, shocking?
The polls, such as they are, favour Johnson for the moment and are likely to for as long as this crisis persists. But there is frustration and anger building in the country at the visible blunders the Tories have made, its initial complacency, the lack of resources for NHS staff, tardiness over testing, and on top of it the farcical policing of the quarantine. Apologies through gritted teeth from Priti Patel won't cut it indefinitely. Discontent can't be held back forever, and when it builds up to critical levels, the media won't so much as articulate it but work to manage it. As they always have done.
Media power, however, is not unassailable. Despite the pathetic pleas of The Sun's Dan Wootton to buy a paper to keep journalism going for future generations, Coronavirus quarantine is accelerating the decline of the press and imperilling its institutional strength. Likewise, Corbynism might be over but the movement remains, above all its networks and nascent alternative media. The longer the crisis persists, the steeper the decline in circulation, and the looser its grip on opinion formation, and the more opportunities there are for left messages to cut through. If there are any silver linings to this awful crisis, a speedy collapse of the press's power to frame and disseminate their commonsense is one of them.