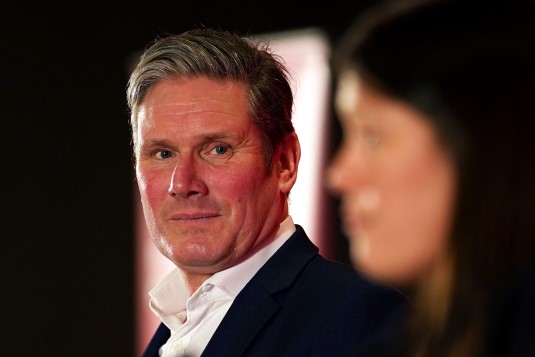 "It's the dregs of the Brown combined with the mediocrity of the Miliband era", so says a "senior Labour MP" finding themselves passed over for preferment in Keir Starmer's first shadow cabinet. That's one way of looking at it. The other is a candidate of the soft left fills his first appointments ... mostly from the soft left. Shocking, I know. In terms of political balance appointing Rachel Reeves the roving brief of the Shadow Chancellor for the Duchy of Westminster is a bone thrown to Labour First, while shuffling Rebecca Long-Bailey to Education is there to placate the left. Not that either wings are going to be satisfied by measly nuggets, but it doesn't matter. The left are strong, but not as strong as it might be, and the right have hitched their wagons to Keir's caravan - not the other way round.
What to make of the rest of the new appointments? Slotting Anneliese Dodds into shadow chancellor is a good shout. Upon her election in 2017 she served loyally with John McDonnell, obtaining his endorsement, and helped work up Labour's green industrial programme. She was part of the party's economics road show, for instance. This will at least mollify the left who are happy to take John's recommendation as good coin, even if they don't know her terribly well. And for those who enjoy entertaining counterfactuals, it's likely Anneliese would have got picked for this position had RLB won. Giving Lisa Nandy shadow foreign was probably not much of a surprise, though it will be noted in the scheme of the Westminster pecking order that she was awarded a more senior position than the woman who actually came second. Folks can read into that what they will. But from the standpoint of making an impact, as we saw in the leadership election Lisa easily had the best of Andrew Neil and would therefore prove more than a match for the hapless Dominic Raab in the post-Covid world. Despite an unwelcome propensity to be economical with the actualité, from Starmer's point of view a top drawer media performer with a proven ability to think on her feet will, he thinks, make her an asset to the new leadership.
Other appointments? I suppose the return of Ed Miliband is something Keir's core supporters will appreciate. Still popular in the party, politically it reconnects with the pre-Corbyn era and effectively parcels Jeremy's time off as adeparture from the norm. Now liberated from the Blairist constraints said to have saddled him between 2010 and 2015, we'll see whether there is radical mettle in his soul. The moving in of Jonathan Reynolds to shadow social security is interesting. Rare among the centre right of the party his idea of "radical welfare reform" isn't privatising and marketising everything, unlike some. But he is supportive of the basic income, which we hear today is now part of Spain's response to the Coronavirus crisis. Having an advocate for it in this position is encouraging. Scotland was only ever going to be given to Ian Murray, bringing back Charlie Falconer as shadow attorney general was entirely predictable, as was shifting Emily Thornberry to international development and giving David Lammy a prominent role (considering his exemplary work around Grenfell Tower).
Who's in and who's out - which is all of Corbyn's top team except for RLB, Jonathan Ashworth, Angela Rayner, and Emily - is jolly good fun, but what about the politics? First, Keir has not gone out of his way to troll the left and appoint some of the party's biggest idiots. Positions for the likes of Wes Streeting, Jess Phillips, Neil Coyle, and Margaret Hodge was sure to severely damage his creds as the unity candidate and, well, undermined the capacity of his team. Having one eye on the brief, while giving under the counter briefings to the lobby hacks wouldn't have done. As regards wider alignments in the party this spells the end of Unite's disproportionate influence over the party leadership. It's certainly true many trade union tops in other unions felt their nose was put out of joint these last few years, both in terms of Unite's out manoeuvring them for influence and the Corbynist pressures coming upwards from their activist wings. Why else, despite the over long contest, did many general secretaries scramble to convene candidate endorsement meetings before pressure could build from lower down the union echelons - a lesson learned from 2015 when the collective apparat were caught on the hop. And so now Unite is more out in the cold and the other union leaders enjoy more pre-eminence - again, a return to how matters were pre-Corbyn.
Overall though, folks claiming this is a neoliberal or Blairist restoration are wide of the mark. The left are right to harbour serious concerns about Keir Starmer, and his commitment to a Corbynish platform during the election probably owes more to positioning than genuine enthusiasm, but the politics of what we're seeing is a return to soft left Fabianism. A politics of brainy and socially concerned technocrats dispensing justice through a top down plan here, and tinkering with the state machinery there. This is a step back from Corbynism, which despite the criticisms that can be made of it recognised itself rooted in social struggles and class politics, whereas this - in as much as it tells itself a story of its lineage - is closest to ethical socialism (i.e. a better society is a nice idea as opposed to a material necessity) and therefore is liable to be overly wonky, remote from what's actually happening in the real world and, well, boring. But perhaps after the turbulent time we've had and the Coronavirus crisis, boring might just be what the electorate four years from now wants.
Image Credit