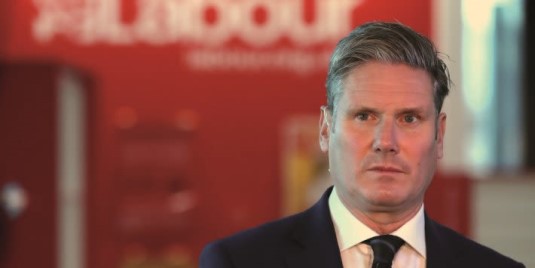 Jeremy Corbyn and his supporters "should be shot." Vendettas against "Trots" pursued with alacrity while complaints, including anti-semitism charges piled up. Cheering on the Labour Party's opponents in elections. Discussions of who should leak documents. Setting up secret campaigns to funnel monies to favour MPs. Speaking about senior party figures in the most derogatory terms, including suggesting that a young party member with mental health difficulties should "die in a fire". Deliberations over cooking up crises to maximise embarrassment and damage to the leadership. Sabotaging campaign efforts. All this and more can be found in the 800 page document prepared for submission to the EHRC inquiry into Labour's anti-semitism crisis, of which excellent summaries are available here and here.
The report is utterly damning, and the response of those named and very publicly shamed equally pathetic. Iain McNicol, the former party General Secretary who was very much an instigator of this appalling behaviour said "The energy and effort that must have been invested in trawling 10,000 emails rather than challenging antisemitism in the party is deeply troubling." Rich coming from someone who, thanks to the documentary evidence provided saw anti-Jewish racism as less a cancer to be zapped and more an opportunity to damage the people he and his team were working against. Sam Matthews, the former Head of Disputes who featured prominently in last year's hatchet job on the Labour Party said this is sour grapes from a defeated faction. That's right, it was Corbynist disappointment in 2019 that forced senior staffers to scab on the party they ran until their departure from the party's employ.
The sad truth is none of this stuff shocked me - apart from the laughable incompetence of these people leaving a paper trail that could be used later to expose them. Encountering party staff drunk on their position, having watched careerists up close capitalise on apparat preferment, seeing shenanigans and hearing the stories (the worst of which I haven't and won't be writing about any time soon), being privy to conversations, witnessing stitch ups take place, all this I've encountered as a bag carrier in the bowels of constituency politics, a CLP officer, and an ordinary member in my decade of being in the party. I've also come across kindness, support, commitment, and solidarity. Though it says everything the latter is very much the preserve of the rank-and-file while the crushing fusion of infantilism and psychopathy characterises the party bureaucracy.
None of these people who participated in these discussions and made decisions about the party are fit to be members, let alone senior staff in other organisations. One, Emilie Oldknow was, apparently, Keir Starmer's pick for new General Secretary. I think it's safe to say she's now out of the running. What this means for her current senior role in Unison will cause the union something of a headache, but it has certainly put a new spin on the leak of Jonathan Ashworth's anti-Corbyn comments just prior to the election. For those not in the know, they are married to each other. Likewise the position of Patrick Heneghan, who went on to run the so-called People's Vote campaign would raise a few eyebrows subsequently given the role his organisation played in attacking Labour's voter coalition.
No one forced our Southside scabs to, well, scab. Yet when this is acknowledged across the party as custom and practice that goes back decades (see Uncle John Golding's tedious but revealing The Hammer of the Left), we're seeing something more than individual failure. This matter is a question of culture and is inseparable from how the party organises itself. Writing about the development of the German Social Democrats a century ago, Robert Michels' Political Parties argued that as organisations became more complex and specialised, so a dedicated bureaucracy forms up with its own offices and set of tasks. Furthermore, office-holding becomes the basis of power rather than the voluntary party and goes on to become the real decision makers in the organisation. Hence his famous term, the iron law of oligarchy. We see this reproduced in the Labour Party in the contemptuous attitudes toward the membership: it was the ordinary dues-paying member who was responsible and accountable to them, and not the other way round. The idea of democratic oversight or accountability was either a joke, or brought our bureaucrats out in a rage of hostility. Therefore those hoping for a neutral, professionalised bureaucracy are going to be disappointed: for as long as democratic determination by the members is kept away from the general secretaryship and regional directorship, the sorts of abuses our dossier details will happen time and again. This, among many other reasons, was why democratisation of the party was vital in the Corbyn era and remains the case.
Curiously, our fearless media, previously wall-to-wall with condemnation every time Jeremy Corbyn sneezed without a hanky, have barely covered the leak. Nothing on the Sunday politics shows. Nothing on interviews with senior Labour politicians this morning. We have the Sky News splash, a piece in the Graun, and that's about it. And some wonder why conspiracy theory is so popular. However, the lack of coverage does not mean this is something the party's new leadership can ignore. It's one thing to have party members calling it out, even if it does include high profile backers of Keir Starmer's campaign, but another to have MPs grumbling openly on Twitter about it. Without a doubt, this is an early, and for Keir, an unwelcome test for his unity credentials.
This then is Keir Starmer's Falkirk moment, so what is the Labour leader likely to do? I would expect ... very little. Not just because his first week in office has been weak sauce, or that his shadow cabinet appointments left a lot to be desired, but because he has no programme for the party itself. Whatever one thought of Ed Miliband, he used the occasion of Falkirk to neutralise what he perceived as overweening union influence on the party by introducing opt-in political levies for individual affiliated trade unionists, and the three quid supporters' fee. The scandal facing Keir is more fundamental to the party because it touches not on the fiddles of candidate selection but how the apparatus operates - an apparatus the leader not only needs, but also supported him more so than Lisa Nandy and Rebecca Long-Bailey during the contest. He could ignore the systemic nature of the apparat's corruption, and the fact the scab tendency have moved on to pastures new opens up a window for a 'bad apples' argument. Keir's not about to champion the cause for more party democracy that's for sure. What would benefit him, however, is if the party moves immediately to suspend the former officials, including Lord McNicol. Not just because it would placate his support in the party, who are likely to find these revelations as appalling as everyone else, but to show he means business to the right who'll happily undermine him as they did with each of his three predecessors.
Talking to Sophy Ridge yesterday, Keir said now was not the time to ask tough questions of ministers - as if politics is a leisurely pursuit for a better tomorrow. Something that will assist getting an easy ride in the media perhaps, but not help much when it comes to people noticing Labour's existence, let alone winning over hearts and minds. This search for a zone of non-punishment, I think, is going to condition his response to the dossier leak too. Say little, do nothing, wait for the EHRC report, take it on the chin and hope it will all go away in time. Sadly, if Keir can't or refuses to respond properly to a crisis that is entirely within his power to address, the next four years are not going to be a happy time for the Labour Party.
Image Credit