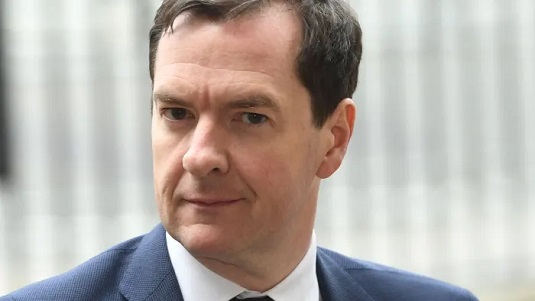 There's a ghastly spectre haunting politics. The spectre of austerity! Seemingly exorcised from the mainstream by Jeremy Corbyn's efforts, and confirmed in its crypt by Boris Johnson's nothing manifesto, Rishi Sunak's first budget and Keir Starmer's victorious policy platform, the emergency measures taken to ward off Covid-19 has allowed it to slip between the veil separating the dead from the living. The first to talk up the possibility of post-crisis austerity was the (apparently) centre left think tank the Social Market Foundation. They want to see the next round of austerity shared equally between the generations. A weird position for an outfit priding itself on its Keynesian heritage to be in, but such is the weirdness of politics. A more unwelcome necromancer party to the austerity incantation is one George Osborne. Speaking at a City event online (for how much?), he said a period of retrenchment was inevitable after the crisis. "When this is over there is going to be a very large amount of debt and it's not going to be bonanza time." Great news.
Austerity, however, is neither necessary nor inevitable. There are two things worth considering: the arguments for a post-Coronavirus austerity, and the likelihood the Tories will push for it.
Just like Dave's original case for austerity, cutting back on spending looks commonsensical. The state is borrowing huge sums to tide us through the present crisis, which means a rapidly growing debt mountain and a yawning public spending deficit. The gap between what is spent and tax revenues is widening thanks to the catastrophic slow down. As there is no magic money tree, post-crisis the government of whatever hue must cut spending to drive down those debt repayments quickly and send a message to the money markets, of which the trade in UK govt bonds is not insignificant volume, that the state honours its debts. This gives the market confidence that further investments in gilts (i.e. UK bonds) are a safe proposition, meaning the government should have no trouble borrowing if it needs to in the future. It assumes the state is like a bank account, or as Margaret Thatcher argued, a household budget. You can't spend money you don't have.
The position is logically consistent and has the virtue of chiming with everyday experience. Almost everyone knows what it's like not to have enough money. It's potent, and it proved to be a powerful political battering ram for meeting Tory policy objectives and catering the the class interests their party stands for. It's also complete bollocks. At any one time, government debt is a fiction in whole or in part. About a quarter of UK debt at any time is held by the Bank of England which, in turn, is owned by the government. The rest is owned by a mix of private institutions, individuals, and foreign investors. However, unlike an ordinary debtor the state can structure its debt. Gilts are issued with redemption dates on them - the government can choose, if it wishes, to replace them by issuing new gilts. It can also instruct the Bank of England to buy up these gilts or, effectively, print the money to pay off the debt. This doesn't lead to galloping inflation Weimar Germany or Zimbabwe style because, presently, the world economy is in a deflationary spiral. Furthermore, in recent years low interest rates and uncertainty in the wake of the 2008-9 economic crisis has meant reduced, low risk investment opportunities - the bonds markets being practically the only safe port in the storm. If there was a time to borrow, it was in the aftermath of that crisis.
Things now have changed. The Coronavirus crisis is unique from capital's standpoint because economic activity has never come to such a sudden stop. It's unique because rather than being a matter of underconsumption or overproduction, it's a direct biological threat to labour. It's not so much that consumers aren't consuming, it's that workers are not producing. To all intents and purposes British capitalism in the Covid-19 interval is ephemeral to a core infrastructure funded and run by the state. However, because this is a biopolitical crisis in which surplus value generation is largely suspended, capital is either being hoarded or has fled to the safest of safe ports: US bonds. In other words, because the bond markets aren't even functioning in a truncated condition there is only one avenue left for funding: the Bank of England. It is now financing the Treasury directly, which means unlimited funds are available for the NHS, to extend the furloughing scheme, to even experiment with radical social security policies - if the political will is there. And what is more, this debt can literally be placed on the never never. The state can determine the length of repayment, the interest rate payable, or even direct the Bank to write it off. In other words, once Coronavirus has passed through there is no debt crisis on the other side.
This begs the question why the likes of Osborne and no doubt a few Tories are looking forward to a repeat of the lost decade. Some are genuinely economically illiterate and cannot compute the system they defend. This isn't surprising: an ideological commitment to capitalism is hardly likely to produce clear sighted depictions of it. For others a spell of austerity allows for an indulging of one's ideological hobby horses or the creation of new markets. During the Coalition government we saw all kinds of these experiments, not least what they did to the NHS. More austerity means more creative ways in which public spending can end up in private pockets. However, the most compelling reason has nothing to do with economic growth figures. It's our old friend biopolitics, of disciplining the work force.
Consider the problem for the Tories. After a decade of saying money cannot be magicked out of thin air, all the state bail outs are indeed so conjured. Money can't be found to house the homeless, give nurses a decent pay rise, fund local government properly etcetera and so on, but all of a sudden the money is there. If it can be found in an emergency, then why do public services have to go without the rest of the time. Austerity then, in the context of the class relations of capital, is a strategy for dampening expectations. Talk up the debt, talk up the sacrifices we have to make to pay it off, peddle more homilies about how we're all in it together, and the economy of artificial scarcity that characterises capitalism is much easier to swallow. And if government is tightening its belt, so must workers too. In fact, following the crisis anyone who has a job ought to feel grateful they're still drawing a wage - millions aren't. And if we go from recent memory, it largely worked for the first five years of the last decade. Who's to say it wouldn't work again?
Therefore, you can see why the case for austerity is compelling from a Tory point of view. Get it accepted as the political common sense, position yourselves as the most competent administers of the programme, protect the elderly base, and the next election is yours. But how probable will the Tories go down this route? I think a full-throated programme on the Dave/Osborne model isn't on the cards. For one, the crisis has demonstrated how public services are not an optional extra and everyone knows it was exacerbated by a decade of purposeful underfunding and incompetence - even if the polls don't reflect that, yet. Second, the crisis stands a good chance of accelerating certain tendencies in global capitalism. The immaterial labour this blog has the tendency to bore on about has shown itself to be entirely essential - above all care and service work. Its enhanced status makes it difficult for the Tories to attack directly, even if, as a cohort of voters, they are not what you'd describe as comprising a core constituency of Conservative support. As it's Lenin's birthday, it's worth bearing in mind one of his key insights, that politics is concentrated economics. This shift toward care and service in the economy will manifest sooner or later in mainstream politics - Corbynism in England and Wales, and the SNP surge in Scotland are its initial radical outriders, and in the future? A new empathic politics in the Jacinder Ardern mode?
In other words, the political preconditions for an austerity retread aren't there and cut against the grain. It doesn't mean this is impossible, but it's down to our efforts to ensure the environment remains hostile to retrenchment. Hence why it's crucial to maintain the left's profile in Labour so the party doesn't backslide to a Milibandish compromise with austerity or a capitulation to Tory arguments. If we can do this, we can shatter the Tory dream and spare our people another nightmare.