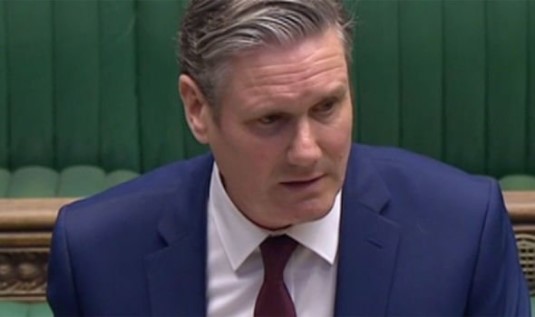 It's an unspoken tradition round these parts to cover the first PMQs of a new opposition leader, and I see no reason to stop. Not that I'm a fan of parliamentary cretinism, but more so because the weekly Q&A matters. Yes, it's frequently farcical. Yes, the Prime Minister of the day rarely answers (as true under Labour as the Tories), but of all the interminable debates in the Commons it's this session that gets snipped and repeated on the evening news. The punters get to see it. PMQs is also important for activist and members' morale, and piques the attention of the more politically engaged.
How then did Keir Starmer manage at his first session? Given the physical distancing practised in the Commons, only 50 MPs were allowed to turn up while others dialled in to ask questions. This afforded the occasion a sombre atmos which suited the super serious, softly-softly "responsible" oppositional course he's trying to steer. And up against Dominic Raab, standing in for a Prime Minister who, for once, has a proper excuse for not attending, Keir put in an assured, confident performance.
He opened by asking Raab about the capacity for testing, who responded by saying we advanced to the point of being able to administer 40,000/day. Immediately he jumped in with "then why was only 18,000 taken yesterday?" Ouch. Raab fumbled and mumbled some answer about demand, which he said was not there. An opening for Keir to talk about the issues concerning roll out for medical and care workers, and having often to travel long distances to avail themselves of them. He then asked about the death rates of NHS and care home staff. Raab supplied a figure much lower than those bandied around the press for NHS staff, and had no numbers for care workers. Keir replied he was putting him on notice about asking the same question next week (Matt Hancock supplied the answer in his subsequent statement - 15). Lastly, Keir asked about PPE supply and all Raab could do was wibble about a billion pieces of kit. Superficially impressive, but opportunities were missed for acquiring more when the seriousness of the pandemic was obvious.
As you might imagine, centrist Twitter are wetting themselves with excitement. Keir's performance was competent and if matching numbers to promises is 'forensic', it was that too. Though, given Keir's commitment to not rocking the boat too much, the jugular wasn't so missed as not gone for. Nothing about previous failures and complacency. That said, I think Keir and his support will be pleased with that, as the present conjuncture in the Commons allows for measured but detailed critique. The question however is will Keir be able to ramp up to the semi-theatrical when politics approaches normality again?