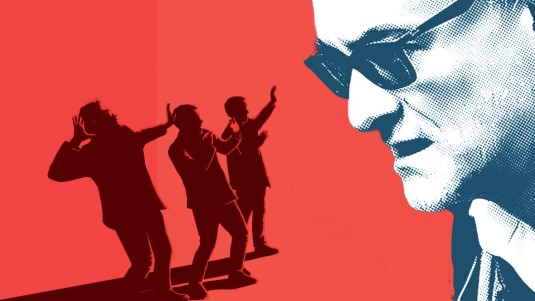 Of the government's Coronavirus strategy, Dominic Cummings never said their priority was "herd immunity, protect the economy and if that means some pensioners die, too bad." But you didn't have to be in the room following the back and forth between scientists, bureaucrats, and Tory politicians to know this. Just watching Boris Johnson on the telly this last week has demonstrated the government's growing realisation they haven't taken the outbreak seriously enough. There's no point beating about the bush. People have died and are going to die unnecessarily because of the tardy approach taken and the mixed messages put out.
What to do in these circumstances? Confronted with a fuck up of this magnitude, there are three options. Johnson can apologise for his incompetence, the government can try and muddle through, or they can search for scapegoats. We're not about to see a mea culpa sally forth from Johnson's lips, let alone a resignation. What we instead see is a multi-part slow burn budget that has moved to protect capital first, then adding the workers as something of an afterthought. And, apparently, something is promised for the self-employed, freelancers, and people on short time working and zero hours contracts. The pressure's on for more mandated closures that will come too late for some. Nevertheless, staggering measures gives the appearance of doing something, of getting to grip with things and assuring those watching that things are in hand. Even though they haven't been.
And yes, scapegoating. When the news broke about Cummings's initial attitude to the outbreak with the "Shippers" scoop, centrist Twitter raised its collective voice to demand our Dom's sacking. Professional pearl clutcher, Dan Hodges, said "It will be impossible for No.10 to retain public confidence if people believe Dom Cummings has any role in the Government's Coronavirus strategy ...". That's it then. The dithering and delaying, the "we're following the science" claims are the fault of Johnson's irascible Rasputin, not the Prime Minister himself. Though, interestingly, this is not an attack of Churchillian ruthlessness hanging Cummings out to dry but rather an effort by the chief Tory organ to shield Johnson from blame. Displacing criticisms to whom a political leader surrounds themselves with is an old trick, and our centrist chums would do well remembering the old adage: advisors advise, ministers decide.
Handily, there's more scapegoating fodder than the noted oddball among Johnson's retinue. Just as the media spent their time pre-election holding the opposition to account, so now while they swoon over Rishi Sunak and fantasise about a national unity love-in with him and Keir Starmer at the helm, they prefer to scrutinise the public instead of the government. You've seen the images of packed flower markets, pubs, parks, queuing outside supermarkets, and thousands swamping Snowdonia and the Lake District in defiance of social distancing and self-isolation advice. Here's a group they can really get on our high horses about, those irresponsibly sabotaging our great national effort in getting Coronavirus licked within 12 weeks. Well, perhaps if the government had taken this crisis seriously from the start, had a consistent comms strategy with public messaging on television, and stopped the game of insider info leaking to select court stenographers trading as political correspondents, perhaps the message might have got through. Perhaps taking the step of ordering non-essential workplaces and shops to shut might underline the gravity of the situation. In the absence of information, people will do what they think best or carry on as normal. What we're seeing is a failure of the politics of population management, but the government's media allies are determined to draw the sting from this miserable mess by depoliticising it.
When the dust settles and the crisis passes, there will be a political reckoning. Whatever happens and whoever gets singled out, Boris Johnson and friends are determined to ensure the buck won't stop with him.
Image Credit