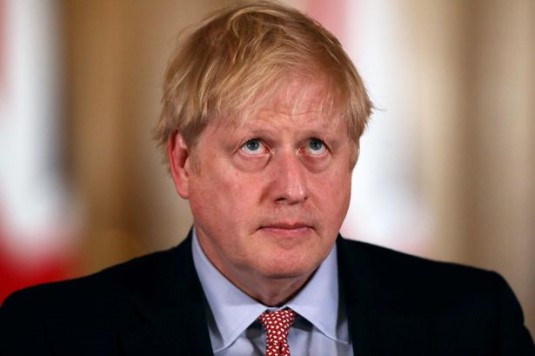 We - the left - aren't criticising Boris Johnson because we want him to fail, but because we want him to succeed. Unfortunately, the Prime Minister is failing and appears determined to make matters worse than they need to be. And so while it is welcome he has acceded to demands for daily press briefings following a welter of criticism, the first that took place today was a pretty shoddy affair.
There was his customary shabbiness. Not just the contrived pulled-through-a-hedge-backwards look, but the shiftiness and inability to answer straight questions with a straight answer. When asked about workers and what they're supposed to do during the period of Coronavirus-enforced isolation, Johnson said his government had announced an uplift in the living wage (sic) and "we hope the people listening to this will take away the message that they will be protected." Totally reassuring. Asked about respirators he side-stepped the issue, and he talked about restrictions but only offered advice and suggestions. Shambolic.
And about those workers. His non-answer meant nothing. There are ideas floating around in the right wing ether about enhanced sick pay and a temporary basic income, but all on offer today were platitudes and a recommendation one should work from home. Fine for those who can, but those who can't? Consider, for instance, the case of Richard Branson. While he rushed to the government begging for a £7.5bn bail out for the airline industry, his business saw it fir to put their workers on eight weeks of unpaid leave while he sits the crisis out snug on his private island. And where Branson leads, others are sure to follow. How are these workers and others looking at hours and wages drying up going to make ends meet? Johnson might have ignored this today, but he can't ignore it forever.
Also appalling was his recommendation that people avoid bars, cinemas, pubs, and theatres. Appalling, because he's basically consigned thousands of businesses to oblivion. As many have pointed out, business insurance only kicks in if the government shuts them down. By warding people away, many will be forced to voluntarily shutter to save money and not a few face going under, because their closure does not meet the terms of their insurance policies. Yes, support was promised to help small businesses in last week's budget, but how long do they have to wait, are they being contacted now about the help available, and how far back does it cover? Sadly, another of Johnson's oversights for which others will pay.
Yes, Johnson says his approach is guided by the science, which, in the UK's case, has significant holes. Even if the assumptions and modelling were correct, his job is tor provide the political response and the political leadership, to develop a biopolitics and necropolitics of Coronavirus. As Johnson's initial efforts show, this comes laden with all sorts of assumptions. His ruling class common sense is laissez-faire governance, of government presiding over the rules of the game (the Tories initially devised) and intervening only where and when it's deemed necessary to formulate this regulation, or address that upset in the equilibria. And this was how his time in office was supposed to be. Throw money at infrastructure projects, stoke the culture wars a bit, and get on negotiating a glorious Brexit deal. This prospectus has been destroyed by COVID-19. With everything seizing up, entire sectors of the economy staring down the barrel of ruin, and millions facing destitution on top of sickness, Johnson has to break with the governing habits that have served his class well these last 40 years. The logic of social necessity will compel him, as it has done every other European government, but at what cost while he dithers and delays?