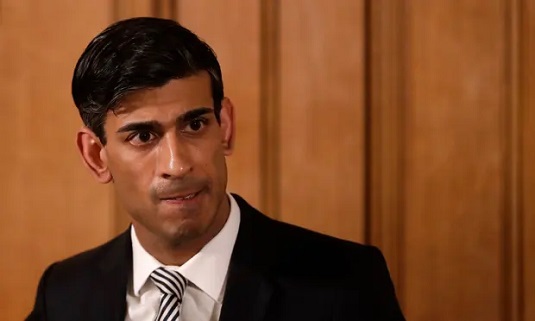 Two budgets in the space of a week? This Coronavirus is really spoiling us. Well, spoiling the markets because Rishi Sunak's latest package of measures gently clasped the invisible hand and offered it smooth, calming words to dampen down the animal passions. And just like that, the markets reciprocated his therapeutic whispers with the FTSE up by almost three per cent. Not bad seeing this week has was quaking at the terrors not seen since the dog days of 2008. Nevertheless what's good for the capitalist goose isn't always good for the proletarian gander, and "ordinary" people are still waiting for help.
Sunak unveiled a loans package of £330bn for struggling business, with a big hint that the airline industry can expect some special measures in the coming days. Sounds like Branson's special pleading helped. Likewise, to clear up the confusion surrounding Johnson's advice to people to stay away from restaurants, bars, and theatres, he said insurance companies would be expected pay out for businesses forced to close thanks to these recommendations. There is also to be a year-long business rate holiday, and additional £25k payments for smaller enterprises.
Okay, so why loans? From the standpoint of book keeping, as Richard Murphy notes, monies doled out appears as assets on the balance sheet, whereas grants would go on the deficit. No wonder the markets were happy. We might consider habit too. The model of financial fundamentalism Sunak is desperately trying to preserve demands the whip hand of debt, and for long-term watchers of such things Gordon Brown's capitalisation and part-nationalisation of the banking sector did recoup returns to the Treasury. Sunak is learning from The Master. And you have to think about the politics too. Four years from now the Tories have a handy bribe to offer the ranks of small business owners - vote for us and we'll write off your debt.
There's another difficulty when it comes to debt, and why it's a bad way of preserving employment. Suppose a small catering business applies for the Sunak whack to tide them over for six months. Why is it in the company's interest to take on more debt to keep their handful of employees in a salary, when the more sensible approach would be to limit the loan for essential overheads and the owner's living and lay off the staff for the duration of the crisis, ensuring social security picks up the tab? This loan scheme is primarily not about preserving jobs, but preserving capital.
There's a bit of a dodge when it comes to one of the few plebeian offerings in this fool's gold package. There will be mortgage relief for up to three months for anyone infected by Coronavirus. This would certainly be a marginal help for some, but again there are problems. When the majority of people who are sick now haven't been tested and the public are told to stay away from GPs and A&Es, by the time the worst of Coronavirus is over only a small number of people are going to have a note from the doctor for their aches and pains. How can anyone applying for relief prove they were ill? And what of those with multiple properties? As Jade Azim observes, what's to stop a Coronavirus-inflicted landlord claiming mortgage relief on all their properties while happily hoovering up the rents?
Sunak's second budget at least mentioned ordinary workers, and he said he was sitting down with businesses and trade unions to see what can be done for everyone else. Naturally, we await his measures with some interest. Yet what we heard is entirely consistent with his first budget. Eye-catching and gargantuan piles of money, but nothing on bettering the lot of working people. Capital came first, the workers an afterthought. If you was feeling generous, you might say breaking with the governance habits of the last 40 years takes some adjusting. But when you have John Redwood calling for targeted measures to keep people in work and the editor of Conservative Home waxing like a demented Keynesian about negative multipliers and criticising the chancellor for not going far enough, dogma is not the root of today's disappointment.
As ever, the preservation of Sunak's class and their system is the primary concern.
Image Credit