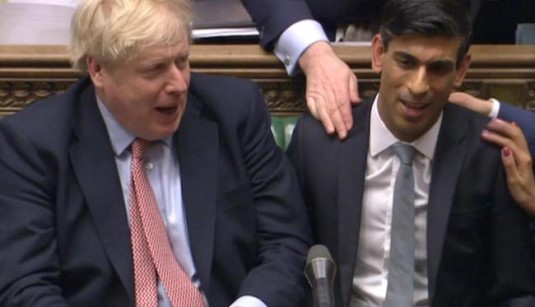 Is John McDonnell the chancellor? No, and more's the pity. But for Westminster watchers habituated to tiresome and damaging austerity, Rishi Sunak's first budget was more than an eye opener. This was a loadsamoney budget, an increase in public spending that would have had the Tory press spitting were a Labour government announcing it. Sunak's brief was timely too. Take the response to Coronavirus. Just as the government are strategising over and planning for the possible deaths of tens of thousands of people, it's heartening to know Sunak has risen to the occasion to make sure no money or class relations are harmed in the course of the outbreak. So rather than letting a slowdown in market activity drag businesses and jobs down the plughole, we see the suspension of business rates, statutory sick pay for all put into self-isolation, loans to keep businesses afloat through the inevitable downturn, bunging small and medium-sized businesses cash to cover sick pay for a fortnight, making it easier for people on zero hours to access benefits, and no need to attend the job centre for those on JSA if they have been advised to stay indoors. There was some cash for the NHS as well, with his sound bite of putting in the millions and the billions to keep everything going flashing around all this evening's headlines.
This budget, however, wasn't supposed to be about Coronavirus. It was destined to be the frontispiece of the new government and set up what we mean by "Johnsonism", if anything. And judging by how centrist commentator after centrist commentator swooned as if discovering a new saviour in a shiny suit, then there was something here that obviously pleased them. On top of the emergency monies, more cash is to be brought forward for infrastructure projects and R&D. There was more for flood hit communities, £27bn for new roads, more money for the devolved administrations, billions for housing, hundreds of millions for a climate/nature fund, and plenty more. Repackaged and not as joined up as Labour's manifesto but, as predicted, the Tories have rummaged through the wreckage of Corbynism and watered down a few proposals enough to conform to their liking.
And so we have a recognition that, from the standpoint of economic management, the earlier austerity programme was a waste of time. This is a stimulus budget to upgrade an infrastructure left to rot by Johnson's predecessors. It will create jobs, it will support businesses facing the battering of disease, downturn, and Brexit uncertainty, and it might even address the rebalancing of the economy - though there is very little sign here of a green industrial strategy set to revitalise certain recently-captured constituencies. Underlining the break with Dave is the loading up of debt. Tax rises are nowhere to be seen (indeed, the much trailed cut to National Insurance contributions finally appears), and so the money for much of this comes from borrowing. Today's cut in interest rates by the Bank of England, ostensibly to keep the wheels on the wagon turning, is entirely coincidental. Helpful also is the occasional slippage of the bond markets into negative interest territory where, effectively, governments are paid to borrow money.
Then again, it is worth recalling Dave's austerity was not about mistaken economics. His programme was pure disaster capitalism, of using the seminal crisis of the 2008-9 crash and the sharp downturn to privatise more, cut back on the state, let the market rule more of the roost and, consequently, bedding down neoliberal realism even further. It's not for nothing we saw the tearing up of the NHS and its replacement by a market lubricated by taxpayers' cash, nor the completion of Tony Blair's move toward the full commodification of higher education, nor the doubling down of cruel social security reforms such as the advent of the bedroom tax and the retrenchment of the work capability assessment. Employment saw an explosion of involuntary part-time working and underemployment, the proliferation of zero hours contracts, and the stagnation in pay. The class politics of the coalition government years then was about driving home the right's political advantage, of applying the boot of capital to the neck of labour and pressing down. The beneficiaries were businesses, big and small, with enough scraps thrown out to the Tory coalition of rentiers, landlords, and pensioners.
Sunak's budget has dumped the fiscal targets of his immediate predecessor, and the self-styled fiscal hawks of Philip Hammond and George Osborne, but the class politics are unchanged. Without wanting to give them too much credit, the rabbit pulled from the red box bears something of a resemblance to what we've seen locally round these parts. Money has been found (borrowed) for infrastructure, (build-to-rent) housing, pet projects and chestnuts, but this was part-subsidised by cuts to services, such as drug and alcohol rehabilitation, homeless services, the provision of local centres, the "consolidation" of amenities and, if they'd had their way, cuts to council workers' pay. Sunak is spraying money at projects that will allow Johnson to traipse around building sites in a hard hat, but there is no money going into repairing the social infrastructure Dave and friends previously destroyed. Public services remain crumbly, with no new cash going in. Despite the announcement of support funds for local government to see councils through Coronavirus, there is no sign of the year-on-year butchering of funds from central government ending soon. We're not about to see money poured into amenities sacrificed to deficit reduction. This leaves the Tory voter coalition untouched, and expects the rest of us to get on with the even more unfavourable class settlement Dave imposed upon us. This Tory adventure into "socialism" might come clothed with the usual one nation nonsense, but it's a normalisation of two-nationism.
This isn't to say Sunak's budget is without political opportunity. The Tory relationship to principle is, how shall we say, flexible, but there will be some on the backbenchers who find this lurch into Keynesian territory discomfiting. Looking at the coalition of malcontents who rebelled against the government on Huawei on Tuesday, we find a curious mix of Brexit rebels looking for something to get awkward about with recent frontbenchers from the Theresa May and Dave eras. Publicly binning an economic strategy that was as decadent as it was Thatcherite gives the dissenters more scope for future dissent, and on this, whether socially conservative or (ostensibly) socially liberal, there is more common ground between these former foes for a persistent opposition. It also gives Labour an opening too. Sundry commentators like to sneer about Jeremy Corbyn's view that Labour "won the argument", but this budget proves the point of the Corbynist assault on austerity. Sunak and Johnson have decided crashing the economy is not a price worth paying for Brexit or anything else, for that matter. Labour can now make the case for other priorities - the job of pushing a people's bail out has just got that much easier now the previous common sense got twisted inside out.
Big-spending Toryism then, or old wine in new bottles. The centrists are going to coo about the new chancellor and his reasonable reasonableness, not just because they have a thing for nicely-spoken men in nice suits, but because they have no analysis, no class analysis, to make sense of this new direction. We do, and we must be clear about why the Tories are doing this and work to arm our party and our movement with this knowledge.