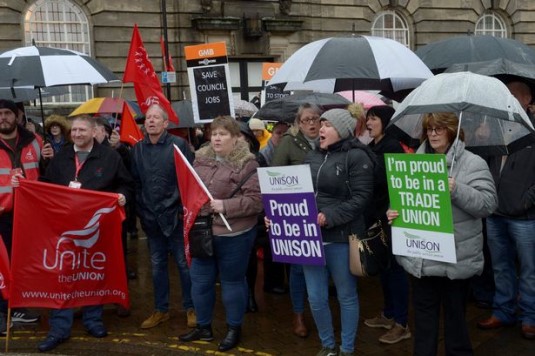 It was high drama over low pay at Stoke-on-Trent City Council last Thursday. For the first time in the council's history, and that of its predecessor authorities, a ruling administration had its budget proposals thrown out. There are lessons here for Labour beyond our city limits, and new opportunities for our party within them.
Despite Stoke's reputation for being a Labour city, during the last 20 years the party has had a less than certain grip on local government. From majority governing to governing in coalition to exclusion from power to coalition and majority again, Labour have been locked out of office since 2015 by a (nominally) City Independent-led coalition with the Tories, and since last May a Conservative-led coalition with the City Independents. Labour's current predicament, with none of Stoke's MPs, was long in gestation and suggests a lengthy and painful comeback ahead. There are no short circuits to this process. Leaflet drops and canvassing are necessary but by no means sufficient. As per elsewhere, the party has to fall back on the movement of which it is part and rebuild its relevance in day-to-day life, be it where our people live or where they work, responding to and leading on the issues that matter to them. Pleasingly, all wings of the party in Stoke have set aside the false opposition of party of protest vs party of government nonsense peddled by some and have taken the right road. Movement and party working hand in glove has meant inflicting a humbling defeat on a Tory council puffed up to the gills with its own arrogance.
Over the course of the last five years, the Tory-led coalition have responded to the budget challenges imposed by their government by cutting services to the bone, directly leading to the condemnation of the city's Children's Services by Ofsted. Meanwhile, money has been poured into a hotel for Hilton, build-to-rent properties (NB not council housing), and making sure the city's parks look nice. Not what you'd describe as a priority, but then again building things and sprucing the place up is central to local Tory strategy. And they mean to carry on as they have carried on. Facing another cut to the local government grant this year, the council were compelled to find ways of making up a £9m shortfall. Which meant, unlike Labour for all its faults when faced with a similar set of problems, the Tories decided to go after the low paid.
In addition to raising council tax by 3.99%, closing some council-provided services on certain days, and some job losses, a big chunk of the Tory budget proposal was a change to workers' terms and conditions. This would have meant an end to unsocial hours payments on bank holidays, weekends, and evenings. If you were salaried, like the better paid workers at the council are, then this makes no difference. But if you are hourly paid, like most low paid workers are, then this makes a massive difference. According to the local Unison branch, it meant some workers were looking at a 20% reduction to earnings. Considering the social care crisis this country is facing, driving down the wages of care workers even further is hardly going to address the gap. And so for the last couple of Thursdays, lunch time outside the Civic Centre has seen a lively protest of trade unionists backed by Labour. Working together they have come up with alternative proposals that would not mean the council's poorest workers have to bear the brunt of the continued assault on local government. Naturally, the much-hyped blue collar conservatism didn't feature in the Tories' thinking - heeding advice from above to carry on as normal - and stuck to their plan. Perhaps the idea of clashing with the local workforce pushed the buttons of Thatcher cosplayers in the Tory group.
And so we came to the day of the meeting itself. Protesters gathered and councillors were jeered and cheered as they made their way into the chamber. Likewise so many affected workers and their supporters crammed into the public gallery that an overflow room had to be made available so they could view proceedings. Once the debate got underway, it became quite a lively affair. Labour councillors got up and attacked the council for their boondoggle projects, including £117k recently spent on revamping a path at a long-closed golf course. Cllr Shaun Pender attacked the Tories for hammering the living standards of the lowest paid, pointing out some households could lose up to £8,000/year. The Tory response was as all over the place as it was desperate. Council Leader Abi Brown exhorted the assembled councillors to back the plan, otherwise the local authority would end up like Northamptonshire. Cllr Ross Irving, however, outdid himself by arguing that trade unions should not be allowed, and that it was not the council's responsibility that its workers should get by - if they can't afford to live off the wages offered they should get another job. Charming. And Cllr Dan Jellyman, unable to regurgitate that morning's Daily Mail headline or adapt it to fit present circumstances, chose to heckle and raise points of order - but true to form, only when female Labour councillors were speaking.
What electrified proceedings was the split in the City Independents over the budget. Casting aside his undeserved reputation as some sort of soft left-type, Randy Conteh lined up with the Tories to say voting down the proposals would lead to "reputational damage." If only he'd shown similar concern with local authority PR when the council unveiled its desire to fine homeless people £1,000 in the middle of its City of Culture bid. Lord Mayor and purveyor of 20 page manifestos fulminating against cervical smears and refugees, Jackie Barnes, chuntered incoherently about concerns over the terms and conditions but shamefacedly supported it anyway. Meanwhile, deputy council leader and leader of the City Indies, Ann James, was much more forceful in registering her opposition, and was followed in this by her fellow cabinet colleague, Joanne Powell-Beckett, in making the case against. It came to the vote and much to the delight of oppositionists and the workers watching, the plan fell with 19 for and 22 voting it down - six City Indies voted with Labour. Jubilation among Labour councillors was matched by pandemonium among the Tories. Cllr Jellyman confronted Cllr Sabrina Bowers of the City Indies and screamed obscenities in her face, while Cllr Irving berated Cllr Shaun Bennett for abstaining. This was handily edited out of the repackaged stream available online, but one of our members made sure it was filmed for posterity - warts and all.
With their budget in tatters, it's getting brought back again for another try before the 11th March budget setting deadline - presumably with the terms and conditions cuts made up from elsewhere. But this raises some significant questions for Potteries politics. Given the acrimony in the chamber, can the ruling coalition continue? Reading between the lines, it appeared the Tories and City Indies hadn't met prior to the council meeting to hammer out an agreed line. A symptom of the Tories running roughshod over their governing partner as per usual, but also a failure on Cllr James's part for letting them get away with it. Eager to avoid special measures, and the unmaking of their reputation for nous, the Tories will have to offer some concessions. Perhaps another cabinet position, perhaps grovelling apologies for sweary outbursts. Perhaps some cash for the package tour of Stoke-on-Trent.
Their crisis is the Labour Group's opportunity. Having finally proven able to split the independents from their Tory overseers, the party has to know what it wants to do next. We have established a section of the City Independents will go along with Labour when political leadership over contentious issues is provided, and so one would hope the text messages and phone calls have pinged back and forth over forming an alternative coalition. But should Labour? There is one school of thought that the Tories should be left to immolate themselves, carry the can for the mess and damage they're causing, and this puts us in a better position for the next round of elections. This idea is utterly defeatist. If the local party really believes this, why did we bother standing last May? If the Tories are as bad as we say they are, refusing to replace them looks unserious and shows, ultimately, that we're indifferent to the consequences of the bad decisions they make. Yes, the timing is not right. But the timing is never right. Therefore Stoke Labour should work on building a new coalition. It may involve some changes of emphasis and a change of personnel, but if that's what it takes to get the Tories out we should do it.
Simply taking control, however, is not good enough. We need to show we have learned the lessons of our previous stint in office. No more pretending to be managers and letting senior officers steer the authority's priorities, we need to act like politicians and therefore be seen to provide political leadership. This, among other things, involves continuing to shield the most vulnerable - be it council workers or residents - from the worst of the cuts. It means picking up where our old economic strategy left off which, for the most part, the Tories have continued with. Despite their fulminating against it at the time. We need to think about how power can be pushed outward from the council itself, to draw on, draw in, and expand the movement our party rests on. All our current leadership candidates talk about devolving power, so we should think about how we can do it ourselves. We need to learn from Manchester and Liverpool how Labour has managed to keep a tight hold on local politics despite suffering cuts of a similar scale. And crucially, we need to adopt the Preston model lock, stock, and barrel. Under Labour and early in the present coalition, there was a little bit of umming and ahhing about using this to underpin local economic resilience, but little to nothing came of it. This cannot be an afterthought - supporting the local economy has to run through every element of the programme. Are these magic bullets? No. But do they offer the best way of rebuilding the party if we work to split the coalition and form one of our own? Possibly. At the very least, there is nothing here any City Indie would object to.
Within the space of three months, the Tories have gone from all-conquering to getting humiliated by low paid workers working in concert with Labour councillors. There is an opportunity now for Labour to fatally undermine the cocksure confidence of the Tories and boot them out of office, but will the opening be grasped?
Image Credit