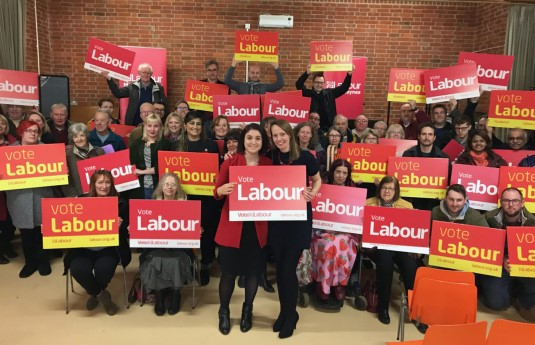 Since Keir Starmer's election, thousands of left-wingers have left the Labour Party. It was bound to happen, but that doesn't make it any less painful for those of us sticking it out. Nor does shouting at those who've cancelled the subs and torn up the cards do anything to remedy the situation. We need to think about why people are leaving. Now, this might seem like a ludicrous question to ask: the reasons are as different as one member is to another. Some think the election of Keir Starmer renders the party beyond the pale for the positions he's taken (or not taken) so far. For instance, putting out a statement after the far right ran amok in London weaker than Boris Johnson's was surely responsible for a few cancelled subs. Other reasons might conclude the left lost, we blew our chance and there's no way of winning the party over. Why bother when other matters need attending to?
This then is a question of disappointment and coping with setbacks, but it's also an attitude that is inconsistent across different areas of intervention. Think about street politics. Black Lives Matter mobilisations have proven successful in shifting public opinion about racism, and has forced a partial recognition of this country's rotten imperial legacy. But think about the recent history of street activism: it's often thankless, police hostility is an occupational hazard, and wins are few and far between. Yet most leftists who've recently left Labour wouldn't think about giving up on them. The same is true of community activism, which can be tedious, long-winded, not go anywhere, and the odds appear stacked against you. Or trade unionism with its labyrinthine bureaucracies, faction fights and more than its fair share of tedious meetings. Workplace organising allows a respite from this but that too is often exhausting and frequently fails. And yet activists carry on doing all these things, despite setbacks and knock-backs, even if your work has been and will continue to be undermined by people ostensibly on your side. Why is the Labour Party considered differently for a large number of comrades?
It's a matter of identity, or rather the dominant type of identity nearly all political activists subscribe to. In his 1996 book, The Search for Political Community, Paul Lichterman argues the turn to self-fulfilment in Western cultures has led to a more individuated understanding and practice of activist commitment. As he put it, "the culture of self-fulfilment has made possible in some settings a form of public-spirited political commitment that … [can be] practised in a personalised, self-expressive way ... some people's individualism supports rather than sabotages their political commitments" (p.4). Therefore, while organisations and collectives can be the vehicles through which one does activism, everyone's politicisation is personal. Well yes, talk about obvious. How is that new? What differs from activism prior to the rise of what he terms 'personalism' is the individual self as the ultimate reference point: all we have is our bodies, the sense apparatus of our experience and is manipulated, positioned, determined, and inscribed upon by the ceaseless flow of social process. As such, the activist self is reflective and self-critical and values individual expression - it is the one tool each of us have for pressing our politics. For example, one reason why many new Labour members during the last five years found party structures stultifying and sclerotic is, a) because they are, and b) they are a product of a different culture pre-dating personalised politics. The cultures are more or less alien to one another.
If the individual is the vehicle of politics, it tends toward organising with the like-minded on a voluntary and less formalised basis. What holds collectives of activists together are affinities, not senses of mutual obligation in the traditional, communitarian sense. Therefore, traditionally Labourism might scrap over this or that committee, a selection, and who gets to run the board in canvassing sessions but rarely is the efficacy of what is getting done questioned. Personalism however extends its self-criticality over all areas of practice and questions the basis of why we do what we do.
This has a number of consequences when it comes to Labourist activism. The first is Labour is institutionally incapable of making an honest accounting of itself because the party is compromised. Not only is it a proletarian as opposed to a workers' party, and therefore the political home of waged and salaried strata in tension with each other, it has historically attracted the support of a section of the business class and, like all mainstream parties, an organisation of the state. Labourism, at best, represents the interests of all working people within the terms of British capitalism and the UK state. Reinforcing Labour's institutional conservatism is its electoralism, a predisposition to meeting and accepting the electorate as they are. Persuasion is limited to how bad the Tories are and how Labour can do a better job, not propagating ideas, radicalising and empowering voters into becoming political actors. Reflecting on the Labour Party is always a political act because it is inseparable from assessing or, if you're in an institutionally privileged position, denying the play of power dynamics. Just as a certain, recent effort at coming to terms has explicitly shown.
What Labourism tends toward is unthinking instrumentalism, technocracy, and "what works", which fits its conservative disposition perfectly. If Keir Starmer plays the game and gets the poll ratings, then we're heading in the right direction. Regardless of how dubious a position might be - going authoritarian on law and order, throwing tenants under a bus, unconvincingly waving the flag of St George - if it wins votes, it's good. Well, we know it's not good if Labour wants to hang on to its base. But this is largely invisible from an instrumental point of view because it's votes, not members, and certainly not the invisible assembly of classes and class fractions underpinning the party that matter.
If politics then is an expression of individual commitment and is bound up with identity, then there is a fundamental incompatibility between the dominant mode of activism and Labour business-as-usual. Leaving Labour therefore is entirely the appropriate response to a leadership not really interested in changing things, and will cooperate and compromise with forces fundamentally at odds with the constituencies we are from and, crucially, the values and beliefs core to our activist beings (and becomings). Sticking with a party whose leader is a knight of the realm and wants to get back to worshipping "success" and social mobility offends one's values, and runs the risk of being seen to condone such craven nonsense. Fair enough.
Perhaps though it's time for a bit of a transformation in left activism, one building on the cultural dominant of personalism and injecting some instrumentalism of our own. As compromised as Labour is, as much as it is part of the state system, Corbynism did enable the radicalisation of hundreds of thousands of people and has a long tail whose consequences will make themselves felt on politics, one way or another, for years to come. There are new opportunities for struggle opening up to move Labour more toward a movement as opposed to the straight electoral party model, a path that can empower and win power. Even if comrades who have left or are edging toward that door disagree (and chances are they do, otherwise leaving wouldn't be on the cards), then the relationship to the party can be thought differently. As Lichterman noted, the personal commitments of contemporary activism tends toward affinity groupings with others. When Jeremy Corbyn emerged as a leadership candidate and particularly during the 2015-17 period, hundreds of thousands moved into the party or became active supporters because of an alignment of politics. Corbyn is no longer leader, but the left is still present. To stay in the Labour Party now doesn't have to mean an endorsement of Keir Starmer's politics and other vapid nonsense, it means supporting the left and helping us keep the positions we've taken in the party - and could take in the immediate future. It doesn't even involve a a great deal of commitment if someone would prefer to get stuck in doing something else - a postal ballot here, an AGM or selection meeting there is hardly a time sink or, for most people, financially prohibitive.
Lichterman is right that activists tend toward others with similar values and orientations, but affinity isn't sufficient to consolidate a position over a long period. Our activist cultures need to integrate a sense of instrumentalism, an appreciation of organisation, and a pragmatics of struggle for us to realise the strengths of personalism and properly unlock the left's collective power. After all, the values might go to the cores of our being, but we need to ask an instrumental question of them too - what's the point if we don't take the business of socialist struggle seriously?
Image Credit