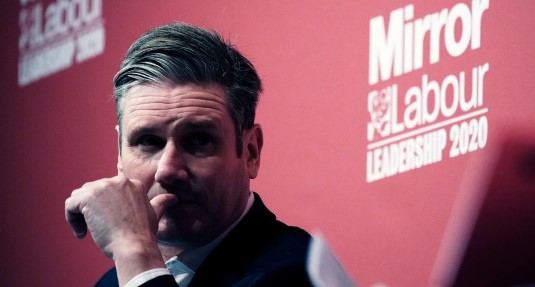 The victory of Keir Starmer in Labour's leadership campaign was always going to revive a genre of writing on the right: the need to smash the left. In between extolling the virtues of markets and attacking trade unions, former Blair aide John McTernan is a frequent exponent of this school. Just don't call him a Tory. Tom Harris, one of the worst MPs ever to grace the House of Commons for any party, has called on Keir to do the same from his Telegraph berth. And on Monday, Rachel Sylvester took time out from admiring right wing authoritarians to wind up the klaxon in The Times. The message is always identical: reckon with the left, smash the left, bury the left. But why? What does it matter to a hard right cheerleader like Sylvester to give a shit? In short, to stabilise the Labour Party as another establishment party safe for business interests, state institutions, and aspirant careerists who'll guarantee the status quo as they ascend through the ranks.
There are a couple of things here. It's no exaggeration to say the liberal side of the political establishment greeted the election of Jeremy Corbyn with a nervous breakdown. Their destructive and scabby behaviour from the very day he became Labour leader was a symptom of the implosion of a world view, of the impossible happening as tens of thousands appeared out of nowhere and charged into the Labour Party. Their trauma of losing to a mass insurgency was compounded by 2016 and the double blows of losing the EU referendum and the election of Donald Trump. The forces of liberalism were swept aside by the very antithesis of a smooth and "grown up" politician in America, and the nice liberal Tories like Dave and Osborne were out of sorts once Theresa May and her commitment to a hard Brexit took the reins, followed in short order by Boris Johnson. For the first time, liberalism as a political tendency was very much subordinate in both the two main parties and had to (incoherently) resort to combinations of parliamentary rebellions, street campaigning, and reinforcing a rejuvenated Liberal Democrats to scramble back into contention. Keir Starmer was part of this tendency, albeit that choosing to engage with Corbynism. This meant he was in a good position when its humbling finally happened, and took advantage of his proximity to Corbyn to present himself as a Corbyn-lite continuity candidate.
From the standpoint of their politics and position, this makes obvious sense. If only the left had proven as hard nosed, determined and focused while it had the levers of power in Labour. Winning back control by any means necessary was the first step, purging the left to make space for the party's rightful masters is the second, yes? However, where the right are kidding themselves is the idea a bout of bloodletting against the left led from the top is going to prove popular. I can understand the logics, which come in two flavours. Single out and boot out the troublemakers to improve the party's standing. In this respect, the imminent EHRC report into anti-semitism provides a useful pretext, and would get polite applause from the very press Keir is courting. And also taking on one's internal opposition burnishes the old toughness credentials. When Tony Blair provoked a fight over Clause Four, it reassured the Tory media that here was someone not about to threaten their class interests in the most modest ways, not that the wider public needed any convincing - Labour had held double-digit polling leads since the UK crashed out the ERM. And we saw recently how Johnson's Brexit at any price strategy cohered voters because his picking a fight with remain-inclined MPs in his own party and pledge to flout the law demonstrated determination and, something we don't normally associate with Johnson, seriousness of purpose. In other words, both Blair and Johnson performatively fostered division with a very clear and well framed objective in mind. Keir Starmer hasn't got that.
In many ways, nor does he need to. The left are divided, most union leaderships are content with Keir and are happy to see the back of Corbyn, and the right have a majority on the NEC for now. Even more helpful from his point of view is, as forecast, sections of the left decamping out of exhaustion, disillusion, and disgust. This is an issue the Labour right faced a year ago - if members leave, so the possibility for a comeback gets harder. Or, fast forwarding to today, if leftists leave the easier it becomes for right wing candidates to win NEC elections, local council, devolved government, and parliamentary selections.
The other issue is a certain amorphousness of the left. Despite Momentum having 40,000 members and ignoring the idiot scare stories, it behaves neither like Militant, nor as a socialist version of Progress or Labour First (sadly). The last four years endowed it with little political coherence, apart from defending Corbyn, and in the wider party it is well thought of thanks to its huge campaign days and matching activists to seats. Any partial action taken against Momentum would not lead to a quick clean victory, but would drag in supportive unions and threaten to paralyse the party with infighting - just as those swing voters are looking afresh at Labour thanks to the leader's coiffured appeal.
This is far from the only cost. As noted the other day, steering right has consequences. And in this respect, being seen to purge the groups of people in Labour who've been sticking up for renters against landlords, for black people against coppers and fascists, for emergency workers against a the government, Labour runs the risk of setting off corrosive negative multipliers. We know the Labour right like to project, so they think the average Corbyn-supporting leftist is a social misfit with a well paid job and zero ties to the world outside of the politics ghetto. In fact, disproportionately the left are made up of rooted activists who, in modest ways, help form political opinions and occasionally affect political leadership in their workplaces and areas of activity. They are precious for cohering the party's new base. Without them we wouldn't have done so well in 2017, and last year the result would have been even worse. Going for a wholesale purge as advised by the Tory and Tory-adjacent friends of Keir would collapse Labour's chances at the next election to zero, and severely damage the party as a going concern. Perhaps ... just perhaps this is why they're recommending it?
During the leadership election, Keir made a great deal out of being the unity candidate. On that basis a large number of erstwhile Corbyn supporters were brought on board and have gone on to provide a mass pro-Keir base in the party that is mostly soft left as opposed to right, or even soft right. Now, some might think this doesn't matter. He's the leader now and the membership can't do anything to force him out. Which is true. Yet any anti-left moves will provoke a reaction, be it an exodus and the partial disintegration of Labour's vote, a turning of layers of his support against him, increased support for a left under siege, and the risk of damage to the party's image and, crucially, his own. If Keir Starmer has any sense the press cuttings demanding purges should be filed under 'pay no heed'.
Image Credit