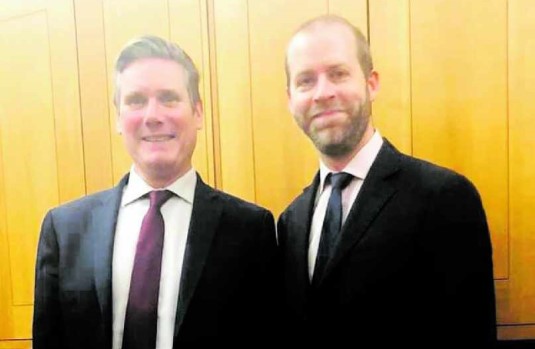 I'm going to tell you a story about social security. After leaving university I went on the dole. The advisor at the job centre handed over a huge wodge of paper work to fill out. Because I was living with my girlfriend, the advisor told me to put a claim in as a couple. For the next few months I went along to the job centre showing proof of my interviews and job applications, and each month the letter would come through saying my dole was being cut. It went down to £50/week, then £20, then five quid, and finally the utterly princely zero pounds. Thanks to receiving this generous entitlement I didn't bother going to the Job Centre again, and to top it off they sent me a letter saying they were terminating my receipt of sweet Fanny Adams because I hadn't abided by the rules. Why the reductions? Because, occasionally, my significant other would do more than 16 hours a week working in a local pub. The perversity of the system, brought in under the Tories but left alone by Labour, meant zero help for me and the millions of other young people who've experienced unemployment for any period of time.
Therefore when a politician, someone like Jonathan Reynolds who holds the shadow work and pensions brief, for example, says they want to do something about social security I'm listening. Because there's no beating about the bush. Labour under Blair and Brown not only failed our people when it came to welfare, they happily kicked those dependent on it in the teeth. The workfare policies they criticised the Tories for wanting to implement when in opposition got a new lease of life with the so-called New Deal of the late 90s, and the demonisation of people on benefits passed into the common sense of Blairism and the Labour right. MPs like the thankfully defenestrated Caroline Flint, who wanted to throw unemployed people out of their council homes, Rachel Reeves who said Labour was not for people on benefits, or Harriet Harman's failure to oppose cuts to benefit caps and child benefit, all of whom would be stains on the parliamentary party if it wasn't already stuffed to the gills with people who are as bad. And in some cases worse. And so we have the first problem when it comes to popular support for social security: the Tories and Labour have spent 40 years thinking up ways of excluding people from the system entirely.
This strand of policy thinking, a term used lightly here, on the Labour right is driven by pure triangulation. Kick those on benefits because they don't vote anyway/have nowhere else to go, and we might win over a few Tory voters jealous of the Wayne and Waynetta Slobs living a life of riley on £117/week in their heads. Not the wisest given how the party needs to win back seats with high levels of welfare dependency next time, this approach to social security by the last Labour government compounded the problems of social security: its inefficiency, its failure to be even a residual safety net, its punitive and disempowering character. There is, however, another tradition on the right. Which is where Jonny Reynolds comes in.
The much-discussed, to put it euphemistically, interview for The House magazine sees him set out some principles and thinking about welfare. He would like to see the £20 increase to Universal Credit brought in by the government at the onset of this crisis continue and have it apply to Jobseekers' and Employment Support Allowance too. The five-week wait for benefits should also be abolished - a move originally introduced by Dave and Osborne to try and force claimants to accept any job as they suffer an income-free gap between application and receipt of payment. He also thinks the case for limiting child benefit and the cap on support has been destroyed by the crisis. A positive move, albeit one sounding more like the contact with everyday reality seeping through rather than a more principled position. He would also like to see the expansion of statutory sick pay and it increased by an unspecified amount.
Where's the controversy?
"When you're looking at how you design or change the system going forward, certainly I feel if you have made greater contributions to the system, there is an argument that you should receive more out of that system. It doesn't mean that you will ever be leaving people without support or leaving them destitute. But I simply feel that that lack of a connection between what you put in and what you get out has become a major problem of social security and the political support for it."
Ah, there it is.
There's this thing a bit like the internet's wayback machine called memory, and digging deep you'll find the last time this was floated. In a major speech to try and cohere the Labour right behind a political critique of Corbynism back in 2015, Liam Byrne set out his stall. Among which was the application of the contributory principle to welfare. Leaving the problems with this for a moment, it was something he flirted with under Ed Miliband as part of a limited attempt to rethink welfare and results from trying to stand on two horses. One wants to gallop toward helping people in need by providing a new settlement worthy of the name 'social security', and the other is merrily cantering toward appeasing the (contrived) public appetite for walloping scroungers. Despite their antagonism, the idea was about giving everyone a stake in the system, which is a sound principle for building any welfare system. That's why generous and universal benefits are the way to go. One reason the progressive removal of universalism and going down the route of residual welfare didn't attract major protests or thrust a militant claimants' movement to the fore wasn't just because of the accumulating weight of scrounger rhetoric, but because the payments were pretty poor in the first place.
Unfortunately, Jonny's preference for reasserting a contributory principle introduces a division between deserving and undeserving claimants. This would lend itself to a new round of divide-and-rule politicking by the right around benefits, and therefore undermines the universalism of the non-contributory floor. ABC stuff, you would think. And far from simplifying matters, it creates more admin as new sets of means tests are introduced and it stores up rows over eligibility, leaving Labour open to the accusation it wants to impoverish middle class people by setting the criteria too stringently and the payments too low. A whole world of political pain awaits that, in the end, won't do much to build a consensus around the sort of system we need.
Again, it's not perfect but a generous and unconditional basic income is the simplest way of building a welfare system in which jobs are under permanent threat from automation and, without a decent programme of state-led investment, where the UK labour market has a miserable history of low paid and insecure jobs. Knowing that the wolf will not be at the door if your job evaporates would transform the life chances of millions, improve the take up of education and retraining, and a whole host of other benefits besides. As an ideas man, Jonny has shown interest in the basic income in the past though others on Labour's right hate it so much they have to lie about it. Yet even if this is a non-starter in these days of ever-so-responsible opposition a Labour position on welfare has to ask itself two questions. Does it adequately support our people because, contra the likes of Caroline Flint, the poorest are our people and, duh, Labour has a clear political interest in consolidating our constituencies. And does welfare help collectively empower our people in the context of a wages system in which the pressure on incomes from employers is structurally downward. A contributions-based system, even if it is grafted on top of a universalist system and affords special privileges to those who've worked longest or have paid more tax thanks to higher salaries cuts against the second principle, and sets the stage for an attack on the first.