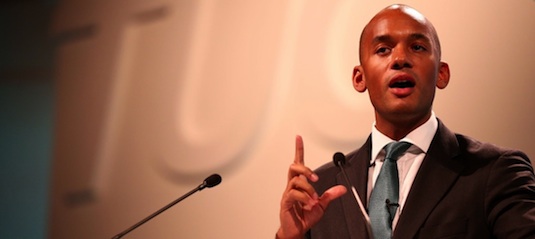 If you have the kind of job like, say Chuka Umunna, you might not want to see the end of work. You get a hefty salary, you are the boss of your own office, you're respected by your peers and considered to be someone who matters, and nice long breaks help punctuate life at Westminster. If, on the other hand, your experience of work is a life of drudge, humiliation and insecurity there's a very good chance your views might differ. The majority of people who work might like the routine and structure a work day gives them. It might confer a sense of purpose and provide a social life, but at the end of it most people wouldn't do what they do if they didn't have to. Millions of people work simply because they have no choice.
We live in a society that makes a fetish out of work. One's trajectory through the education system is (supposedly) guided by getting a decent job at the end of it. People's engagement with social security is supposed to be a temporary thing with the object of throwing them back into the workplace at the earliest opportunity. And if people aren't working, they're feckless and bone idle and made to feel that way - never mind how unemployment always exceeds the number of vacancies. And you know what? It's all so bloody unnecessary. While there are people without jobs, plenty of those with them are overworked. Work time too often bleeds into home time as work loads are impossible to manage as task piles upon task. Or at any time the phone threatens to go with a "request" to come in, shattering your free time and reminding you your time is their largesse. Too many workplaces are permanently short staffed, and the experience of work is a dizzying affair of plate spinning and routine. Life isn't for enjoyment, it's a treadmill for countless millions who realise when they reach retirement that they're too knackered or too ill to do the things they always wished to. Life is far too short to be spent and bent in involuntary servitude, especially when work can be planned and shared out equitably.
I wasn't surprised to find Chuka's much trailed opposition to the basic income couched as a defence of the cult of work. Nor that his argument is virtually identical to criticisms previously ventured by Yvette Cooper. That doesn't mean it isn't irritating, or won't be taken seriously in some quarters. But seriously, just look at the state of it. Nonsense about basic income meaning people living off the state, living vacuous, purposeless lives, of "giving up" on creating new jobs, it's a miserable exercise in how impoverished the political imagination can become. For instance, in the coming wave of automation,
Work could become more fulfilling. In the new economy our most valuable asset will be human beings. We have emotional intelligence and perception, and the capacity to create, empathise, persuade and reason in abstract ways. We can make imaginative leaps, and we have intuition. In the new economy what will have added value is what is devalued today – the emotional labour of caring, communicating, creating and connecting.
As if all this is dependent on the archaic compulsion of exchanging our capacity to labour for wages or a salary. Technology should not be deployed to create more bullshit jobs so more people can spend their best years doing meaningless, socially useless tasks. It should be deployed to reduce the working week, to spread the wealth we create, and to make us free from the necessity of waged labour. The future has to be something better than a human being chained to a desk, forever. And it totally can be.
What the basic income offers is a guaranteed, no-strings income to all. If money means freedom and choice, this is exactly what it confers. It allows people the choice to spend their time engaged in socially productive voluntary work or to sit at home and play video games. People have the freedom to indulge their passions. They can engage in entrepreneurial activity without the risk of ruin, as individuals, small partnerships or cooperative ventures. They are free to dip in and out of the education system, and do so without having studying time eaten up by work. And likewise, people can retire early from work, raise a family, attend to full-time caring without worry and insecurity. We know a basic income can do this, because trials prove it.
Yes, there are basic incomes and basic incomes. It has its fans on the right as well as the left. For the former, informed as it is by Californian tech-bro libertarianism, establishing a basic income allows for the abolition of social security and a whole bunch of liabilities companies shell out for. The basic income is a way of socialising risk, and helping support a population while Silicon Valley capital parasites off its data. Others favour pitching the basic income at a very low level so it doesn't intrude on work incentives. i.e. The necessity of working. Left approaches to basic income should reject both and pitch it at a level that allows for a comfortable life that reproduces human beings in all their material, social and cultural complexity.
Would this present a capitalist economy severe difficulties of adaptation? Absolutely, but then we're supposed to be in the business of moving beyond markets and artificial scarcity. If capital wants to survive, it would have to transform the nature of work entirely. Without compulsion, suddenly the (potential) worker has the upper hand in the capital/labour relationship. Capital would have no choice but to innovate and automate as much as it possibly can, because to attract employees, wages, which would truly become compensation for people's time, would have to be much higher than they are presently. The conditions of work would have to be better. Work would have to become more rewarding and enriching. And, who knows, because work would be done by people who want to be there perhaps it might be a more pleasant experience all round. Meanwhile the rest of society would move away from the commercial imperative, experiment with new ways of organising things, and as everyone has a guaranteed good standard of living may decide to consign money itself to the museums.
It's this, ultimately, which underpins the hostility Chuka and his friends have toward the basic income. Theirs is not a pragmatic acceptance of studies that prove work is good for you but a deep seated fear that the principle of a basic income, once established and practiced, is something that works against the very logics of compulsion and class struggle capitalism is dependent on. And that is reason enough to support it.