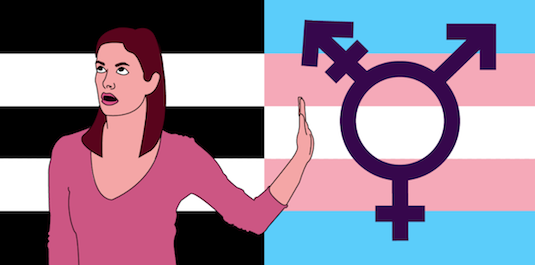 Transphobia is obviously bigotry. The only difference between it and sexism, racism, homophobia et al are the numbers it effects; trans women and and trans men are only a tiny proportion of people. Albeit one that attracts a hugely disproportionate amount of interest, anxiety and hate. That a section of the feminist movement prefers to go along with rather than challenge it is a sad state of affairs, but prejudice is never unknowable. It makes sense to people who articulate and act on it, and therefore it behooves all progressive people to try and understand those positions all the better to oppose them. In the case of feminism, why then does transphobia have a not insubstantial following?
1. The primary cause of transphobia and its lethal enforcers are men. Trans women, like cis women, are the victims of men's violence. These men are in the grip of the fragility of angsty, insecure, hysterical masculinities. Trans women are on the spectrum of women who refuse and resist the sex/gender systems underpinning (decomposing) patriarchal social relations and disproportionately suffer the abuse and murder meted out for deviation. Exposing, harrying, opposing any and all expressions of misogyny has to be a central plank of any socialist movement, and comrades who are men have a special responsibility in ensuring this happens. Similarly, solidarity with victims and survivors of patriarchal violence should be extended without question or condition.
2. The emergence of transphobia with a feminist twist is not a new thing, nor is it something that stems entirely from having wrong ideas. Feminism as a body of theory is the abstract rendering of women's history, experience and struggle, and shifts in its development is less a result of theoretical innovations and more the shifting being of women that makes new directions in feminism possible. All of its schools of thought, the celebrated/maligned trinity of liberal, socialist/Marxist and radical feminism and what has come since captures minds because theory itself has captured experience. It follows that problems and difficulties emerging within feminism are less a matter of epistemological nicety, and are more rooted in the practice of the women's movement of being at the sharp end of patriarchal power, men's violence, and gendered inequalities. Feminist transphobia, like its patriarchal bigger brother, has material roots.
3. According to Janice Raymond's The Transsexual Empire, trans women represent patriarchal agents within the women's movement. In plainer language, she argues they are men who have surgically altered their bodies to become simulacra of woman's bodies, but that does not make them women. The socialisation of being brought up male, along with its myriad entitlements, privileges, expectations, and complicity in the reproduction of patriarchal social relationships remains. Therefore the acceptance of trans women runs the risk of constituting an alien presence within the women's movement. Women only spaces, which played a central role in the elaboration of second wave feminist theory and practice, were a successful means of condensing women's experience because of shared oppression. Latterly, while most feminists who subscribing to views similar to Raymond would recognise that trans women also face violence and oppression, their particular concerns and the modalities of that oppression coupled with retained masculine behaviours should disrupt women's only spaces. Trans women's concerns are not cis women's concerns, and their inclusion would jeopardise the articulation of cis women's experience, the strengthening of cis women's solidarity, and the elaboration of feminism by an (inevitable) privileging of the former over the latter. Similarly, trans men are following individual routes out of being on the receiving end of patriarchy by adopting the physical form of the dominant gender and seeking to participate in the privileges this confers.
4. Feminism, at least its radical and revolutionary variants, aims toward the abolition of patriarchy, which itself is inseparable from the conscious surpassing of gender. That is there will still be human beings we understand now as in possession of female and male bodies, but this has no bearing on the kinds of people they are or the human subjects that might populate the (post-scarcity) society of the future. The bodies of trans men and trans women, from this perspective, are opposed to the problematisation, destabilisation and eventual transcendence of gendered subjectivities. The common personal narrative of being one gender trapped in the body of the other not only, paradoxically, reinforces essentialist assumptions about gender but reconfirms the gender binary in the transition process. This is further reinforced by the medical regulation of transitioning, of making surgery publicly available only if a number of gendered hoops are jumped through, chief of which is living as your chosen gender for a year. How is that determined? The most common (medical) expectation is a persistent fealty to norms for one's chosen gender. Hence why patriarchy suffers anxiety around trans women in particular, because for many men it muddies the homosexual taboo by their becoming desirable objects vis a vis the straight male gaze. Nevertheless, feminist transphobia could easily tell it to chill its beans: the binarism underpinning its self-definition and articulation of power is reinforced the very moment it is traversed.
5. Since feminism's re-emergence in the 1960s, it has mounted a powerful critique of the marketing of femininity. It is therefore unsurprising, given its record of attacking and criticising the rise and prevalence of the cosmetic industry that some extend this to the "gender industry". For instance, the current preoccupation with children who identify as trans are taken as examples of a branch of medicine taking hold of infant gender confusion, and medicalising them as dysphoric and in need of treatment, which may involve elective surgery later in life. Before this takes place there's the battery of counselling services (for child and parents), non-invasive interventions like puberty blockers, regular progress appointments and so on. In effect, they're manufacturing patients for the clinical and non-clinical services they dispense. It serves to uphold gender binarism and turn a profit, in the same way markets geared around the feminine offer solutions to inessential problems like wonky noses and hairy bodies. The gender industry offers medical salvation, and an individual one at that, when the political response to gender non-conformism is to push for looser markers of gender, of new ways of being women and men, up to the abolition of gender itself.
6. All movements of resistance have some form of identity location, or singularity which is simultaneously a site of oppression and location for resistance. In feminism, that has been the location/subject 'woman'. This was and remains a key site of theoretical elaboration by feminist scholars and activists, and the discussion and debates over the last 30 years about feminism's subject/agency is some of the most sophisticated and important work ever accomplished by radical social theory. In the broad sweep of theoretical movement, woman-as-subject has gone from a singular to a multi-vocal, complex subject. i.e. While the second wave of feminism laid claim to women's experience, the movement began fragmenting just as the new right/neoliberalism rose to prominence during the late 70s/early 80s. These schisms were spearheaded by feminists for whom the second wave, they felt, did not adequately interrogate its assumptions. Was the woman of feminism black? Working class? A lesbian? A mother? For proponents of these positions, they felt their experiences and therefore contributions to feminism were sidelined and marginalised. Fast forward to the present and we have a generational split between the second wave and what is largely grouped under the third wave label, which dates from the early-mid 1990s. The latter is explicitly concerned with all women's experiences and seeks to articulate them, which includes trans women, and is characterised by inclusion and an interest in the individual. Those who don't criticise the third wave for incoherence and (whisper it) depoliticisation, and implicitly hold to a more politically restricted version of 'woman' that the third wave rejects.
7. Feminist transphobia is a marketable commodity in the comment marketplace. I have little doubt advocates genuinely hold their views, but neither can the economics be denied. Magazines and websites need unique selling point for expanding social media reach and growing clickthroughs. Attacking trans people, condemning them as dopes of a gender industry, it's all grist to the mill grinding out kerching. That so many transphobic commentators are liberal feminists is no accident. It is the identity work of the relatively privileged that sees to the exclusion of trans women along with other "undesirable" women that, not entirely coincidentally, buttresses their own

status

. This is the feminism excited by Jeremy Corbyn's appointments, but is indifferent to the disproportionate impacts on (working class) women of the cuts to social security its proponents have previously advocated.
8. Feminist transphobia also has roots in anxiety. The internet is littered with examples and complaints of "cotton ceiling", that is the posing of trans women as cis lesbians to seduce cis lesbians. There are allegations and rumours of lesbians being guilt-tripped into sex with trans women, testimony of social media attacks and harassment of feminists who criticise this behaviour. There are also the moves to no-platform prominent feminists who, at best, are trans critical, the deploying of TERF as an insult and a means of dehumanising opponents, and, on rare occasions, physical attacks. In the context of feminist critiques of masculinity, these behaviours are no different, qualitatively speaking, than cis men and their sexual targeting, bullying, and intimidation of women. Anxiety also helps explain why feminist transphobia can assume the most bigoted and spiteful forms, such as dead naming trans women, routinely referring to trans women as 'he', dog whistling the dangers trans women supposedly pose cis women. The result is a shoring up of a particular kind of identity/agency location increasingly out of step with the world, and therefore useless (and damaging) from the point of view of progressive social change.
These hopefully help the getting to grips with feminist transphobia, and presented here are some points that may aid its critique. There is no reason why, for instance, the existence of trans men and trans women should reinforce the gender binary, especially when the performance and resistance of gendered practices vary as much among trans as they do among cis people. Indeed, by arguing that treatment/surgery should not take place isn't one upholding the binarism by forcing people to inhabit the gendered bodies they received? Additionally, the existence of a gender industry no more delegitimises trans people than the gay men's health care "industry" (or the so-called pink pound) does gay men. Yes, both try and produce subjects of particular kinds, but all institutions and constellations of institutions do so, sometimes for profit. So what? Furthermore, some elements of second wave feminism are exclusionary of women, and there remains perspectives that criticise BDSM lesbians, butch lesbians, indulge bi-erasure and critique bisexuality, and of course, there is the small fringe of lesbian separatism. The difficulties some feminists have with trans women are inseparable from identity border wars, but simultaneously newer generations of feminists view these feuds as old hat and irrelevant to the main job of critiquing and opposing patriarchy and capitalism.
Image Credit