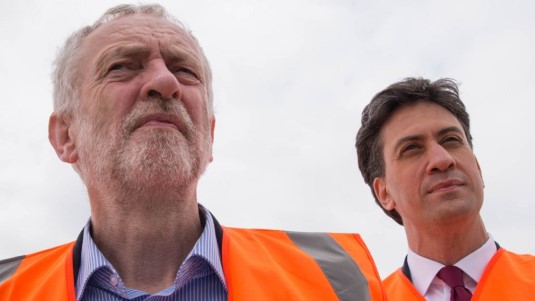 Labour people have a simple way of separating those worth listening to from those who aren't on social media platforms. If someone says "it wasn't because of Jeremy Corbyn, it was Brexit that killed us", they very obviously knocked on zero doors. Likewise, if a post claims the referendum was irrelevant and Corbyn was responsible for doing us in, then the author's experience of canvassing was limited indeed. I suppose then the Labour Together report is welcome for backing up the evidence of activists' senses. There's nothing especially revelatory in the report - Ed Miliband's summary flags up long-term issues various Labour folks have banged on about for years, including this blog. Therefore, I don't think it's necessary to revisit them as we've talked about them before and, given the character of our present leadership, will doubtless be talking about them again.
That said, there are a few things missing in this account. The report tells us about the popularity, or lack thereof of Jeremy Corbyn, and provides graphs aplenty covering 2017 and the lead up to the 2019 election. While true, this was not some Durkheimian social fact warranting neutral observation and notation: Corbyn's ratings started off bad and for the following four years he was systematically screwed by the press and the broadcast media. You don't have to take the word of an embittered factionalist as gospel, repeated content analyses proves it. This matters. The power of the newspapers is thankfully waning, but broadcast media takes their cue from the editorial offices and in turns determines what are the main political issues of the day. Not addressing this basic point, which the authors know is true, does undermine the scientific creds of the report.
Perhaps this is related to the second thing that goes unexplored: "factionalism". When this is bandied about by mainstream commentators and politicians they're talking about the left. Everything from blocking right wing trolls on Twitter to asking people to vote for a left wing NEC slate is not on. What factionalism never refers to how the right behaved, from its apparatchiks to Labour MPs who, from day one, did everything in their power to destroy Corbyn's leadership. They said it was a going to be a disaster, and worked tirelessly to make it one. What the report's authors mean by factionalism is something of a symptomatic silence, so let's spell it out. The media was stacked against Corbyn's leadership, but it was Labour MPs from the Deputy Leader down who gave them the attack lines, leaked the documents and highlighted the weaknesses: they enabled the onslaught, and were the ones cheering when Labour seats fell - if they were able to save their own skins. There is a ridiculous school of thought that suggests none of this matters, as if voters would look upon the political equivalent of a chimps' tea party with indulgence if it wasn't for Corbyn. Why then did Tony Blair and Alastair Campbell obsess over media management and use carrots and sticks to make sure MPs toed the line, particularly before 1997? Perhaps it has something to do with fractious parties not winning elections?
Labour Together's assumption of a diplomatic silence gets in the way of reckoning properly with the impact of Brexit. In 2017 Labour deftly killed it as an issue and denied Theresa May the election she wanted to fight. Had the party adopted the 2019 positioning then, she would be the one presiding over an 80-seat majority, with Boris Johnson a high profile and annoying back bencher. Following that election Corbyn should have moved quickly to affirm Labour's backing for a negotiated settlement, such as Norway Plus. This would have anchored Labour to an exit, but the softest possible exit. Instead it was left ambiguous which gave the second referendum/remain-at-any-price crew room to start driving Labour's policy. This was a failure of his leadership, and easily his most catastrophic mistake. Yet he does not bear this cross alone. No one forced Labour MPs, including the current leader of the party, to bang the drum for remain. Nor were they forced into backing a referendum campaign that not only aimed at driving a wedge between Corbyn and EU-friendly Labour voters, but in fact later split over the issue. Brexit was a battering ram, alright. Johnson wielded it to collapse the so-called red wall seats, but not before the remainers had used it repeatedly to pulverise the party's standing. The appalling EU election results and the panicked adoption of the second referendum was the result, and the Tories got the election they wanted on the ground of their choosing.
We'll look at what the report says about future strategy tomorrow, but I'm not holding out much hope for keen insight. The reason for looking at politics as it really is, for soberly and honestly addressing our achievements and failures even - no, especially if it upsets and makes for uncomfortable reading for those who would prefer delusions - is so we don't repeat the past. While the Labour Together report is right to point out the failings and mistakes Labour made and stress the importance of long-term processes, it lacks an explanation of why the party expended so much effort struggling with itself. It's understandable: Ed Miliband, Lucy Powell and friends don't want to point fingers and their diplomacy is an effort to present something that cannot be dismissed lightly. Indeed, they were not entirely innocent parties in the nonsense of the last few years. But if your analysis misses the one thing that ate away at Labour for over four years, destroying its coherence and its electoral chances, then you're not preparing the party adequately for when it comes back. Because it will. In their own ways, Blair, Gordon Brown, and Ed were each destabilised by elements of the Labour right. What's going to stop them from doing the same when they think it's Keir Starmer's turn?