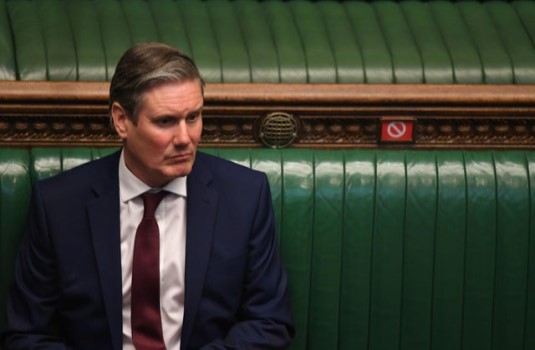 Some very quick notes on the Labour leader's approach to "responsible" oppositionism.
1. It's working. Or it seems to be working, if you're using polling as a measure of success. On the whole, they're demonstrating convergence as the gap between Tories and Labour narrows. Also, for someone who was only known to weirdo politicos and those who followed the Brexit process closely, the public are warming to him as they put him on a par with or slightly above or below Boris Johnson in the best Prime Minister stakes. Remember, Johnson still has the wartime crisis inflating his support. Last of all, as much as some Labour people are grumbling recent polling data shows many more Labour supporters approve of the strategy so far than disapprove.
2. While it's good to see the polls move, we're abutting one of those tensions at the heart of Labourism. Playing the statesman is obviously Keir's strategy, and believes keeping the criticisms of the government's awful record restrained will get him a hearing among some voters Labour has to win back. And you can see where this comes from. Before the election politics was paralysed and polarised by Brexit. A lot of ordinary punters were fed up of seeing politicians slanging and wrangling at each other over issues that were esoteric, technical, and appeared like procedural games for their own sake. Keir is desperate to avoid being perceived as playing politics in order to cut through to those who "protested" this by voting Tory.
3. This is still the beginning, and so Labour are peeling back the soft Tory vote. Reducing Tory support further requires much more than the softly-softly approach. Some think attacking the left is the route to the magic kingdom, or dumping commitments to universalism can get things moving. Yes, but at the cost of destabilising and dissipating one's base and making winning a general election more difficult.
4. Recalling Ed Miliband's leadership, for about the first two or three years Ed was very reluctant to commit Labour to anything. The danger for Keir Starmer is if he combines that ill-fated strategy (which, you might remember, appeared to work for a time as Labour led in the polls) with a reticence to criticise and condemn the government, the party runs the risk of acquiring a reputation for dithering. And, for its leader, the perception he can't do his job. In short, voters do expect opposition to be an opposition after a period of time. If it's not forthcoming, they'll have you down as weak, useless, and not worth bothering with.
Image Credit