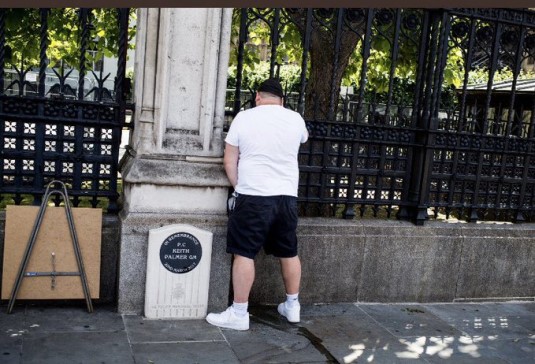 It is a truth universally acknowledged that social movements provoke into being their countermovements. The labour movement and fascism. The third and fourth waves of feminism, and the so-called alt-right. Black Lives Matter and a disturbing, gibbering menagerie of violent cop stans, the KKK, and every two-bit racist from society's effluent pipe. Here, last weekend's welcome action against Edward Colston's likeness has provided the far right a new cause to latch onto. Casting themselves protectors of our precious heritage, a few hardy souls camped out overnight to guard Robert Baden-Powell and Capt. James Cook from the left-wing threats existing in their minds. Hope they didn't get a chill.
And then there was London, today. The fighting with the cops, the racist chants, the seig heils by the Cenotaph, the harassment and attacks on anyone who wasn't white, this didn't drop from nowhere. It didn't happen because Black Lives Matter happened. The far right are a persistent feature of British politics, and in recent years there has been much to encourage them. Since the beginning of last decade, hate crimes have more than doubled, with a marked acceleration between 2015-16 and 16-17. What on earth might have happened then? *innocent face* Since, nationalist rhetoric has ramped up, along with overt state racism, scapegoating has become official policy in the Tory manifesto, a uniformly racist Tory press carrying on being racist, a subset of celebrity for whom fame is inseparable from racism and so-called anti-woke politics, and the utter demonisation of parliament's most consistently anti-racist figure by an establishment for whom a poisoned politics and the hardest of exits from the European Union is preferable to a mild redistribution of wealth. As much as the establishment protests their innocence and liberally condemns a white riot, they can't fling their plague seeds hither and thither and not expect them to sprout.
The mainstream then have emboldened the far right, and the Conservative Party continues to do so. Why else were the far right, in-between swigging beer, shouting Nazi slogans, and pissing on memorials to dead coppers, voicing their support for Boris Johnson? Why do they think they're on the same side? Johnson overcame his customary torpor to fire off a speedy denunciation, but polarising the electorate and pushing Brexit as an explicitly nationalist project (so much for "Out of Europe and into the world!") has got us to this situation. As recently noted, fascism in the 21st century turns towards identity politics. It offers a performative masculine violence against despised others, a studied and contrived attempt to shock with anti-social behaviour, vandalism and physical assaults, and glories in war, past atrocities committed against subject populations, and a sense of grievance to "the traitors" who condemn this rancid heritage. The fascism of the street is episodic and opportunist, and is the perfect foil for violent men who have something to prove. Theirs is a power politics of destruction, a nihilistic desire to destroy for its own sake. And, as a current on the fringes, it's dying.
As Paul Mason reported earlier, those getting beery in Parliament Square were the usual suspects: ageing hooligans, some of whom were likely veterans of the English Defence League travelling circus, a couple of younger footy firms, and the usual fascist riff raff, including Anne-Marie Waters and Paul Golding. What he witnessed, he said, was the outpouring of rage for a world view that is fast evaporating. Considering all that is said about the far right getting enabled by the mainstream, this might seem like a curious point to make, but it is true. The rising tide of hate crime is precisely because society as a whole is slowly growing more intolerant of intolerance, not least thanks to the efforts of comrades like Black Lives Matter and their forebears in the anti-racist and anti-fascist movements. The social cost of prejudice, on the whole, is increasing and they know, every thug who ran amok today knows the game, in the long-term, is up. This is why they lash out, why they attack the defenceless, desecrate the monuments they affect to protect, and find a kindred spirit in a Prime Minister who offers them new wine in reassuringly familiar bottles. Their precious characteristics, their illusory sense of superiority bound to the intertwining of pale and male no longer guarantees them anything. And where does this leave them? Nowhere.
Fascism, the postmodern fascism Toni Negri wrote about, is therefore a politics of decay. As masculine and racial privilege carries on evaporating, the residue left is concentrated and poisonous. We need to protect ourselves when coming into contact, but it too dessicates and becomes dust. And it isn't long until the air carries its flecks away.