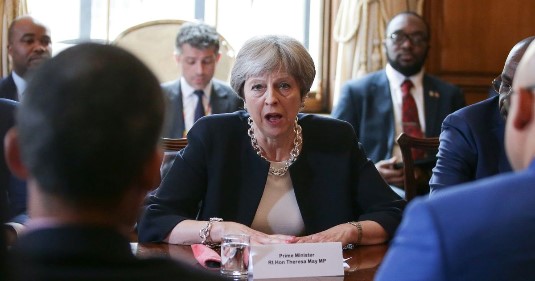 You don't need me to tell you what a disgrace Theresa May is. She can't be accused of mishandling the Windrush scandal, because the pain and misery caused to surviving family members is by design, not by accident. As Diane Abbott puts it, "Tory MPs and commentators who have always supported the government's policy of creating a 'hostile environment' for migrants express astonishment that there is now a hostile environment." The government can try and plead ignorance, but the Home Office have been aware for years of the issues. Migrants who came here when they were little kids and have spent their entire lives working and raising families have fielded queries about their immigration status when they suddenly found themselves out of work, not eligible for social security, and denied treatment on the NHS. It wasn't picked up as a pressing issue because the Home Office doesn't care, and this indifference is baked into the immigration system by successive editorial-chasing home secretaries.
Immigration is the one topic we're "never allowed" to talk about, but it's the topic the press never shut up about. Since the war, and in some dishonourable cases long before it, the press have vilified successive waves of people coming here - Caribbeans, Indians, Bangladeshis, Pakistanis, Ugandan Asians, Africans, East Europeans. They are responsible for framing migrants as "a problem", it is they who are responsible for scapegoating them for job losses and housing shortages, it is they who have powered the disfigurement of British politics by far right demagogues and hucksters, and it is they who stand responsible, along with the Prime Minister, for the disgusting abuses that are immigration detention centres and the officially-sanctioned harassment suffered at the hands of the Tory Home Office. They try and wash their hands of the misery they've caused, but it is they more than any other set of institutions who have whipped up anti-immigrant hysteria. They are the tools of divide and rule.
I'm not about to let Theresa May off the hook, though. By all accounts, when it comes to immigration sundry Tories are prepared to play cynical political games. Boris Johnson, for instance, is one of their vacant hypocrites who talks up the contributions waves of immigration have made to national life out of one side of his mouth, but carps on about controlling Britain's borders and nudge-nudge we don't want any more of the beggars here out of the other. But when it comes to the "right kind" of migrant, such as overseas students wishing to study at British universities, he and virtually every other cabinet member agree they should get special treatment and not be counted in the immigration figures. The only one who doesn't, the one who insists they too face the unremittingly hostile Home Office treatment is none other than the Prime Minister herself. For the others, anti-immigration posturing is a matter of opportunism. They're not so vulgar to actually believe it. For May on the other hand ...
No one talks about "Mayism" any more, but for a brief period between her assumption of office and calling the general election (a year ago to the very day, folks), it looked like a new hegemonic project was in the offing. i.e. A resetting of class alliances designed to buttress Conservative political dominance in the medium to long-term along with a new common sense that would be difficult to challenge and, as per Thatcherism's midwifing of New Labour into the world, ensure whatever came next would be committed to politics within the terms May sets out. However, it was a project erected on the most unstable of foundations. Her recommitment to One Nation Toryism sounded better than the dog-eat-dog idiocies of Dave and Osborne, but nevertheless its appeal was limited. Continuity Thatcher in some respects, the cut of May's authoritarian jib was never going to appeal to the newly important topographies of Britain's class landscape. Not that it mattered. After all, socially liberal youngsters never vote, do they?
You don't need to lather yourself with poststructuralist philosophy to know that a useful way of holding together a block of people is by uniting them against some alien "other". May, in her speeches about how wonderful her Britain is bound to be, waxed lyrically about insecurity. She understands, at least rhetorically, that a sense of dislocation and anxiety breeds disengagement and irreverence. To this she opposed a society (yes, there is such a thing as society) where everyone had a place and knew their place - in both senses of the term. And that means creating in-groups and out-groups. In are the fuzzily defined "British people", replete with some lip service to its multicultural and diverse characteristics. But in the outs were people who wanted to come here. May linked stability and senses of place with what we have, and made it contingent on severely limiting the numbers who might otherwise "threaten" it. Vote Leave with its "Take Back Control" slogan, which more than any other positioning won the referendum for Brexit, was seamlessly annexed to her project. Anti-immigrant Brexit voters found a willing ear and a comely xenophobic politics with Theresa May and her "team".
As such, from what May believes (yes, she does really hold a candle for this rebooted, anti-immigrant one nation Toryism) and the pragmatics of holding her declining coalition together, the Windrush families were always going to be double victims of her deliberate hostility to migrant populations. Double because her rules rendered them non-people as far as the state was concerned, and then treated them as such as they tried rectifying their residency status. None of this would have troubled her because she firmly believes you can never lose votes by being beastly to immigrants, and you can never gain them for helping them out, let alone being welcoming. Besides, the core of her coalition aren't going to care.
Not for the first time May has miscalculated. There is a hard core who won't countenance any immigration, but even among conservative layers of the population there is a residual (some might say grudging) affection for Commonwealth migrants, particularly those who arrived from the Caribbean. Unlike EU migrants and more recent arrivals, these are empire people who came to Britain because the mother country put out the call. They are, for millions of May's current supporters, part of the "in" team. To find out that they're not and have been subject to shabby treatment has certainly wounded May in their eyes - hence the apology, going cap in hand to visiting Commonwealth leaders, and trying to push the blame on to Labour in today's PMQs.
Might we be turning corner in wider attitudes to immigration? I doubt it, but there is no doubt this crisis has exposed the venality and heartlessness of May's government to many voters prepared to give her the benefit of the doubt, and that makes her already precarious position even more uncertain.