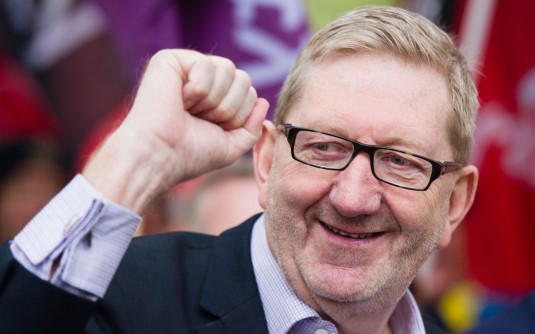 Len McCluskey has played a blinder. Read his article for yourself. He doesn't give the impression, which he has in the past, that Labour anti-semitism is a put up job. He explicitly addresses it. Rightly, he contextualises it as an excrescence, a minority pursuit to be dug out and thrown out using the enhanced powers the party has adopted. And what he does is to give voice to the frustrations and anger rippling through the party membership about Labour's other big problem, the Parliamentary Labour Party problem.
Despite achieving in two years what it took Kinnock nine years to do (and even then got a much better share of the vote), large numbers of Labour MPs are not reconciled to Jeremy Corbyn's leadership, nor will they ever be. As noted last week, it's not a matter of a few disagreements here and there. When you have a big tent, you don't nod politely and sympathetically as folks take an axe to the supports, snip at the tethers and rip up the pegs. There is a hardcore group for whom their opposition to Corbyn is a cypher for their opposition to what Labour is becoming: a mass, democratic movement informed by and responding to the lived experience of millions of people hitherto excluded from mainstream politics. In our new, redefining, refounding party there is little room for champions of water privatisation, Labour friends of Erdoğan, enthusiasts for hospital car park charges, and self-styled practitioners of the stitch-up. They know it as well, and will do anything, anything to turn the clock back to the time when these people were feted, and their general shittiness wasn't a matter for embarrassment and shame.
This drives their exaggeration of Labour Party anti-semitism. As Len observes, it might be the case some are outraged by the emergence of anti-semitism, but it is also the case it is being talked up and used as a stick to beat the left and the Corbyn project with. They know Labour isn't riddled with anti-semites, they know that as a mass party it's bound to take in the prejudices - to a degree - from the society of which the party is part. But, appropriately in most cases, it's a scab our MPs can keep picking at. That Labour's leadership have looked all at sea at times has merely encouraged them. There are reasons for this, one being Corbyn's well known reluctance to throw long-terms associations under a bus, even if they have dodgy af views on some issues, but it doesn't matter. He could be as contrite as can be, not hang around with the "wrong Jews" any more, and get the Jewish Board of Deputies to oversee Labour's disputes panel, and it still wouldn't be enough. Because it's not about anti-Jewish racism. It's about politics. I know it, you know it, they know it, and the membership knows it.
Going from their behaviour, some have reluctantly accepted they're not going to stand as a Labour candidate ever again and so are bent on the destructive course of doing all they can to wreck the party's chances. They are doing over the party now, but they can be stopped. Their martyrdom fantasies culminate in a departure from Labour at the point maximum mayhem can be inflicted. I've said it before and I'll say it again, the membership can enforce a timetable on them by CLPs ensuring they send delegates to conference who agree with mandatory reselection - such is a suitable finish for people prepared to use anti-semitism for something as inconsequential as their dreary, unremarkable careers.