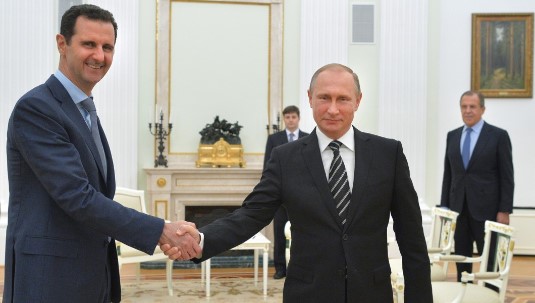 There is a sickness at the heart of British politics. As readers know, there was an apparent mass casualty chemical weapons attack on Douma in Syria - another grim episode in a civil war showing few signs of petering out any time soon. Surely most political people spared a thought for the victims, before thinking about what to do next. According to Boris Johnson, reports of the attack should be investigated and on the basis of said investigation the perpetrators be held to account. Labour's statement says exactly the same thing, sans the ritual denunciation of Russia but holds out for concrete steps to be taken to restart peace talks. That seems quite sensible to me, but that's only if you're, you know, interested in finding a way out of this appalling conflict. Unfortunately, not everyone is of the same view.
Take the always ridiculous Sajid Javid, for example. He sees dying children, he sees Labour's press release, and he says it "could have been written by the Kremlin". Likewise, the media have taken the same tack - this HuffPo article chimes in, claiming Labour's position - which is the same as the government's position has been "widely condemned". The proof of the breadth of this condemnation was, um, Javid's tweet. It's almost as if "get Jeremy" has become the overriding cause of British politics, and no matter what the issue is it has to be spun to blame Corbyn. I bet even Johnson's congratulating the anti-immigrant and, yes, anti-semitic Viktor Orban, the re-elected Prime Minister of Hungary, is somehow Corbyn's fault. Absurd normally, but in Syria's case, to reduce a vile atrocity in a brutal civil war to Westminster knockabout is despicable.
Nevertheless, while not for one moment conceding ground to Tories and Labour's own B52 Bevanites, it's not difficult to understand the frustrations many people have about Syria. The country is a charnal house on the doorstep of Europe, periodically commanding the news with grisly war crimes and constantly, consistently supplying endless stories of misery that don't capture headlines and attention, but is nevertheless there. Every now and then up pops someone to remind us that not intervening in wars is not without costs, as if they're the only ones to have had this epiphany. Of course, Britain is not not involved already in Syria. Special forces are in the field, the UK set about bombing IS targets in Syria and Iraq with alacrity, and British drone attacks have been made against regime targets. There are also the arms it has sent to various opponents of Assad, not all of whom are secularists, let alone democracy-loving liberals. And it has not used its good offices to rein in Erdogan's Turkey, for whom the Syrian civil war is an opportunity to continue its filthy war against the Kurds. What then is the balance sheet of Britain's intervention so far? Has it made peace more likely, or exacerbated the conflict?
But let's take the interventionist objection head on. Yes, not engaging in full-on intervention has its costs. We see it everyday in the news reports. Yet what is the alternative? Had the West intervened Libya-style before the Russians got involved, Assad would not likely have lasted five minutes. But the long occupations of Afghanistan and Iraq cast their shadows over Western military action. And besides, had America, Britain and France bombed the regime into a richly deserved grave, the Islamist militias - including the black reaction of Islamic State would have benefited. Rather than having eastern parts of Syria under its control, it could have encompassed much more - including Damascus. Getting them out of Mosul and Raqqa wasn't an easy task, and having to deal with them in this scenario would have cost greater quantities of blood and treasure.
That was then, but now "punishing" the Assad regime means going up against its backers in Moscow who, for domestic political reasons, cannot be seen to back down. War with Russia is unlikely, but not impossible. The potential is there for a wider conflagration and the prospect of even more destruction and death. Though it is worth noting how despite repeated atrocities covered for by Russia, the British government remains strangely reticent about pursuing sanctions that would really bite the Putin government hard. Russia may be a vast country, have a large population, and a powerful military backed by nuclear weapons, but in economic terms it is roughly the size of Italy. That the Tories hardly countenance the damage this could cause and therefore the pressure it would exert, especially in conjunction with others, and their recent skirting around sanctions with regards to the Skripal affair, this begs the necessity for some very serious questions.
There is an alternative to squaring up against Russia or doing nothing. It's difficult, it would probably see some pretty loathsome people go unpunished, and will in all likelihood keep a murderous dictator in power. And that is the suggestion made at the end of Labour's press release, that instead of throwing our hands up or indulging sweaty 1980s Cold War fantasies the West starts thinking about what it can do to promote a peaceful, negotiated end. Not a temporary ceasefire here or there, but one recognising the realities of the conflict on the ground and the significant bar against escalated Western intervention. Like I said, it might taste like ashes in the mouth, but in the absence of any viable alternative course of action, what else can be done?