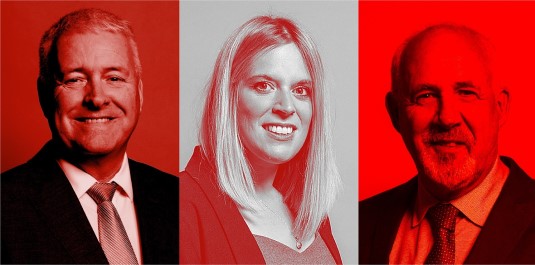 The
Labour Together report
into Labour's 2019 election loss was well received and got plenty of coverage, not least because it skipped over uncomfortable facts and dovetailed the dominant narrative of pinning the blame on Jeremy Corbyn. The
No Holding Back report
published in the Autumn by Ian Lavery, Laura Smith, and Jon Trickett splashed nowhere near as much because its findings, based on a nationwide tour and submissions from party activists, challenged the story Labour's leadership and their media helpers were determined to tell. Conversely, the report was heralded by many on the left who were of the opinion it was Brexit wot did it which, again, is far too simplistic and skirts over some unpalatabe truths. Thankfully, this report - which should be read by everyone on the left, and a few centrists too - is even handed, makes the right diagnoses (up to a point), and prescribes a course the party would do well to heed.
Okay, let's get Brexit out the way. On page nine, the comrades write,
People who had supported remain were sold a falsehood that not only could the result of the referendum be overturned, but that every version of Brexit was disastrous. This discourse was relentlessly pursued by senior politicians despite there never being a realistic prospect of it happening. The debate was purposely polarised away from any nuanced position on leaving the EU. Labour got on the wrong side of the Brexit debate and endless Parliamentary manoeuvres left people in our communities in no doubt about our opposition to their will. In the Party's headlong rush todefend liberalism, it left behind its commitment to democracy. Never again should we forget that we are the Party of democratic socialism.
This is true, but also a bit too easy. As someone who was very much against a second referendum until the party switched its position to supporting one, our first unwelcome truth - not considered by the report - is how Labour
didn't have much of a choice
. Because the leadership did not move to consolidate the Labour consensus around a soft Brexit in the aftermath of 2017, the party ended up where it ended up with the
remain wedge operation
running riot. The decision the leadership had to make because it ducked the earlier battle was run the risk of losing a shedload of older Labour leavers or, perhaps even more catastrophically, haemorrhage support among the rising generation of workers who now comprised
Labour's base
. The lesson here is, borrowing a certain phrase, to move fast and make our revolution permanent if we find ourselves in such a position of strength again.
At least
No Holding Back
doesn't pretend the Brexit position was the only factor. Going from activist testimony, the report draws on a number of common themes. The first was Corbyn himself who was a hard sell on the doors. Time and again, as any canvasser will happily explain, he just wasn't cutting the mustard. I got the old communist and terrorist sympathiser routine, along with being no different to anyone else and going back on Brexit. This, the comrades argue, could have been avoided if early in the leadership the values and solidarity Jeremy frequently evoked were tied together in a srong push around, for want of a better phrase, our friend
progressive patriotism
. Leaving aside that debate, they do note (page 18) how in the space of two years Corbyn had become such a drag on the doors is still lacking a fully fleshed out account. This is true - the right can never concede how Corbyn was
an asset
in 2017 and too many on the left can't countenance how he came to be a liablity as far as many former Labour voters were concerned.
The second issue was policy incoherence. This isn't the same as capitulating to establishment claims about the character of the manifesto, but more an issue of not sticking to core messages about the party's plans - it was as if the lessons of 2017 had been unlearned. A populist story around inequality and the transfer of wealth from the poor to the rich were all possibilities that were neglected, and might have had an impact around the edges of the campaign. The report also notes the party pledges, in places, were contradictory with the promise not to raise taxes for anyone on under £80k versus plans to scrap the married persons tax allowance. Unsurprisingly, the incoherence of the platform, with new policies seemingly added willy-nilly, was matched by confused messaging and fell short of 2017 - not because it didn't cut through, but because it was less focused.
Party disunity was another key factor, which Labour Together somewhat papered over. Here
No Holding Back
doesn't point the stick too much, but does refer to
that report
as evidence of the toxic atmos and scabbing taking place at party HQ and acknowledges shenanigans on the parliamentary party's part. It's funny how, a year on, those doing the undermining and saying they had no effect on the result because Corbyn's unpopularity was baked in are also those now moaning about the
left's knockabout
with Keith memes and the like. Still, there were opportunities for the left to clear house but didn't take them. I'm sorry to say if a leader doesn't look like they're in charge of their party, average punters who don't pay politics much mind aren't going to deem them capable of leading the country.
The report also singles out "old-fashioned campaigning", i.e. voter ID and cold calling, at the expense of long-term campaigning. This is difficult to dispute, because it's true - but at least Corbyn's office made a start here with the community organising units, which are bigged up in the report. Sad to say,
signs abound
that Labour are about to go backwards on this. Lastly, the culture gap between the party and constituencies is singled out, particularly between those outside London, the South East, and the big cities and those in them. I'm not entirely sold on this or the idea Labour has a "working class problem" as opposed to an
old people problem
, particularly as the methodology here is premised on our ABC1/C2DE friend - which they at least acknowledge is problematic.
Don't bring me problems, bring me solutions as a neophyte call centre manager might say. Okay, the first - which did attract a little bit of mainstream attention - was the recommendation Labour apologises for its Brexit position to both sides of the debate. This should be a priority for Keir Starmer who, after all, did more than his fair share to polarise Labour members on the issue. Of course, our authors aren't so naive to believe this is a quick fix but a bit of humility and humble pie with new ideas (
hmmm
), "imaginative interventions", and
coherent policy
can all help. Naturally, the community organising is mentioned again with the recommendation each CLP should have an officer with this responsibility, assisted by the strengthening of union links and a recruitment drive among party members to get them into unions. This should be combined with more power and financial autonomy to constituency and branch parties, funds for growing low membership CLPs in deprived areas, and a more accessible subs structure. The report also wants to see an end to parachuting in notables and the favoured with a fixed percentage in any shortlist drawn from the local constituency, more financial support for candidates, a programme for developing talented activists coming through and a renewed commitment to political education with the unions. Lastly, Labour needs to take local government more seriously with priorities around ending outsourcing and providing
national leadership
highlighting the cuts made to councils, instead of leaving it to local Labour groups to fend for themselves or completely embracing the politics of compliance, thereby further undermining the party's support.
In all, this is a welcome document because it takes in each dimension of Labour's defeat and points to a better rounded and more strategic way forward cultivating the
class politics
the party rests on. But it comes with a caveat. As this place has argued more times than is healthy, the values dimension of British politics, as encapsulated by the terms of the Tory-stoked culture war demands both a
rigorous understanding
of what "identity politics" is and how Boris Johnson's success on this score isn't because he waves cheap little flags while dangling from a zip wire, but how Brexit, the war on woke, and the hatred of the young are rooted in the politics of
property acquisition and class cohort effects
. Thankfully,
No Holding Back
doesn't advocate saluting the flag/
back our boys
bollocks, and is right to focus on the issues that matter to our communities. This is the best way of winning back those voters Labour lost because
it's the only way
.
A good document then for which Ian, Laura, and Jon should be thanked. It gives the left a strategic orientation to organise and regroup around when the attritional warfare abates. This is good, commonsense class politics. And that is why if Keir Starmer adopts any of these recommendations, it will be because the weight of the membership have forced him to.
Image Credit