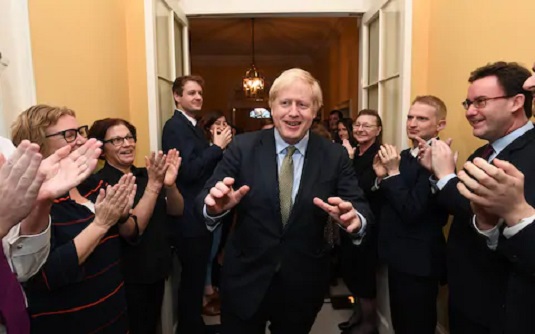 No sooner is the ink dry on the
Brexit deal
and the hagiographies start pouring out from the usual quarter. What's the use of our fearless British press if they can't lionise the Tory Prime Minister of the day? The
Mail on Sunday
engaged Tory historian Andrew Roberts to
deliver their contribution
to this embarrassing field of letters. There are two objectives Robert has here: to use his considerable powers of flattery to build Boris Johnson up as a towering figure alongside the greats who've crossed the threshold of Number 10, and pretend Brexit was something worthwhile.
Roberts advances a tendentious theory of greatness. This rests on an ability to "make weather". Hence, Attlee and Thatcher fall into the designation, as does Ted Heath (for taking the UK into Europe) and Tony Blair. This is versus the "also-rans" who don't leave an indelible stamp on political history. Well, leaving aside the fact Dave did not lose a referendum "on proportional representation", if Heath qualifies for the laurels so does Johnson's former rival for eviscerating living standards, demolishing public services, preparing the ground for and securing the UK's self-ejection from the EU. It's also churlish to exclude Gordon Brown, but then Roberts isn't the first bourgeois scribbler to excise the role he played in saving their bacon. Johnson, by virtue of railroading his party, single-mindedly fighting an election on Brexit and winning big, and lastly ensuring "the prize" was not let out of his sights during the Coronavirus crisis counts as an achievement in terms of setting a policy objective and seeing it through. Though how much of an achievement is something that has virtually the entire press, client broadcasters, a
united block of voters
, and the government machinery onside? I leave it up to you to determine.
The second moment of Johnson greatness comes from his insight. While Johnson was lazing around Brussels in the 1990s filing false stories about straight bananas, Roberts has us believe he keenly watched the everyday business of the EU bureaucracy and its tendency to use brinkmanship and strongarm tactics to get the best out of their trade deals. Hence the no deal posturing was necessary to get a deal out of the EU that is to the UK's advantage. As Roberts writes, "Most thought it [a deal] was impossible without compromising our sovereignty", and yet that is exactly what has happened. Consider the realities of
Priti Patel's putative posturing
, for example.
Still, as a Tory intellectual facts and such can't get in the way of Roberts's thesis. Warming to his theme, there is a clumsy attempt to elide Thatcher and Johnson - she was opposed to the Maastricht Treaty and inspired a group of backbench rebels ("heroes" according to Roberts) who kept the flame of "resistance" alive. Easy to do if a MP is sitting in a safe Tory seat and have nothing better to occupy their time. And Johnson's connection? He returned to these shores a year later. If this wasn't tendentious enough, Roberts then projects himself forward a hundred years to imagine what questions students will be asked in their exam papers about this period, what made Michel Barnier "blink first" and how he's utterly assured Covid-19, in the long run, won't be as important as achieving our "independence". A bold claim with over 70,000 dead, and many, many more before this is over. More likely are questions about how the Tories got away with avoiding accountability for a disaster they've aggravated at every turn, why government-aligned journalists were so keen to undermine public health messaging, how the Tories managed to corruptly award so many government contracts without comeback, or why an obviously self-immolating course was pursued while a pandemic exacted its grim cost.
The rest is the usual fantasyland nonsense about how the UK will become a world leader in artificial intelligence, the life sciences, and so on because we are free of the EU. Interestingly, four years on no one has yet explained how being part of the EU held back scientific research in this country - though it's obvious how Brexit throws a wrench into the works of cross border collaboration thanks to the disruption to funding streams, visa issues, and the other barriers thrown up. Sharing Tory fever dreams might wow the ignoramuses who lap up this guff, but behind the fantasies are the brute realities of depressed opportunities, downgraded economic growth, and presided over by a Tory governent who've spent the last decade enriching their class at the expense of everyone else.
If the rest of the establishment believed in Britain like Johnson and the government do, Robert concludes, then the country would soar. This is the utter poppycock, but remember this is coming from someone who said Brexit was a "more impressive achievement" than
the French revolution
. When you consider what the Tories do to working people, to young people, to those subsisting on social security, to people they consider disposable minorities, for those who fall between the cracks of their Covid support schemes, there isn't a party more ill at ease with the world and determined to impose themselves on it regardless of the damage done than the Tories. I'm all for a bit of self-belief, so let's imagine an alternative: a Britain where courtiers like Roberts are laughed out of the room, where
The Mail
is a memory, and the Tory party is permanently locked out of office. And let us make it so.
Image Credit