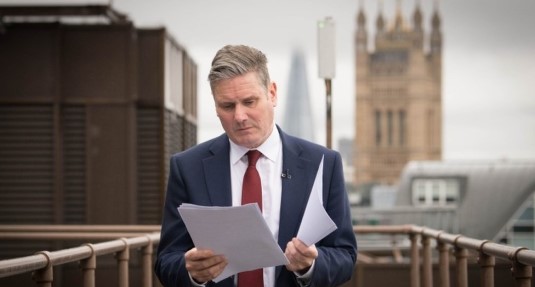 Undaunted by the chaos unfolding in Dover as borders are closed to UK traffic, the iron law of the Labour media grid compelled Keir Starmer to deliver his Scotland speech this morning. The warm up, if you like, ahead of the big vision pitch planned for the New Year. What then did Keir have to say? Nothing surprising or eye-catching, alas, but a little bit more about his politics.
We learned Keir understands
some
of the reasons why support for the SNP and Scottish independence are galloping. In
the speech
, he argues a decade worth of cuts followed by Johnson's
singularly reckless
Brexit strategy have shaken the union. He said "... they are blind to the damage that their cavalier attitude is doing to our United Kingdom ... in Brexit and in austerity they've given separatists two big boxing gloves to pummel the United Kingdom." This is giving the Tories too much credit. They are blind to
nothing
where the party's immediate and medium term political interests are concerned, as we've seen before and will see again in
their uses of Scottish nationalism
. And then there is the recurring use of "separatists" and "separatism", which we'll note now and return to again.
Keir then moves on to surer territory. The SNP are criticised for their woeful record on education and rise in child poverty which, to be fair to the Scottish government, is also a problem cooked up using the ingredients provided by London. The SNP are also attacked for presiding over the third highest Covid death rate in Europe, and how this caused Scotland to have the worst care home death toll in the UK. After rounding on the SNP's performance, he said "... it's no wonder that Nicola Sturgeon wants to make next May's elections a referendum on another referendum. Because on education, health and social justice the SNP has no story to tell."
Then we come to the main event. Keir's test for the party's recovery is not just about rewinning trust in Scotland for Labour, but to rebuild faith in the UK state itself. And how he plans on doing this is via a social justice policy agenda and an ambitious devolution plan. Pushing power away from Westminster is the ostensible aspiration. Interesting. He notes how the Tories have
rode roughshod
over local concerns and ignored their expertise at the moment local and devolved authorities should have been empowered, and so Labour is seeking to spearhead debate on what a looser, less centralised UK might look like by sponsoring a constitutional convention in the new year. Here we find warm words about enabling communities to have more of a say over their lives, and the lowering of the costs of democratic participation. Beyond more devolution, nothing is being ruled out - a nod to those hoping for long overdue electoral reform, perhaps.
The priority, however, is Scotland. This isn't just to save Scottish Labour's bacon (and boy,
does it need saving
), but to focus on Scotland's persistent problems. As he put it, "Ultimately, there's nothing that separatism can offer to a child living in poverty in Glasgow. Just as there's nothing that nationalism can offer a child living in poverty in Camden." Hence, rowing back on the softer position he adopted a couple of months ago, Labour is now definitely against another independence referendum thanks to the precarious state Covid-19 and Tory Brexit recklessness has left the country in. And that, as they say, is the general gist.
Scottish Labour's problems are easy to diagnose but difficult to resolve. The party's working class base in the central belt has almost completely disintegrated, based as it was on the overwhelmingly unionist labour movement who reaped real benefits from its integration into the UK's manufacturing base. For as long as the post-war settlement remained in place, the politics of independence were a fringe affair because the union delivered in the language of livelihoods and decent living standards for enough workers. And when this fell away in the Thatcher years thanks to her government's efforts at driving industry to the wall and then using Scotland as the Poll Tax's test bed, Labour was put on time. Between 1987 and 2010 the party benefited in Westminster terms, but because New Labour
did not make good
the damage done, in set the rot. The SNP victories in 2007 and 2011 should have rung alarm bells and warned the party what might happen if they're seen to side with the party that had inflicted such terrible damage, but into bed they got with the Tories in 2014. Perhaps Labour's collapse was inevitable, but taking Tory talking points and backing George Osborne over how he'd screw Scotland in pre-independence negotiations was hardly the stuff of strategic genius.
That's how Labour got destroyed, but the way back is nigh-on impossible. The core constituency Jeremy Corbyn
drew to Labour
in England and Wales decamped
en masse
to the SNP in 2014 and haven't come back. Nor does much of Scottish Labour seem fussed. Richard Leonard knows the way back is through consistent community organisation and making it relevant at the point of struggle, but most of the party - especially its wretched establishment - see this as a waste of time. Madness, they say, is doing the same thing over and over and expecting a different result. And so, once again, Labour will enter battle for Holyrood and, no doubt, for Westminster in 2024 targeting the declining unionist vote. Keir Starmer's warm words about constitutional change with added Gordon Brown aren't going to wash, because the last time Labour signed up to a vow absolutely nothing came of it.
Why are we going through with this then? Well, naturally, the path to a majority Labour government is impossible in the immediate future without winning back some Scottish seats, so the leader has to be seen to lead. But ultimately, this is about
an English audience
and fighting elections south of the border. As Mr Remain with recent baggage for ignoring the result of one referendum, that ghost has to be put to rest by accepting any putative Brexit trade deal,
and
enforcing the outcome of the previous 'once in a generation' referendum. There is brute calculus here. Nicola Sturgeon grates on many soft Labour/swing voter/red waller voters because she is seen as banging on about independence to the exclusion of everything else. Plus the First Minister is, particularly in the imaginary of older voters, a vector of instability - and we know how
they feel about uncertainty
. You don't even have to get theoretical about it: the Tories deployed the Scottish card with skill in 2015, despite Labour sacrificing itself for the union, and it worked. Keir's Scotland speech is more than constitutional promises, it's an attempt well ahead of time to blunt the Labour/SNP coalition fearmongering the Tories will reach for.
The language of separatism is important too. This is only partly about using something more emotive and negative than 'nationalist', it speaks to the statism of Keir's politics. As we saw with calls for
social media bans
and preference for
process criticisms
over political critique, this is only so much about "optics" - it's part of an effort to restore trust in the authority of public institutions. I.e. the state. Indeed, his attack on the SNP is explicitly couched in these terms, of how their attempts to divide authority results in neglecting the business of government. Keir's approach is nothing new, it's in the DNA of Labourism and the Fabian tradition in particular, of politicians getting elected and implementing policy while for everyone else politics is a spectator sport. Hence the concern for restoring authority: it's indispensable for his project.
This, however, raises an awkward question. How seriously can we take Keir's commitment to the results of Labour's constitutional commission when, despite the efforts of noted friend of grassroots democracy Gordon Brown, it makes recommendations that frustrate the will-to-centralisation? I'll leave readers the space to guess the answer.
Image Credit