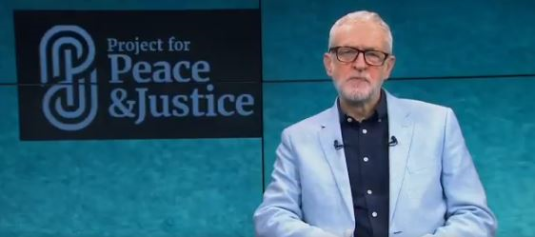 When my friend Lewis Bassett
tweeted earlier
about how he thought the left "might fare better if it tried to get over Jeremy Corbyn a bit", I winced. Because I knew he was setting himself up for a world of pain. Some of the replies inevitably cast him into darkened recesses from where they hope he may never emerge. Others pointed out that as Corbyn is central to moves against the left, it was foolish and wrong to talk about abandoning him. And others suggested he's not the real target at all - the person of Corbyn is the focal point of a movement he (inadvertently) condensed and gave direction to. Get him, get us. There were also folks saying Corbyn helped represent the unrepresented and for four brief years their concerns forced their way into the mainstream of British politics. All right and true points, undoubtedly.
Just to underline Lewis's intent, he wasn't advocating for the abandonment of Corbyn but his tweet touched a nerve about the British left currenly constituted. That it is still dependent on the personality of one man speaks to weakness. In Corbynism's period of advance it drew plenty in but did little to consolidate the movement around
the interests
it intersected with and articulated, a point reinforced by the
character of much new media
that blew up in the movement's wake. And then in the period of retreat and siege from Spring 2018 to the final
denouement
, there was little political room but for the left to rally round in Corbyn's defence. We often like to say the party or the movement is bigger than any individual, but given the rapid composition of our new left after 2015 this is demonstrably not the case. It remains relatively fragile and precarious.
And you know who agrees with this assessment? Why, Jeremy Corbyn does. This ultimately lies behind the launch of his new
Peace and Justice Project
. Corbyn's legacy, as will be seen in the fullness of time, was not just about shifting politics to the left, but also building a
new base
for Labour and, in the 2017 election, pointing to the path the party must travel if it wants to stand a chance of winning. But this will become a monument without a movement, and this means turning outwards toward community, workplace, and street politics - something we can do whether we're (still) Labour Party members or not. Understandably, in his announcement Jeremy kept the details vague beyond
issuing an invitation
for everyone interested to participate on 17 January, but it's worth hazarding a guess what we're going to be seeing.
Readers will know about the community organising units set up over the last few years. The idea was to draw together the cohesiveness of our communities by initiating or assisting existing campaigns around key local issues. For example, prior to last year's election Labour's Stoke South candidate Mark McDonald in conjunction with Labour's community organiser assisted residents in campaigns to save a local beauty spot from housing plans, and fight the corner of council tenants who were missold and effectively strong armed into a
solar energy scheme
. This sort of activity was sneered at by the usual suspects, and declared a waste of time after the results of a year ago. Which, of course, is wrong. We need to take a longer view. Just perhaps the long-term disengagement of former core working class constituencies from Labour had,
among other things
, something to do with the shrivelling up of the labour movement and therefore the irrelevance of the party to and estrangement from day-to-day life. The only thing keeping many of these folks Labour was habit, until
enough of them died
and with them the obligation to carry on voting this way. Perhaps what we need to see is not a quick fix or patriotic virtue signalling
no one ever notices
to win them back, but a concerted effort to re-root the party among the people it was set up to represent. Just a thought because, after all, working class people to begin with didn't vote Labour spontaneously - the mantle of being their party
had to be earned
.
It seems to me the Peace and Justice Project would do well to continue the work of the community organisers (not that the scheme was perfect, by any means), especially if Keir Starmer downgrades or abolishes them once the pandemic is over. This way, Jeremy is using his personal standing to divert the energy of activists dissipating their energies on angry internet polemic and whatnot into something entirely positive that the entirety of the left can orientate towards. By working to root the movement as a counterveiling force against atomisation and the privatised lives we've grown accustomed to, there is a possibility of growing ourselves and realising the ambition of making Corbynism more than the works of Corbyn between 2015 and 2019.
There is also a useful byproduct of PJP. It ensures the people lost to the Labour Party aren't lost altogether, but are kept active in and around the wider labour movement. It's far more positive for recent leavers to get stuck in here than wasting their time and burning themselves out trying to build
a clutch of non-starter projects
who, at best, would cost Labour a handful of seats without winning anything for themselves.
Taking everything into consideration, PJP - please stop calling it the Corbyn Project - has the potential to do good. If anyone reading this falls into the category of cheesed off ex-Labour member but looking for something to get their teeth into, why not join the big meeting early in the New Year?