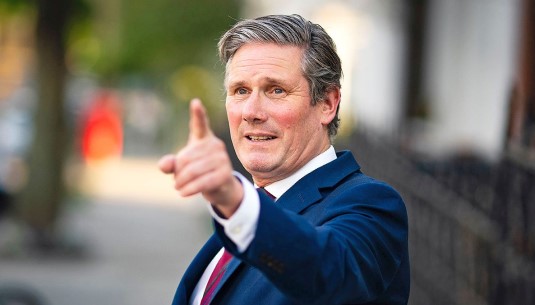 There's a hiss in the background. It's a wee one, but when amplified a discerning listener might catch a few snatched whispers. Hurried, furtive conversations. Maybe even a grumble and a growl. It's all very behind the scenes, and no one wants to be identified as a troublemaker, but if something isn't done a quiet complaint unaddressed can only grow louder, more assertive, more cacophonous. The quiet chat doing the rounds among centrist Labour and the soft left concerns the beloved leader, and it condenses into one troubling question. When is Keir Starmer going to start showing some leadership? This is a theme well trod around the left, not least
in these parts
, but they're intruding into the mainstream. Over in
Graun
land, Gaby Hinsliff broke the taboo and
scribbled down
some gentle criticisms. And from the weekend, professional working class whisperer John Harris
ventured into print
on a similar theme.
John's proposition is a simple one. Why is Labour so quiet when the problems of our age are loudly demanding solutions? He spends his article kicking the ball around the houses, noting the stark inequalities the pandemic has exposed, the miserable state of, well, the state after decades of hollowing out and privatisations. He notes the most significant defeats inflicted on the government are thanks to "wider culture" (i.e. the savvy hand played by Marcus Rashford). Meanwhile Labour's campaign, if it can be called that, of stopping the government
cutting Universal Credit
is suggestive of tailing the public mood against bashing the poor than making political weather in its own right. As John rightly argues, calling the Tories incompetent won't fly once tens of millions are vaccinated in the next four or five months, and "if a moment of crisis, institutional failure and rising despair is not a time to think big, when will be?" Quite.
As we know from the Starmerist operation so far, Keir is only decisive when he thinks the situation is fully under control:
in the Labour Party
. It just doesn't exist outside. Criticisms of Boris Johnson bang on about incompetence, with the minor issue of a hundred thousand Covid dead and corrupt tenders for Coronavirus government contracts skipping over the surface of a pond with barely a ripple. There is no sharpness, no bite to his criticisms. Just a plod through Johnson's distortion/ignorance of the facts that hardly inspires interest when PMQ snippets are shown on the evening news. Yes, polls have recovered a bit and people might like him more than Jeremy Corbyn, but then again the press and politics programming aren't inviting their audiences to vent themselves at concocted and confected outrages every other day.
Okay, so Keir is insipid. This we know. And by "we", this means the soft left, and the bulk of the centre and the right of the party too. But why? His timidity has a recent political pedigree in the custom and practice of the Labour establishment. Long-time party watchers know Ed Miliband's leadership was sclerotic and ultra-cautious, determined not to commit itself to policy positions in the first two years of his election. Not getting weighed down by position-takings would, theoretically, allow Labour to offer nimble opposition and allow Ed to establish himself in the popular imagination as a smiter of Tory failure. Unfortunately, this evacuation of policy was accompanied by an estrangement from politics. The tedious "too far and too fast" soundbite used to criticise Tory cuts wasn't oppositional because it didn't contest the fundamentals. And by
accepting
their parameters of the debate, that cuts were "necessary", Dave could carry on presenting the Tories as the only party capable of making tough choices. It didn't matter that Ed Miliband frequently posted handsome poll leade, including double-digit advantages, because he didn't establish himself in political terms from the off the Tories did it for him.
Ed's approach didn't fall from the sky. It was the template that got The Master himself into office. Tony Blair wasn't sparing of John Major at the dispatch box, but Labour in 1994 was in a much better position than Labour in 2021. Blair not only inherited a huge lead over the Tories from John Smith, but the Tories themselves had to all intents and purposes disintegrated. Government authority was destroyed by the triple shocker of Black Wednesday, the 1992 pits closure programme, and VAT on fuel, and a poisonous cocktail of incompetence, cruelty and sleaze kept reminding the public how decrepit and dysfunctional they had become. Labour, if it wished, could have cruised into office. Yet what is not well remembered was how petrified Blair was of the party's shadow. Having drawn the conclusion Labour kept losing because any programme resembling, well, Labourism was well to the left of the electorate, the whole lot got ditched. Stick to Tory spending plans, sound tough on crime and determined on education and, for goodness sake, don't say socialism. Here was the Blairist passport to office. His was less a programme and more a capitulation, a surrender so abject not only did Labour accept the Thatcherite settlement, but
actively deepened it
. But dumping Labourist politics and stealing Tory clothes won elections, so it was worth it, right?
We've seen Starmerism, as much as it does have some substance, gravitate back to consensus positions
on the security services
and, most ruinously, on
Coronavirus itself
. Its miserable failure to even back the teaching unions over a national lockdown, despite having
majority public support
is cowardice, but entirely what one would expect if the "SLT" were following the politics dot-to-dot handed down from Ed Miliband and Tony Blair.
Tell has been heard that Keir himself is starting to get concerned about these grumbles and wants to be seen standing for something, as if he's not the master of his own destiny. But this is dangerous territory for him. It requires appearing on one side of an issue, which makes appearing all things to all people - Keir's default - impossible. There are plenty of wedge issues Labour has to come down on if it wants to keep
its core support
, but so far there is little to no inkling Keir or his lieutenants have a clue about the character of Labour's base nor the sort of alliance it must build to win elections. With whispers growing to the level of background noise and establishment liberals fretting openly, this is pressure Keir cannot ignore. Sooner rather than later he's going to have start doing the politics, or the politics are going to do him.
Image Credit