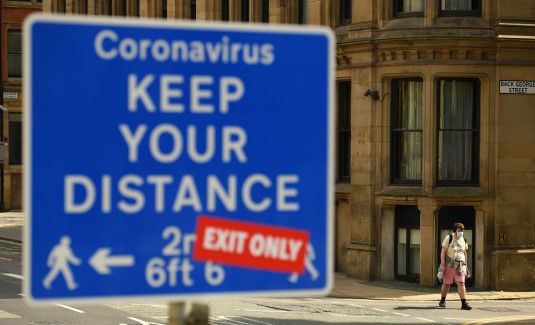 Waking up early on Wednesday morning, the traffic passing by on the main road sounded as busy as normal times. Certainly not what one might expect from a third national lockdown. Because Boris Johnson had belatedly,
again
, decided to close schools for all but the children of essential workers and those at risk, it was reasonable to expect we might see something like March - June instead of the brief farce of a lockdown we had in November. And yet schools are reporting a
large increase
in the number of children who are turning up. Traffic flows in Covid-blasted London are about two-thirds of normal, and too many workplaces and businesses - self-designating as "essential" - are open.
Contrast the shambles with the messaging the government are concentrating on. At the end of last week we had Priti Patel touring the studios promising "tough crackdowns" on people "flouting" Covid restrictions. Apparently they
are worried
about "compliance". Some want to see the two-metre social distancing measure reintroduced and a re-emphasis on stay-at-home messaging, as per the new Chris Whitty-fronted TV campaign. To back this up, our friends in Derbyshire plod are getting twitchy again and have
absurdly
fined two women who drove five miles for a walk in the country. Meanwhile, infections are soaring out of control, hospitals are swamped and, reportedly, the police are now ferrying emergency cases to hospital thanks to the inundation of the Ambulance Service.
This is a lockdown in name only, and it stands to reason the number of cases and the numbers of deaths
are not
acts of God. They are the victims of social murder caused by the Tories privileging the
health of class relations
above the health of the public, and this simply is not acceptable. If the government were serious they would be taking homeless people off the streets, like they did last Spring. They would
properly
pay businesses bar the most essential to close, and this would include nearly all food outlets and construction, the latter of which was allowed to continue last time (nothing to do with
property interests
at all).
This isn't just about paying people to stay home. The government should be straightforward with the instructions it issues. First, if this was a coherent and joined-up strategy guided by driving down infections in the first instance, it wouldn't call the rules "guidance", they would be called rules. Second, there would be no wriggle room for interpretation. What is and isn't essential should be clearly specified. The rules should also be blunt about who can and can't be seen. Truth of the matter is, the bubble system is a complete joke. A couple of elderly people might be in a bubble with their daughter or son, but same daughter or son is still at work with dozens of others, similarly in "bubbles" with aged loved ones. And last of all, if the government doesn't want people travelling far for a daily constitutional they need to say so instead of letting overzealous coppers free rein to interpret the rules, thereby making the lockdown measures a laughing stock.
If the lockdown is to work, these holes in the system need filling. And if they're not, more people will die out of toxic mix of Tory
incompetence and malfeasance
. The measures we have to see are authoritarian, but there is nothing more authoritarian than having one's life cut short.
Therefore, it is good to see the left and the unions making the case for what needs to be done, but it can't end there. The other axis of the government's response, the prattling on about the "tough measures" aren't really about policing the lockdown, they are all about apportioning blame. The Tories have
proven quite adept
at convincing people to blame other people for rising Covid cases. Yes, it might be stupid to have a house party and thoughtless to walk around with a nose poking from a mask. Then again, the government spent the Summer and early Autumn encouraging people back to work, to go out, offered middle class people a bung to patronise their favourite eateries, and kept schools, colleges, universities, and most workplaces open up until Christmas, the blame doesn't lie with the public making the wrong choices. It rests with an appalling government whose idiocy has gifted us the new, infectious Covid variant - and would repeat all the same mistakes unless they are pressured and held to account. In other words, there's no use shying away from the politics as has been the approach of the Labour leadership
so far
. It is really a matter of life and death.
Image Credit